The Royal Touch: Recipes Fit For a Queen (Literally)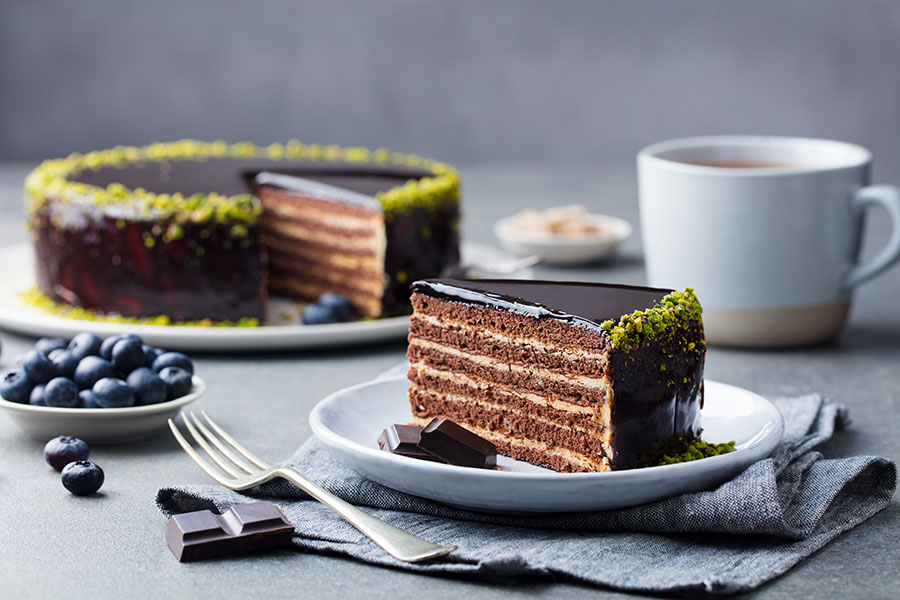 This chocolate biscuit dessert, pictured above, is what Prince William chose for his groom's cake for his 2011 wedding. Photo: Anna Pustynnikova/Getty Images
Here, we round up some royally-inspired recipes, including afternoon tea-worthy scones with vanilla and orange zest and even the chocolate biscuit cake Prince William chose as his groom's cake for his wedding.
For 10 years, Carolyn Robb was the personal chef to TRH the Prince and Princess of Wales (that's Charles and Diana to us mere mortals), Prince William and Prince Harry.
Robb's cookbook The Royal Touch: Simply Stunning Home Cooking from a Royal Chef (2015), a collection of 100 recipes – including afternoon tea-worthy Scones with Vanilla and Orange Zest and the Chocolate Biscuit Cake Prince William chose as his groom's cake for his wedding (both recipes here) – and anecdotes and letters from her residency at Kensington Palace.
"One of the abiding memories I have of the Queen's garden parties that I attended at Buckingham Palace is of the mountains of cream scones and cucumber sandwiches," says Robb. "Forever more, scones will be synonymous with garden parties for me." And who doesn't like a party?
Recipe: Scones with Vanilla and Orange Zest

"This is my favourite recipe for scones, and my advice is to eat them fresh from the oven and never to stint on the cream and jam!"
YOU WILL NEED:
A 4-cm (1½-inch) pastry cutter and 2 flat baking trays
450 g/1 lb plain flour  (3¾ cup)
60 g/2 oz golden caster sugar  (¼ cup)
2.5 ml/½ tsp salt
15 ml/3 tsp baking powder
100 g/3½ oz butter (7 tbsp)
175 ml/¾ cup buttermilk
50 ml/¼ cup milk
1 free-range egg (UK medium/USA large)
5 ml/1 tsp vanilla extract
Zest of 1 orange
Instructions:
Preheat the oven to 220ºC / 425ºF.
Sieve the flour, sugar, salt and baking powder into a large mixing bowl.
Rub the butter into the dry ingredients using your finger tips, until the mixture resembles breadcrumbs.
Blend together the buttermilk, milk, egg and vanilla extract.
Make a hollow in the centre of the 'crumbs', finely grate the orange zest into it and pour in most of the liquid. Add in the remainder later if the dough seems dry. Traditionally, a small round-bladed knife or palette knife is used to mix the dough. You want to achieve a lightly-bound dough that is neither sticky nor dry and crumbly.
Lift the ball of dough onto a floured surface and knead it just 3 or 4 times to get rid of any cracks, working quickly. If the dough is over-worked it will result in 'tough' scones.
Pat the dough out to a thickness of 2 cm (¾ inch). Cut out the scones, dipping the pastry cutter into flour each time, so that it makes a clean cut and does not drag the dough when cutting through it. Place scones onto the baking trays.
Gather the trimmings, lightly bring them together and pat the dough out again to cut out more scones.
Bake for 10 – 12 minutes, until well risen and golden.
For fruit scones, add in 60 g (⅓ cup) sultanas or raisins at Step 5. For savoury scones, replace the vanilla, orange zest and sugar with 60 g (½ cup) of grated mature cheddar cheese and 15 ml (1 tbsp) finely chopped chives, added in at Step 5; top with a little extra cheese and a light dusting of paprika.
Makes approximately 15 scones
Recipe: Chocolate Biscuit Cake
"My mother used to make this when I was a child, and it was a great favourite of mine. When Prince William and Prince Harry were very young, I made it for them using the same recipe. It was a firm favourite in the royal nursery; so much so that, many years later, Prince William chose to have chocolate biscuit cake at his wedding for the groom's cake. It was designed, made and gifted to Prince William by McVitie's biscuit manufacturers and is said to have been made from 1,700 biscuits and 17 kg of chocolate!
"This recipe is very simple, and children always enjoy crushing and crumbling the biscuits (in a variety of unusual, and often messy, ways!) I have included pistachios and soft figs in this version of the recipe, but for children I leave them out and replace them with the same weight in biscuits."
YOU WILL NEED:
One 20-cm (8-inch) round or square cake tin or flan ring or a 450 g/1 lb loaf tin, approximately 16 x 11 cm, 7 cm deep (6¼ x 4¼ inches, 2¾ inches deep)
FOR THE CAKE:
340 g/12 oz butter (3 sticks)
240 g/8½ oz golden syrup (¾ cup)
60 g/2 oz unsweetened cocoa powder (⅔ cup)
120 g/4 oz cup dark chocolate (⅔ cup)
5 ml/1 tsp pure vanilla extract
60 g/2 oz pistachios (½ cup)
100 g/3½ oz soft, plump dried figs, sliced (½ cup packed)
450 g/1 lb digestive biscuits,  crushed
TO DECORATE:
300 g/11 oz dark chocolate (2 cups)
50 g/2 oz white chocolate (⅔ cup)
Selection of small chocolate sticks and dark and white Maltesers or Whoppers
Instructions:
Melt the butter with the golden syrup in a heavy based pan. Do not let it boil.
Remove from the heat and add the cocoa powder, dark chocolate and vanilla extract.
Stir until you have a very smooth, glossy mixture.
Add the pistachios, figs and crushed biscuits to the chocolate mixture and stir well.
Line the base and sides of the cake tin with baking parchment or plastic wrap.
Place the mixture into the tin and press it down. (If you are using a square tin, make sure you press it down well into the corners.)
Leave to cool at room temperature before covering and chilling in the fridge. It will take about 2 hours to set completely firm.
When set, remove from the tin and place it on a cooling rack.
Melt the dark chocolate and white chocolate separately.
Spread the dark chocolate all over the cake.
Decorate with the Maltesers before the chocolate sets, so that they stick to the cake. Position chocolate sticks as desired and drizzle with the white chocolate.
Store in an airtight container in the refrigerator.
Keeps for up 2 weeks, although it seldom lasts that long, once people know that it is there!
Serves 16 – 20
Variations
You can replace the pistachios with pecans, toasted almonds or macadamia nuts.
You can replace the figs with raisins, sultanas or dried cherries.
For a festive holiday treat, use glacé cherries and dried apricots that have been soaked in cherry brandy.
For a children's party cake, decorate with Smarties or M&M's.
A version of this story was originally published on April 13, 2018
RELATED: