"Sustained Pressure and Veiled Threats": Could WiIson-Raybould's "Truth" Sink Trudeau?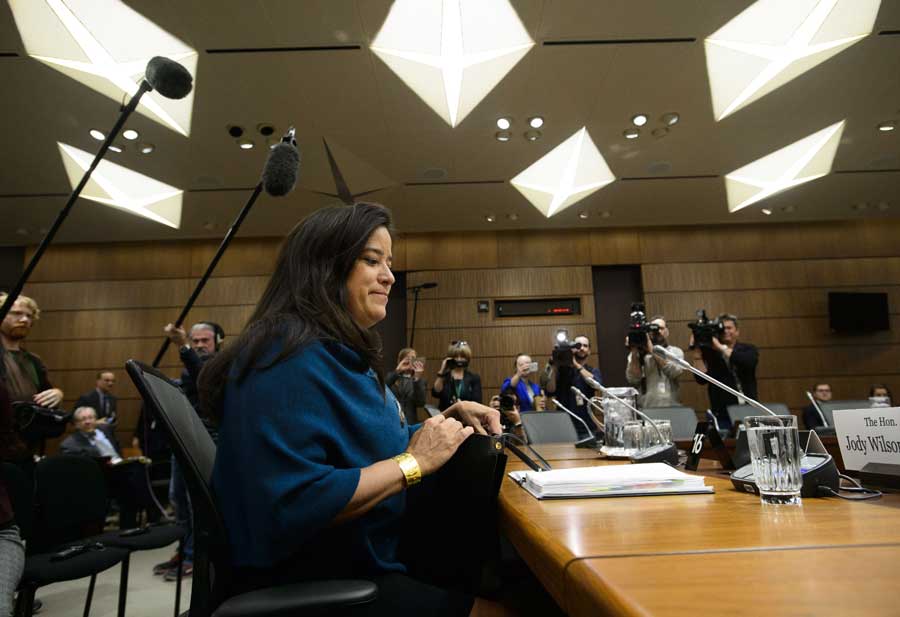 Jody Wilson-Raybould appears at the House of Commons Justice Committee on Parliament Hill in Ottawa on Wednesday, Feb. 27, 2019. (Photo: Sean Kilpatrick/The Canadian Press)
In one of the most highly anticipated and dramatic moments in recent Canadian political history, yesterday afternoon Jody Wilson-Raybould stood up resolutely at a justice committee hearing, took a deep breath and then bravely told the Canadian people her side of the truth in the SNC-Lavalin scandal.
In outlining her tale of political influence and interference, Wilson-Raybould's remarkable opening statement to the The Standing Committee on Justice and Human Rights was so damning to Prime Minister Justin Trudeau and his ministers and his office, that it's prompted calls for his resignation, not only from the leader of the opposition but from much of the once friendly media.
Detailing her "truth," Wilson-Raybould recounted how, as Attorney General, she made a legal decision that everyone from the Prime Minister on down knew could affect the Liberal party's chances in this year's election. Wilson-Raybould identified 11 people, motivated by this thirst for re-election—from the Prime Minister's Office (PMO), the privy council and the office of the Minister of Finance—who began hounding her to reverse her decision. In her mind, these conversations amounted to "sustained pressure"; "veiled threats" and threatened "consequences" if she didn't back down.
Wilson-Raybould did not back down. Nor did she bury the truth. "I came to [her role as AG] with a deeply ingrained commitment to the rule of law and the importance of acting independently of partisan, political, and narrow interests," she said.
It's too bad for the Liberals that Wilson-Raybould's political integrity was not matched by others within her party. Had they backed off or shown any respect to the Attorney General's decisions, or her non-political role, they would not be in the dire position they find themselves today.
The whole scandal began on Feb. 7 when the Globe and Mail broke the story that members of the Prime Minister's Office had put sustained pressure on then-attorney general Wilson-Raybould to intervene in legal proceedings against Quebec engineering giant SNC-Lavalin, which was being charged with fraud and corruption for dealings in Libya.
The Prime Minister and his office (PMO), aware of protecting a big Quebec employer (and Liberal Party donor), began to pressure Wilson-Raybould to secure a Deferred Prosecution Agreement for SNC-Lavaliin. (A DPA is basically a get-out-of-jail free card, which forces corporations to pay fines for their misdeeds but allows them to continue operating as usual. More importantly, a DPA would not block SNC-Lavalin from bidding on lucrative government contracts.) Wilson-Raybould considered the case and decided that, based on SNC-Lavalin's offences, the Attorney General's office would not seek to secure a DPA.
That's when the full-on attack began. Wilson-Raybould says she was pressured from the Prime Minister on down in an effort to make her change her mind and secure a DPA for SNC-Lavalin.
"For a period of four months between September and December 2018, I experienced a consistent and sustained effort by many people within the government to seek to politically interfere in the exercise of prosecutorial discretion in my role as the Attorney General of Canada in an inappropriate effort to secure a Deferred Prosecution Agreement with SNC-Lavalin," said Wilson-Raybould.
She said these conversations amounted to "sustained pressure" and "veiled threats" and that there would be "potential for consequences" if she did not agree to the SNC-Lavalin DPA.
Wilson-Raybould  held her ground. And, unfortunately for the Liberal Party members involved, the astute lawyer also took "detailed notes" of every conversation she had.
According to those notes, here's the timeline and the people who applied pressure on Jody Wilson-Raybould (we'll now refer to her as JWR) to change her mind.
Sept. 6, 2018
Ben Chin, Finance Minister Bill Morneau's chief of staff, emails JWR's chief of staff saying that if SNC-Lavalin didn't get a PDA, "they will leave Montreal, and it's the Quebec election right now, so we can't have that happen."
Sept. 16, 2018
Mathieu Bouchard and Elder Marques from the Prime Minister's Office (PMO) call Jessica Prince, JWR's chief of staff. Pushing for her to sign a PDA, they say: "we think we should get some outside advice on this."
Sept. 17, 2018
In a meeting with Primer Minister Trudeau and Clerk of the Privy Council, Trudeau asks JWR to "help out—to find a solution here for SNC—citing that if there was no DPA there would be many jobs lost and that SNC will move from Montreal." When JWR informs her boss that she's sticking to her guns, Trudeau "again cited potential loss of jobs and SNC moving." Then, Michael Wernick, the Clerk of the Privy Council, who is supposed to be non-partisan, spoke up saying:  "there is a board meeting on Thursday (Sept 20) with stock holders" … "they will likely be moving to London if this happens"… "and there is an election in Quebec soon." The Prime Minister also stressed that there is an election coming up and that "I am an MP in Quebec—the member for Papineau." When JWR asked the PM if he was politically interfering, he said: "No, No, No—we just need to find a solution."
Sept. 19, 2018
Speaking to JWR, Finance Minister Bill Morneau stresses the need to save jobs. JWR says that "engagements from his office to mine on SNC had to stop."
Oct. 26, 2018
JWR's Chief of staff is again pressured by Mathieu Bouchard (from the PMO) to secure a DPA for SNC-Lavalin. "If…SNC announces they are moving their headquarters out of Canada, that is bad. He said "we can have the best policy in the world, but we need to be re-elected."
Dec 5, 2018
In a meeting with Gerald Butts, the Trudeau's principal secretary (and closest advisor), JWR asks that the pressure from outside the AG's office be stopped. Butts tells JWR "how we need a solution on the SNC stuff – he said I needed to find a solution. I said no."
Dec. 18, 2018
JWR's chief of staff is summoned to a meeting by the two leading members of the PMO, Butts and Katie Telford. In her report to JWR, Prince recalls Butts saying: "Jess, there is no solution here that doesn't involve some interference." And Telford doubled down with "we don't want to debate legalities anymore." Amazingly, Prince reports Telford also saying: "if Jody is nervous, we would of course line up all kinds of people to write OpEds saying that what she is doing is proper."
Dec. 19, 2018
In an astounding meeting, the Clerk of the Privy Council says that "the PM is quite determined, quite firm." He adds: "I think he [Trudeau] is gonna find a way to get it done one way or another. So, he is in that kinda mood and I wanted you to be aware of that".
Jan. 7, 2019
JWR receives a call from Trudeau informing her that she was being shuffled out of her role as Minister of Justice and Attorney General.
Jan 11, 2019
The Clerk calls the JWR's former deputy minister telling her that "one of the first conversations that the new Minister will be expected to have with the PM will be on SNC Lavalin."
That's Jody Wilson-Raybould's explosive, damning behind-the-scenes look at how a government applied pressure to the Attorney General for political purposes.
While it's impossible to gauge the veracity of Wilson-Raybould's statement, she certainly came off as a reliable and credible witness. As she closed her remarks, she claimed: "I was taught to always hold true to your core values and principles and to act with integrity." Add to this the fact that she also invoked her indigenous heritage–"I am a truth teller in accordance with the laws and traditions of our Big House"–her character becomes almost unassailable.
If you believe what she's saying, it certainly makes calls for Prime Minister Trudeau's resignation understandable. This kind of political pressure may not have crossed legal lines but it's certainly ethically and morally unacceptable.
Is the Prime Minister guilty of political interference? Probably not. But his staff, for which he's responsible, certainly seems guilty of something. If Trudeau doesn't resign, there will have to be a major house-cleaning in the PMO.
The embattled Prime Minister put on a brave face in Montreal yesterday, where he was welcoming a new Liberal MP. He defended his actions, saying his only motive was to save 9,000 jobs at SNC-Lavalin. "My job as Prime Minister has always been to stand up for Canadians and Canadian workers," he said.
"I strongly maintain, as I have from the beginning, that I and my staff always acted appropriately and professionally. And therefore I completely disagree with the characterization of the former attorney general about these events," he added.
With the reputation of his office in tatters and calls now mounting for his resignation and a full RCMP investigation, the Prime Minister finds himself in an eerily similar position to his counterpart in the U.S.  In a ridiculous twist of fate, each leader suffered massive collateral damage yesterday, within hours both were stabbed in the back by former accomplices.