"Oh Boy, Oh Boy" – As Philpott Resigns, Can Trudeau Quell Mutiny in Liberal Party?
Jane Philpott (left), showing her support for Jody Wison-Raybould (right), announced her resignation from the Liberal cabinet yesterday. Photo: Adrian Wyld/The Canadian Press
In what media are describing as a civil war in the Liberal Party, Jane Philpott became the second cabinet minister to resign over the way Prime Minister Justin Trudeau and his staff have mishandled the SNC-Lavalin affair.
Philpott, a close friend of former Attorney General Jody Wilson-Raybould, announced yesterday that she was stepping down from her cabinet position as Treasury Board president.
"I have been considering the events that have shaken the federal government in recent weeks and after serious reflection, I have concluded that I must resign as a member of Cabinet," Philpott said in a public letter to Prime Minister Trudeau yesterday.
"Sadly, I have lost confidence in how the government has dealt with this matter and in how it has responded to the issues raised," she continued, referring to Wilson-Raybould's testimony to the House Justice Committee on the pressure she received from the Prime Minister and his staff to intervene on behalf of engineering firm SNC-Lavalin.
Philpott's no-confidence bombshell is another punch in the gut for a Prime Minister who's brand has taken an awful beating since the Globe and Mail broke the SNC-Lavalin scandal in early February.
The news of Philpott's resignation broke while the Prime Minister was in Toronto yesterday at a climate change rally, trying desperately to change the channel away from the ongoing bad news of the affair. Unfortunately, the mushroom cloud of bad news followed him and that plan backfired.
Trudeau's talk was disrupted as security tried to escort out environmental protesters and supporters of Wilson-Raybould. Later, several members of the crowd began pushing and another scuffle broke out.
The Prime Minister watched in bewilderment, saying "Oh boy, oh boy."
He could also have been applying that phrase to his party's fortunes. The affair has battered the Liberals' popularity, with a latest Ipsos poll concluding that, if an election were held tomorrow, Trudeau would only receive 31 per cent of the vote, with Conservative leader Andrew Scheer receiving 40 per cent. "The Liberals, on the other hand, have been dropping precipitously over the space of the last few weeks. The question is have they hit bottom yet?," said Darrell Bricker, CEO of Ipsos Public Affairs.
And it doesn't help the PM's cause that several major media organs are taking daily potshots at him. Maclean's magazine piled on yesterday with a cover-line reading: The Imposter.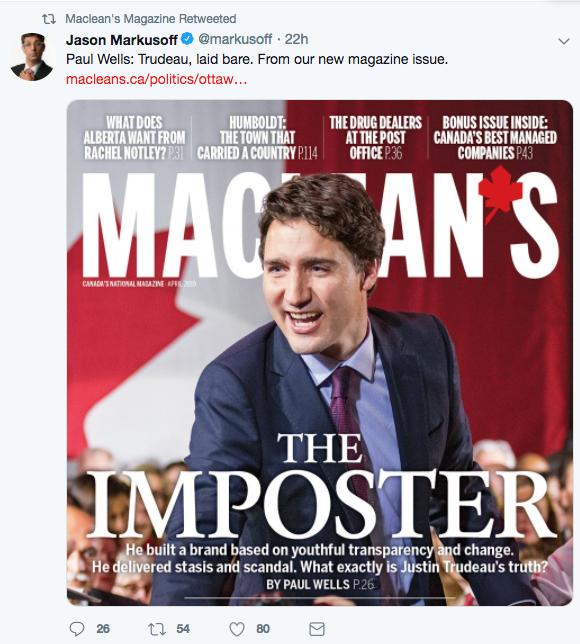 So where does Trudeau go from here? How does he stop the bleeding from multiple wounds?
First of all, in the wake of Philpott's resignation, Trudeau and the Liberals must present a united front to Canada. In order to change the public's perception, he must work overtime to make sure the remaining members of his caucus and his cabinet are onside going forward. He must also somehow get in front of the bad news that keeps spilling out of the SNC-Lavalin affair.
That means starting a media blitz to somehow convince Canadians that the way Trudeau and staff handled the SNC-Lavalin affair was, while distasteful, not illegal. He must go on a charm offensive and explain his side of the story – that his primary focus was saving jobs, not saving a big Liberal donor.
But if the latest polls are any indication, that is going to be one difficult task: the Ipsos poll showed an overwhelming 67 per cent of Canadians said they believed Jody Wilson-Raybould's version of the events and only 33 per cent believed Trudeau's.