A Look at the Latest Innovation for Thinning Hair
Doesn't matter if you're a man or a woman, a full head of hair is a marker for a lot of things. Sure, many men rock a shaved head (we're looking at you, Patrick Stewart) and a swagger with thinning hair (and you, Tiger Woods), but others go to great lengths to cover up the pate (we're trying not to look at you, President Trump). But for women, a thick mane of healthy, shiny hair is a must, so if hair thinning enters her life at any stage, it often packs more of an emotional wallop than in men.
According to the Canadian Dermatology Association, we shed 50 to 100 hairs a day, but new ones normally grow to replace them. Except when they don't. There are myriad causes for hair loss, from medications, menopause, stress, genetics, illness and even diet. Some of these causes are rectified, say adjusting medication to correct a thyroid imbalance, while others are permanent.
Many products and treatments exist to treat and restore hair with varying degrees of success. And entering the market is Alfy, a direct-to-consumer hair loss product that uses keratin hair building fibres to give men and women the appearance of fuller, thicker hair.
Created by Canadian engineer and former Wall Street trader, Ray Cao, after his wife, Ashley, experienced hair loss following the birth of their child, Alfy is a styling  product designed to be an easy-to-use temporary solution.
While the concept isn't new, Cao says Alfy differentiates itself in two ways. Firstly, the quality grade of the keratin fibres, which are delivered in a granular-like substance and naturally bond to the hair. "In the early days of the technology, the fibres didn't stick well or work with all hair types," explains Cao. "But what we found is this latest advanced generation, worked with all types of hair."
Secondly, the packaging was designed to be discreet. There is no branding on the outside of the brown cardboard package and, once opened, the bottle does not say "hair loss," so anyone rooting through your bathroom won't know you have an issue. It's also a more chic look, less infomercial, more aspirational, says Cao.
The Alfy team developed the product with scientists to ensure that it won't come off in rain, wind or sweat. It won't smear on pillows or stain on clothes. The only way to remove it is to wash it off with shampoo.
The product is available in eight colours and can be mixed to create almost any shade or colour combination. This includes salt and pepper or strawberry blond. Cao adds, "We created this product to work on all types of people – whether you're Caucasian or African-American. Brunette or blond. Male or female."
The product is available now at www.alfyhair.com and will retail for between $29 and $55 for a 30- to 60-day supply. Cao also says the company plans to roll it out on Amazon later this year and it will eventually hit store shelves as well.
Here, a look at another two products that promise to defend against a thinning mane.
Rinse Out — Kérastase Densifique Bain Densité shampoo has a formula for men and women and is made with hyaluronic acid to plump up hair, a gluco-peptide to give the hair cuticle a uniform surface for shine and resiliency, plus Ceramide technology that strengthens the hair fibre. $45, www.kerastase.ca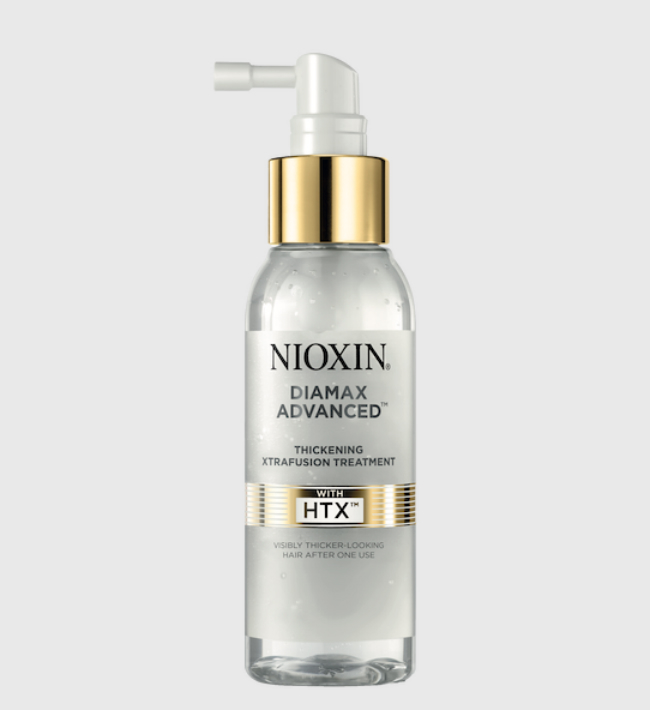 Leave In —Nioxin Diamax Advanced revolutionary HTX is a leave-on product with ingredients such as caffeine, panthenol and niacinamide that penetrate hair to increase the thickness of each existing strand. It's as if you had up to 11,000 more hair strands. $60, available at hair salons.
A version of this article appeared in the June 2019 issue with the headline, "Hair Apparent" p. 20.