Statement From Father and Social Media Photos Paint Clearer Picture of Teens Wanted for 3 B.C. Murders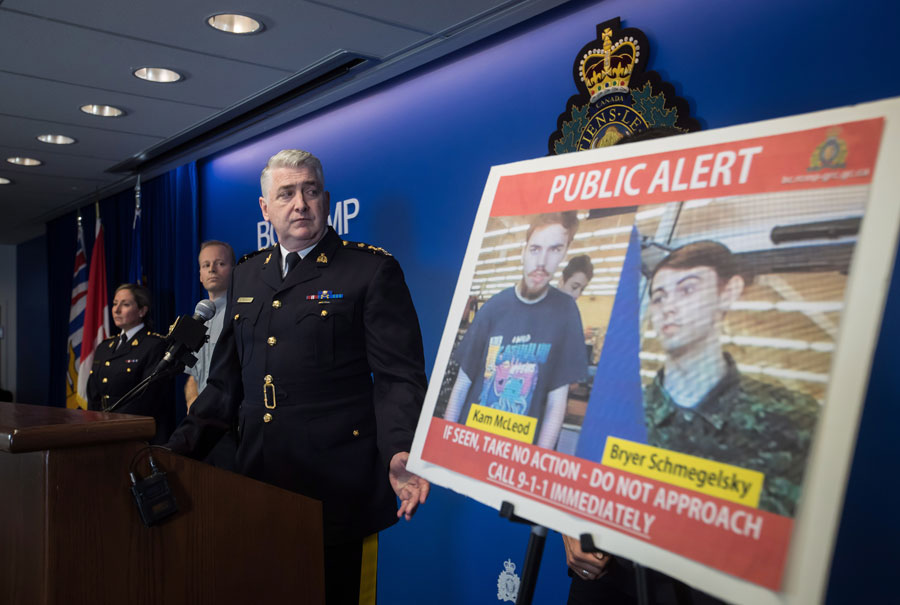 Security camera images recorded in Saskatchewan of Kam McLeod, 19, and BryerSchmegelsky, 18, are displayed as RCMP Assistant Commissioner Kevin Hackett steps away from the podium after speaking during a news conference in Surrey, B.C., on Tuesday July 23, 2019. (Photo: The Canadian Press/Darryl Dyck)
The father of one of two suspects in the deaths of three people in northern British Columbia says his son is in "serious pain" and intends to die in a police confrontation.
In an emotional interview with The Canadian Press on Wednesday, the father of 18-year-old Bryer Schmegelsky said his son is an introverted but otherwise normal teenager who doesn't own any firearms and doesn't know how to drive.
"A normal child doesn't travel across the country killing people. A child in some very serious pain does," he said.
Alan says he believes his son is on a "suicide mission" and intends on going out in a "blaze of glory" when police officers find him.
"He's going to be dead today or tomorrow," he said. "Rest in peace, Bryer. I love you. I'm so sorry all this had to happen. I'm so sorry that I couldn't rescue you."
Watch the interview here
Alan Schmegelsky also said his son had a troubled upbringing and struggled after his parents separated when he was five years old, adding that Bryer turned to YouTube and video games as a teenager, particularly strategy battle games.
Bryer Schmegelsky and 19-year-old Kam McLeod are wanted in connection with the fatal shooting of Australian Lucas Fowler and his American girlfriend Chynna Deese. The couple had been on a road trip together in Fowler's blue van, their bodies were found on a remote stretch of highway south of the Yukon border near Liard Hot Springs on July 15.
McLeod and Schmegelsky are also wanted for the murder of Leonard Dyck, of Vancouver. Their burned-out vehicle and Dyck's body were found on July 19 near Dease Lake, B.C., a 470-kilometre drive southwest of Liard Hot Springs. While the manhunt continues, the RCMP confirmed that the two teens have been charged with one count of second-degree murder in Dyck's death.
"We are truly heart broken by the sudden and tragic loss of Len," the family of Leonard Dyck wrote in a statement. "He was a loving husband and father. His death has created unthinkable grief and we are struggling to understand what has happened."
Keith McLeod, Kam's father, told CTV News Vancouver that his son is a "kind, considerate, caring young man" who has always "been concerned about other people's feelings." Unlike Bryer's father, McLeod is holding out hope for his son's safe return.
"As we are trapped in our homes due to media people, we try to wrap our heads around what is happening and hope that Kam will come home to us safely so we can all get to the bottom of this story," he said.
While the fathers of the two teens appear shocked by their sons' actions, the pair's social media presence paints a concerning picture.
According to the Globe and Mail, the teens' Facebook pages are linked to an account called "illusive Gameing," which is linked to a YouTube account, as well as video-game networks Twitch and Steam. The accounts contain similar imagery and themes, including Communist iconography and far-right politics. The banner image for illusive Gameing's YouTube account features a modified Soviet flag, while its profile picture is the heraldic eagle of Hitler's Germany.
A  Steam user, who frequently interacted with Schmegelsky online and preferred not to be identified, provided The Globe with three photos sent from an account believed to be Schmegelsky's in the fall of 2018: one features the teen in military fatigues, armed with what appears to be an airsoft rifle — which fires plastic pellets, another shows him in a gas mask and, perhaps most concerning, one of a swastika armband and a knife inscribed with "blut und ehre," German for "blood and honour."
The user says that he stopped playing online games with Schmegelsky after he continued to praise Hitler's Germany.
The RCMP confirmed that the photos would be included in the investigation.
McLeod and Schmegelsky, who are both from Port Alberni on Vancouver Island, were initially listed as missing persons. Police said they were thought to be travelling to the Yukon to find work. But that changed on Tuesday, when the RCMP named them as suspects following tips they received from the public.
Alan Schmegelsky said his son told him that he and McLeod were heading to Alberta to look for jobs as they were both unhappy working at a local Walmart. He says he was "flabbergasted to learn two days later … they were in the Yukon."
Alan said that his son bought an expensive suit with his second paycheque at Walmart.
"Now I realize it's his funeral suit," he said.
The last confirmed sighting of the teens was in Meadow Lake, Sask., but police also say there is reason to believe the pair were recently in the area of Gillam, Man. With the suspects travelling east, Northwestern Ontario Provincial Police have issued a public safety alert as the search continues.
The RCMP has warned the public not to approach the suspects if they're spotted.