Kenney Posts Anti-Trudeau Video, Signals the Role He'll Play in the 2019 Federal Election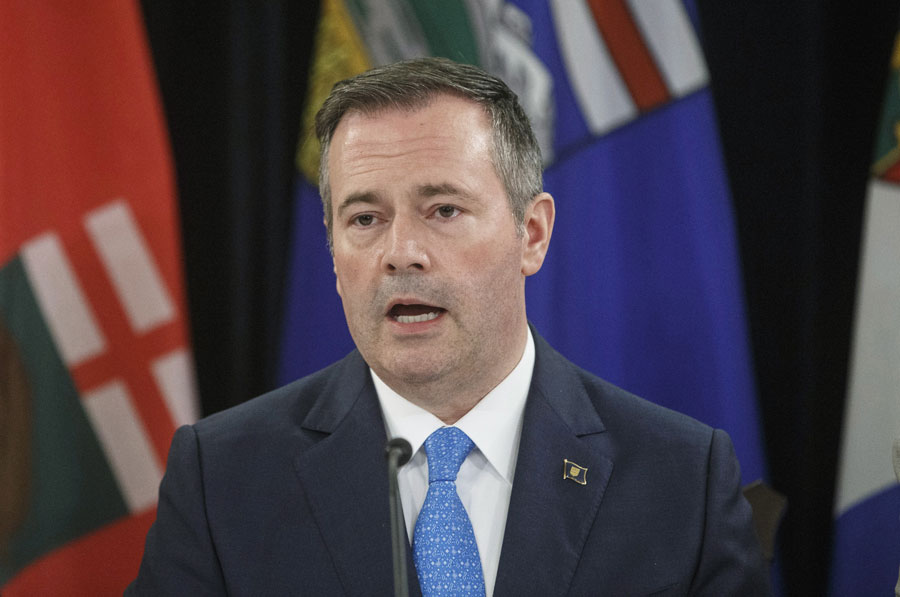 Alberta Premier Jason Kenney waded into the federal election this weekend by posting a video calling on Albertans to vote against Prime Minister Justin Trudeau. (Photo: The Canadian Press/Jason Franson)
Alberta Premier Jason Kenney signalled he will be a factor in the upcoming federal election by releasing a social media video calling on voters in that province to push Prime Minister Justin Trudeau out of office.
"Alberta is getting a raw deal right now," says Kenney, 51, in what was obviously a hastily edited video. The federal government, he goes on to claim, has "impaired our ability to develop our resources" and has "treated us unfairly and with disrespect in so many ways."
While it's not unusual for a provincial premier to wade into federal politics — Ontario's Conservative Premier Doug Ford and former Newfoundland and Labrador Liberal Premier Danny Williams are recent examples — it's the argument Kenney uses that got everyone's attention.
Several times in the video he resorts to not-so-veiled threats of separation. Not only is the video entitled "Alberta will not be pushed out of OUR Federation" but he includes the lines: "I don't think we should allow Justin Trudeau to push us out of our country" and, "rather than focusing on Alberta separating from the Canadian Federation, I'd like to focus on separating Justin Trudeau from the Prime Minister's Office."
Federal Natural Resources Minister Amarjeet Sohi hit back at Kenney, calling the statements in the video "rhetoric" and citing recent positive investments the federal government has made in Alberta.
Kenney's video is a reaction to a July Abacus Poll that suggested that 25 per cent of Albertans feel their province should "separate from Canada." That's the second highest number polled in all of Canada, topped only by Quebec, which reported 28 per cent favoured separating from Canada.
Even though the Alberta figure is still very low and no one believes that there's any real push to leave, Kenney is trying to capitalize on the regional antipathy toward the federal government, especially the way it has delayed pipelines and imposed a punitive carbon tax.
Whether the video will have any effect on Trudeau's re-election chances is questionable — very few of these Alberta "separatists" will be voting Liberal in the next election anyway.