Debate Night: Mudslingers and Zingers But No Knockout Blow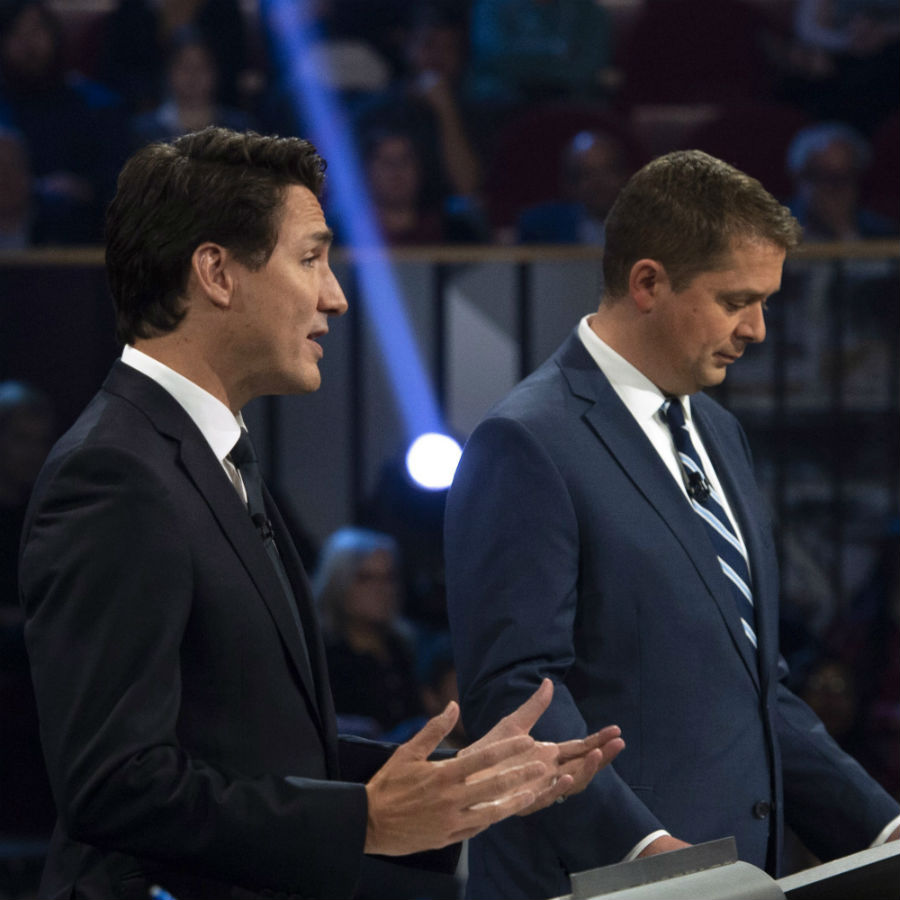 Conservative leader Andrew Scheer makes notes as Liberal leader Justin Trudeau speaks during the Federal leaders debate in Gatineau, Que. The Canadian Press/Sean Kilpatrick
There were plenty of zingers and lots of mudslinging at Monday night's chaotic leaders debate at the Canadian Museum of History in Gatineau, Que., but no one managed to score the coveted knockout blow.
All five opposition leaders ganged up on Justin Trudeau, taking a short break to bash one another, then going back at Trudeau.
For Trudeau, the barrage was not unexpected. As incumbent prime minister, he knew going in that he'd have to answer questions and defend the record of his first term in office.
But while Trudeau fended off repeated barbs, he managed to escape without serious damage. The prime minister seemed strangely flat most of the night and never really unleashed any of the Sunny Ways magic that wowed voters in the 2015 debate.
Since Trudeau didn't bring his A-game, NDP leader Jagmeet Singh stepped in to steal the spotlight. And he responded with the best performance of his young career, landing some memorable one-liners and scoring frequently at the expense of both Trudeau and Conservative Party leader Andrew Scheer. When moderator Dawn Friesen called him Mr. Scheer by mistake, he playfully pointed to his head and noted he wore a bright orange turban to the debate on purpose. "Why is this happening?" he asked in mock exasperation.
Everyone was waiting for Singh to face off with Trudeau over the brownface scandal. It didn't happen. The only politician who mentioned it (out loud) was Scheer, who brought it up in an awkward opening statement.
Scheer was the only one to call the Liberal leader out on this and the SNC-Lavalin scandal — time and again calling him a phoney and liar. Green Party leader Elizabeth May did well on Indigenous and environmental issues but struggled to answer any other question without bringing it back to the climate change emergency. And Bloc Quebecois leader Yves-Francois Blanchet and People's Party of Canada leader Maxime Bernier were given an inordinate amount of time to speak on issues no one really wanted their opinion on.
For such a large gathering on stage, the night's proceedings could have ended in chaos, as they did in the early Macleans-Citytv debate. But thanks to the efforts of the five moderators — Susan Delacourt (Toronto Star), Dawn Friesen (Global News), Althia Raj (HuffPost Canada), Lisa LaFlamme (CTV News) and Rosemary Barton (CBC News) — the leaders generally followed the clock and stayed marginally on point. However, they could not stop the inevitable bickering and cross-talking that broke out, which made the debate unintelligible in several places.
Here are some of the top quotes from the debate.
Andrew Scheer:
"[Trudeau] is always wearing a mask. You're a phoney. you're a fraud and you do not deserve to govern this country."
Context This plays into a large part of Scheer's campaign strategy to depict Trudeau as someone voters cannot trust, whether it's on deficits, the economy or the SNC-Lavalin affair.
"You're making your policy by trying to get likes and retweets from the darkest parts of Twitter." 
Context Scheer criticizes Bernier for making questionable comments on social media. He needed to distinguish himself from the People's Party leader and show Canadians he does not agree with any part of their platform.
"There is a vacancy for the Ontario Liberal leadership. If you're so focussed with provincial politics, go run for that office."
Context Scheer's one zinger, it was in response to Trudeau continually invoking Doug Ford's name.
Jagmeet Singh
"You do not need to choose between Mr. Delay and Mr. Deny."
Context It was probably the line of the night, and it got a good laugh when Singh mocked both leaders for their environment policy.
"We have Mr. Scheer and Mr. Trudeau arguing about who's worse for Canada."
Context Nice play again by Singh. Takes down both leaders at once and scores points for humour.
"You said a lot of nice things. What's it going to take now for Canadians to believe you're going to follow through on your promises. Your words are not good anymore."
Context Singh's main target in this debate — and in this election — is Trudeau. Singh began most of his attacks using a similar motif: "You said a lot of nice things," then listing off another of the Liberal leader's failed promises
Justin Trudeau
"Mr. Bernier, your only role on this stage is to say publicly what Mr. Scheer thinks privately."
Context Trudeau does nice work here, dismissing Bernier as a viable candidate and painting him as Scheer's alter ego.
"I think that's the most offensive think you've said all night, Max … that we're the same on climate change."
Context Good line, spontaneous and funny. However, Trudeau didn't need to score that many off Bernier.
"We included more support for seniors."
Context That concludes the entire mention of seniors during the whole debate. Despite two hours of talk on all the other issues, Trudeau was the only one to give a nod to older Canadians, however brief. It was an oversight of astounding proportions, considering they comprise the largest voting bloc in the nation.
Elizabeth May
"Co-operation is in our DNA."
Context Many times throughout the evening, May talked about the Green Party's willingness to collaborate with other parties and First Nations on the environment. While commendable, it was only an offer a party that probably won't win more than a few seats could make.
"Please God, (I hope) you don't get a majority this time around because you won't keep your promises."
Context That was the final shot May fired in a heated debate with Trudeau. She went to great lengths to criticize the Liberal environmental record all night, saying it wasn't based on science.
"If you have wealth, you have obligation."
Context And according to May, that obligation means the wealthy and corporations will have to pay for her $60 billion spending program.
Yves-François Blanchet
"No answer!"
Context Blanchet to Trudeau after the Liberal leader wouldn't answer the question on whether Trudeau would run "his" pipeline through Quebec. With the Bloc on the rise in Quebec, Trudeau didn't want to get involved in provincial politics.
Maxime Bernier
"You will spend $60 billion. You cannot spend your way to prosperity. Our national credit card is full. You have the same kind of fiscal policies as Venezuela."
Context Bernier, who was the object of much scorn last night, did manage to land this shot at May's fully costed platform.