An "Unstoppable" Political Legend and Unyielding Champion of Successful Aging: "Hurricane" Hazel McCallion Dies at 101
Hazel McCallion poses for the cover of Zoomer magazine in 2019. Photo: Chris Chapman
A retail politician beyond compare, an indomitable force on the Canadian political landscape, the public face of successful aging and an unyielding force of nature: "Hurricane" Hazel McCallion has passed away at the age of 101.
Mississauga's eternal "Madam Mayor," she helmed City Hall between 1978 to 2014, she revolutionized the way cities were run, cutting spending, keeping taxes low and filling the coffers through her insistence that developers pay levies to the city. During her tenure she always ran a debt-free city and never raised taxes and never lost an election.
"She was a great leader and a fun person to hang with," recalled Moses Znaimer, Founder and CEO of ZoomerMedia, in a statement after her death became public on Sunday. "It makes me very sad to know she's gone."
Whether it was rock climbing on her 90th birthday, fishing with mayors, advising politicians or speaking out for seniors, over her many years McCallion became such a fixture in the public eye that many simply assumed she would be around forever.
"We got used to the idea that Hazel would never die," said Znaimer, echoing the sentiments of her many fans and political colleagues.
An Unstoppable Force of Nature
McCallion sprang to national fame and popularity during a major catastrophe — in 1979, a train carrying dangerous chemicals derailed in Mississauga, and she presided over the evacuation of more than 200,000 residents.
Her adroit handling of the disaster and the calm, practical and shrewd leadership she displayed throughout the trying times won her the undying admiration of the people of Mississauga, who showed it by choosing her in the next 17 mayoral contests, many of which she won by acclaim.
During the course of her lengthy career, where she eventually became the longest-serving mayor in Canadian history, she transformed the sleepy Ontario suburb into Canada's seventh-largest city. She worked tirelessly, appeared at every event and never seemed to take a wrong step or inadvisable comment that might sour her relations with the voting public.
"Hazel McCallion was unstoppable," tweeted Prime Minister Justin Trudeau, who, like many federal, provincial and municipal politicians drew on the wisdom and experience. "There isn't a single person who met Hazel who didn't leave in awe of her force of personality," said Ontario Premier Doug Ford, a long-time friend and political ally. These sentiments were shared by many politicos who either encountered McCallion during her days in office or were influenced by her career.
"Politicians of any political stripe, federal or provincial, would court her," political consultant John Capobianco told Zoomer in its 2019 cover feature. If you wanted anything done, you needed Hazel on side."
Although she never publicly held an allegiance to any political party, she did help Trudeau win his first election in 2015. During the tight campaign, McCallion spoke out the now-famous "Do I Look Scared," political ad, explaining why seniors should support Justin Trudeau against then-Prime Minister Stephen Harper, which was run after Trudeau visited the CARP offices during a campaign stop. By convincing seniors to consider supporting Liberals,  many speculate that her voice may have tipped the balance in favour of Trudeau.
Lessons of Early Life
Born Hazel Journeaux on Valentine's day in 1921 in Port Daniel, Que., a small village of 1,500 on the Gaspé Peninsula. her parents owned a fish processing plant and ran a small farm as well.  She often suggested that it was those early days on the farm, with the hard work and diet of fish and vegetables, that laid the foundation for a long and healthy life.
It was on the farm playing hockey with her brothers that she developed a passion for the game that lasted her entire life. As a young woman, she even played hockey for a women's professional team in Montreal, earning $5 per game.
She later became a driving force behind women's hockey, ultimately helping to convince the Olympic committee to accept it as a sport at the 1998 Olympics. She skated well into her 90s, often surprising people on local rinks with her swift and confident skating skills, still prominent even at her advance age.
Setting the Standard for Successful Aging
In the 1950s, Hazel moved to Toronto to run an engineering office. Here, she met Sam McCallion, whom she eventually married. The couple moved to Streetsville, Ont., near Mississauga, raised three children and worked together on many of her early campaigns.
"He was a very kind gentleman … well respected in the community," she said of Sam, who died in 1997 after a battle with Alzheimer's.
In the early 2000s came the one blemish on her political career: she was accused of passing amendments that might have benefitted her son Peter's development company. However, the charges were eventually dismissed by a judicial probe and didn't affect her popularity — in the  2011 election she captured 76 per cent of the vote!
McCallion finally ended her extraordinary political run in 2014, telling Zoomer that she "always felt you should leave a job when you're at a high peak." She devoted her remaining years to promoting women's hockey, working for her many charitable causes.
Even as she approached the century mark, she did her own gardening and housework and kept up a superhuman schedule of public appearances and events. Up to her death, she was working for retirement-home developer Revera, serving as the company's CEO – Chief Elder Officer. Her duties included travelling to various Revera-run homes, boosting the morale of staff, chatting with residents and reporting their concerns back to the operator.
In 2022, she was appointed by Premier Ford as Chair of the Ontario Greenbelt Council. Although environmentalists criticized the appointment, accusing her of allowing unchecked over-development during her years in office (for which she became known as the "Queen of Sprawl"), McCallion performed that role right up until the end, defending the Ford government's controversial policy of allowing housing to be built on a strip of the once-protected area.
Throughout her long and successful life, McCallion never dwelt on the past and always looked to the future. She never once showed signs of slowing down and seemed to have very little time to grow old.
"She was a role model  and a beacon of the value of keeping on keeping on," said Znaimer. "She was indefatigable, unstoppable, always physically active, always personally engaged, always doing something useful for her community and her friends."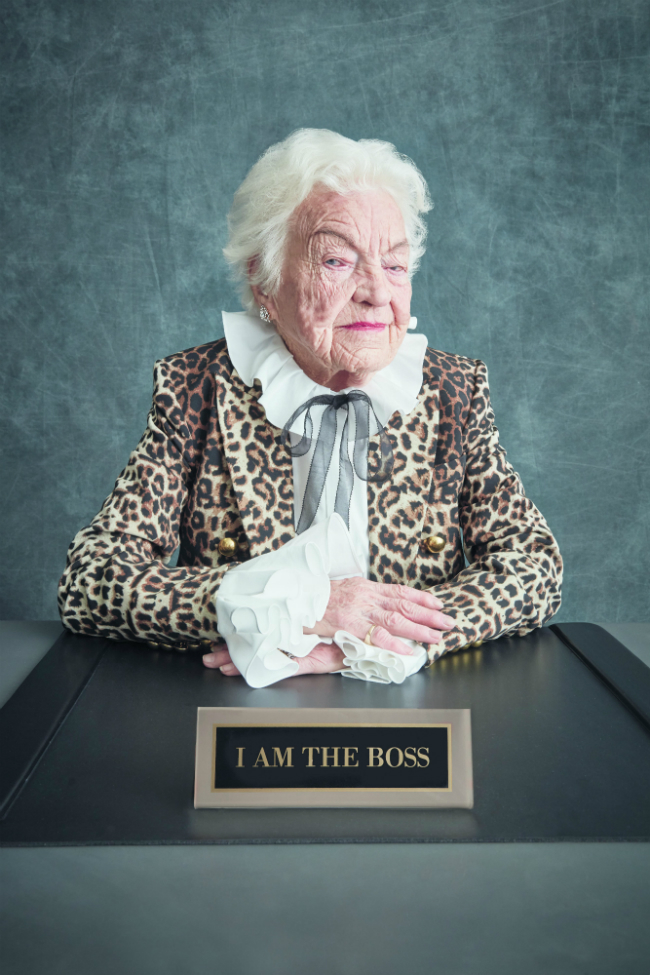 In her later years, her indefatigable energy was astonishing, turning her into an avatar of successful aging. She always had another hill to climb, another cause to champion and another goal to score.
The title of her biography spoke volumes about her unyielding nature: Hurricane Hazel: A Life With Purpose.
"You have to encourage people to be active, to have a purpose in life," she said at the 2019 unveiling of her Zoomer cover, which established her, at 98, as the magazine's oldest cover subject. "If you have a purpose in life, then you know where you want to go, you know what you want to try to accomplish."