ON SALT SPRING FALL IS NEAR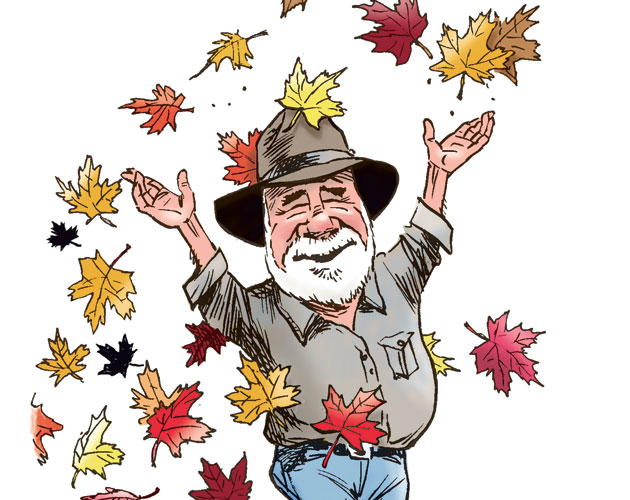 Celebrating autumn with flair on Arthur Black's island. 
Ahh, autumn. Could the gods possibly offer up a finer season? The berry's cheek is plumper, Emily Dickinson wrote. The nuts are getting brown … The maple wears a gayer scarf, the field a scarlet gown.
All that, and fall fairs too. Canada's dance card is speckled with autumn celebrations from the Trinity-Conception Fall Fair in Harbour Grace all the way across to the Sooke Fall Fair on the southwest tip of Vancouver Island. We love 'em. As entertainment, fall fairs are defiantly rural, endearingly innocent and just a touch hokey. Jake and the Kid country. They make you want to pop a straw hat on your head, stick a wheat stalk between your teeth, kick off your shoes and feel the dirt runnelling between your toes. And I live just a pumpkin toss from one of the finest in the country.
The Salt Spring Island Fall Fair has roots that go back to 1896. Ever since — aside from a couple of World Wars and a few fallow years in the middle of the last century — Islanders have been coming together each September in a community do-si-do to celebrate summer's gentle demise and to mingle with the neighbours in full relaxation mode.
Our farm community isn't the defining force it once was, but plenty of folks around here still run horses or raise sheep, calves, chickens and ducks. And because it's Salt Spring, alpacas, llamas, emus and ostriches.  You'll see them at the fair, along with the juiciest tomato, the tallest sunflower, the most flamboyant veggie/flower sculpture and the finest sheaf of wheat/oats/barley/rye/quinoa Salt Spring fields can offer up.
But it's about more than agriculture. Thanks to the almost embarrassing excess of musical talent on the island, it's tough to get bored at the Salt Spring Fall Fair. When you want a break from the border collie trials or sheep-shearing competition, wander over to the open air stage (free admission, hay bale seating). If you time it right, you'll catch Bill Henderson, of Chilliwack fame, in performance — or perhaps Valdy. Or Raffi — not to mention a host of less-famous but equally talented acts. They are Islanders all — and if Harry Manx or Randy Bachman isn't up on stage, look around. Chances are they're on the next hay bale, chowing down on a salmon burger.
The Salt Spring extravaganza nails all the usual fall fair familiars, along with a couple of offerings you won't find anywhere else — the Gumboot Dancers, for instance. Thanks to the buckets of liquid sunshine we're blessed with, gumboots — the Brits call them Wellies, you may know them as rubber boots, rainboots, barnboots or muckboots — are standard footwear on the Wet Coast for much of the calendar year. Gumboots are to Salt Spring as mukluks are to Pangnirtung and Manolo Blahniks are to Yorkville. A true Salt Springer is as comfy in gumboots as Karen Kain in ballet slippers or Sidney Crosby in a pair of Bauers.
A gumboot dance isn't a solo performance. It's a choreographed extravaganza involving up to a dozen performers and featuring rhythmic calf-slapping and syncopated foot-stomping. It's high energy, exceedingly merry and oddly beautiful. It is impossible not to grin idiotically when the Gumboot Dancers explode onto the stage.
And then there's the Zucchini 500. It operates under more or less the same rules that apply to the marginally more famous Indianapolis 500 — there's an official track, designated pit stops, even "mechanics" on standby — but instead of race cars, you've got wheeled zucchinis. Anyone can enter, providing they show up with a modified zucchini under their arm. Just add a couple of axles and a set of miniature racing slicks (roller-skate wheels are popular) and proceed to the elevated track. There, gravity and design innovation will determine who gets to stand in the winner's circle. Our most overrated vegetable has never been more nobly employed.
There is a midway for the kids, but it's the old-fashioned kind — beanbag tosses, ring-the-bottle, a fish pond with no water and "catches" for all. One year, organizers rustled up a bunch of oversized cardboard cartons from island businesses, set them up in a maze and let the kids go crazy. Simple still works.
Speaking of simple, let me share my favourite moment from 15 years of faithful attendance. The Salt Spring Fair takes place, fittingly, in the country, meaning a fair hike from what passes for bright lights here. The parking area fills up pretty quickly, but you can catch a free shuttle bus from town. Last year as I was leaving the fair, one of the buses waddled by, ferrying a load of sated visitors back to town. All manner of sated visitors — locals and Maritimers, Prairie-ites and Oregonians — probably some visitors from Europe to boot. It was a warm evening; the bus windows were down. And wafting out those windows, a spontaneous, if ever-so-slightly off-key vocal rendition of You Are My Sunshine in at least 16-part harmony.
Top that, CNE.