High-Dose Flu Shot Best for Seniors
Photo: Vladimir Gerdo\TASS via Getty Images
The minute Alice Rozak, 81 and her husband William, 83, got to the Zoomer Show in Toronto on Saturday, they headed to the immunization booth and signed up for their flu shots. "I'm over 65 so they gave me the high dose," explained Alice, adding the couple took an 8 a.m. bus to the show from their home in Prince Edward County more than an hour's drive away.
Moses Znaimer, the CARP guru, founder of all things Zoomer, perennial entrepreneur and dynamic advocate for aging Canadians, rolled up his shirt sleeve on Saturday too. "I'm doing it to protect myself," he said as he got jabbed. "I didn't feel a thing."
He praised Ontario for being the only province to provide the high-dose version of the vaccine free to seniors 65 and up.
In Alberta, for example, only seniors in long-term care homes are offered the high-dose shot, even though it's recommended for people 65 and over. Everyone else has to pay $75, and that's if they can get their hands on it. It looks like the high-dose vaccine won't be available in Alberta and British Columbia until late November or early December, because producer Sanofi Pasteur has said it will supply provinces where it is covered by health insurance first.
In Ontario, the Fluzone High-Dose vaccine is available only at doctors' offices and public health clinics, unlike the regular vaccine, which is free for all Ontarians and can be administered by pharmacists. The high-dose vaccine is trivalent, which means it protects against three strains of the virus: B, H1N1, and H3N2, which accounts for about 55 per cent of influenza cases in older adults, according to infectious disease specialist Dr. Allison McGeer.
A 2014 New England Journal of Medicine study found the high-dose vaccine provided 24 per cent better protection against H3N2 compared to the regular vaccine, which also covers H1N1 as well as two B strains.
Taking some credit for Ontario's policy — and also baring his arm for the high-dose vaccine alongside Znaimer — was Raymond Cho, 82, Ontario Minister for Seniors and Accessibility.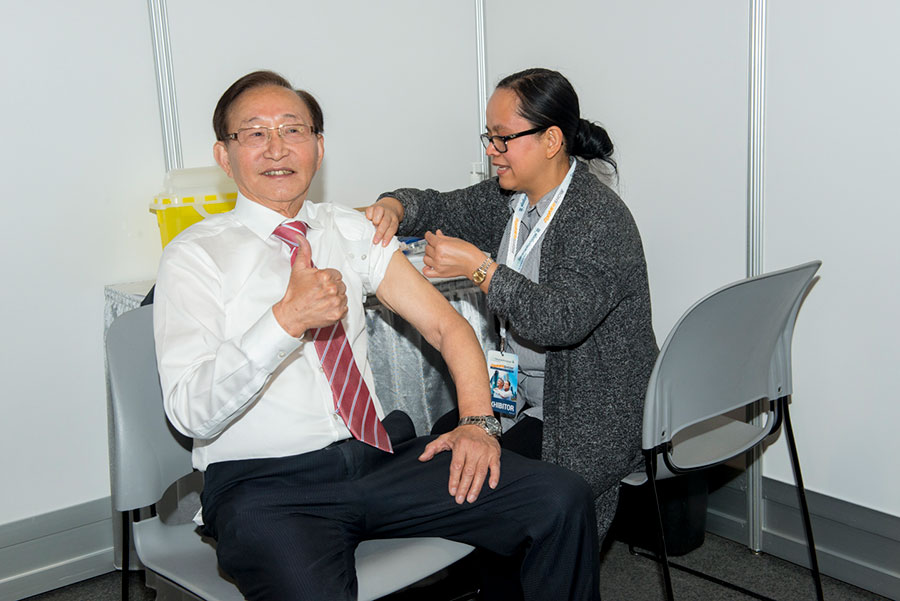 When asked if, like last year, there would a shortage of the high-dose vaccine, Cho said he'd be bringing up the subject when the Ontario Legislature reconvenes Monday after its extra-long summer break. "With flu season coming, it's so important to have enough high-dose vaccine for the seniors," he said.
But McGeer, a microbiologist and professor of public health at the University of Toronto, said seniors who can't find the high-dose version should just get the regular flu shot. "The trivalent (high-dose) is better, but there's not a huge difference," confirmed McGeer, a member of the National Advisory Committee on Immunization's  influenza working group.
"Generally speaking, in Canada we've done well in making sure we have enough doses of the trivalent. I have sympathy for the government because demand goes up and down and it's hard to balance having it when we need it but not wasting it."
McGeer said it's impossible to predict whether Ontario will run out of the vaccine, because the provincial government does not publicize how much it orders. "If we do run out of the high dose, let's all just get the quadrivalent (regular flu shot)," she says sensibly. "It's pretty good and you don't need to feel terrible about getting it instead."
McGeer noted some doctors may not have the high-dose vaccine available from time to time, "because there's a limit to how many doses they can order at once."
Ron Walls, 76, said his Toronto doctor didn't have the vaccine a couple of weeks ago, so he and his wife, Rosemary, 73, were glad to get it at the Zoomer Show. "We get a flu shot every year," said Rosemary. "I have tachycardia and Ron has clogged arteries, so why fool around?" The Walls are well-informed about the increased risk of flu and complications for seniors who have chronic health problems.
In its vaccine statement for 2019-2020 season, the National Advisory Committee on Immunization said flu and pneumonia are among the top 10 causes of death in Canada. Although flu casualties vary from year to year, it estimates that, on average,  12,200 Canadians are hospitalized and another 3,500 people die of flu-related causes each year.
Because it takes about two weeks after vaccination for protective antibodies to develop in the body, it's a good idea to get the vaccine early. "Generally speaking, the flu season starts in the middle of December," advised McGeer. "It usually starts in the west — Alberta, Arizona, that line east of the Rockies — before it moves east.
"When we get into December, we have a better idea of what's happening. You have to be in the influenza season before you know what the strain is going to be that's causing the problem and before you know how bad it's going to be."
Canada looks to Australia for clues on what's to come in flu strains, since its winter — and flu season  — begins in June. This year, H3N2 was more prevalent, and so far that is the most common strain being reported here, according to the federal government's FluWatch report for the week of October 13 to 19.
Its early days for flu season here, but with 358 lab-confirmed cases so far, it's time to get out and get the flu shot. Not only will you protect yourself, but you also help protect the health of the most vulnerable Canadians: pregnant women, children under five, children and adults with chronic illnesses like diabetes, cancer, and heart and lung disorders, nursing-home and chronic-care residents and Canadians 65 and over.