Lemony Cupcakes from Cook for the Cure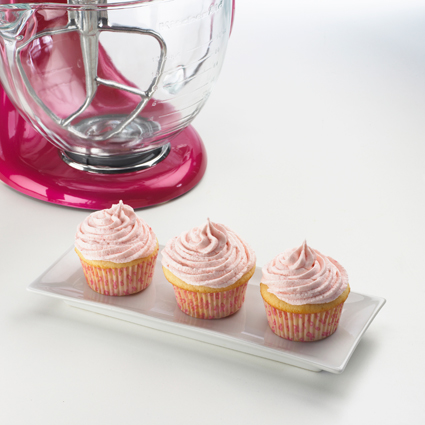 Turn your next get-together into a fundraising party. Ask guests to make a donation to the Canadian Breast Cancer foundation in place of traditional hostess gifts. The size of the donation is up to you, with all proceeds supporting research, education, community care and advocacy. As an added boost to the cause, KitchenAid Canada will donate $50 per party once you've submitted your funds to the Foundation. Share your pictures of the party and it could be featured on KitchenAid Canada's Facebook page.
Serve these cupcakes for a delicious dessert:
LEMONY CUPCAKES WITH STRAWBERRY FROSTING
Put the frosting on your own Cook for the Cure get-together with this delicious recipe from world-renowned Chef and KitchenAid Canada spokesperson, Lynn Crawford.
CUPCAKES (Makes 12 Cupcakes)
1 ¼ cups flour
1 tsp baking powder
¼ tsp salt
1 cup sugar
½ cup unsalted butter, softened
2 eggs
½ cup plain yogurt
2 tsp lemon zest
3 tbsp lemon juice
½ tsp vanilla extract
STRAWBERRY FROSTING
• ½ cup whole strawberries,
washed and stemmed
• 1 cup (2 sticks) unsalted butter,
firm and slightly cold
• Pinch of salt
• 3 ½ cups confectioners' sugar
• ½ tsp vanilla extract

Directions
Preheat oven to 325ËšF. Line a muffin tin with paper liners. In a large bowl,
mix together flour, baking powder, and salt. In a KitchenAid® Stand Mixer, on
medium-high speed, cream butter and sugar until pale and fluffy. Add eggs until
incorporated. Add yogurt, lemon zest, juice and vanilla. Mix until smooth. Slowly
add flour and mix just until smooth. Scoop batter into paper liners. Bake for
about 25 minutes. Let cool in pan for 10 minutes. Remove from pan and let cool
completely on rack before frosting.
Place the strawberries in a food processor and puree well. In the bowl of the
KitchenAid® Stand Mixer fitted with the paddle attachment, beat together butter
and salt on medium speed until light and fluffy. Reduce mixer speed and slowly
add confectioners' sugar; beat until well combined. Add vanilla and 3 tablespoons
strawberry puree. Mix until just blended. Frosting consistency should be
dense and creamy.
For more recipe ideas visit www.cookforthecure.ca.
To find out about reducing your risk of breast cancer, please visit cbcf.org