Recipe: Tuscan Ham Pot Pie from Tenderflake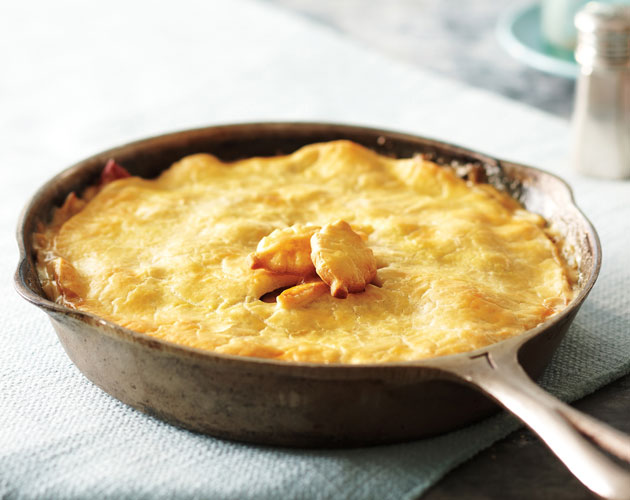 This delicious, one-dish recipe is sure to impress guests at brunch or any other time – just don't tell them how easy it was to make!
Ingredients:
1 Tenderflake® Deep Dish Pie Shell
2 tbsp (30 ml) salted butter
8 oz (240 ml) sliced mushrooms
1 tsp (5 ml) each dried thyme and oregano leaves
3 tbsp (45 ml) all-purpose flour
1 cup (250 ml) sodium-reduced chicken broth
1/2 (125 ml) cup dry white wine
2 cloves garlic, minced
1/2 cup (125 ml) sour cream
1 cup (250 ml) shredded cheddar cheese
1 bag (400 g) frozen mixed roasted vegetables
1 1/2 cups (375 ml) cubed, cooked ham
2 tbsp (30 ml) egg whites
Preparation:
Preheat oven to 350F (180C). Melt butter in a 10-inch ovenproof skillet set over medium-high heat. Add mushrooms, thyme and oregano. Sauté for 5 minutes or until lightly browned. Sprinkle with flour; cook, stirring constantly, for 2 minutes. Gradually whisk in broth, wine and garlic. Bring to a boil, stirring often, until thickened and smooth.
Stir in sour cream until well combined. Remove from heat; add cheese, stirring until melted. Stir in vegetables and ham.
Carefully remove thawed pie shell from foil pan and place over vegetable mixture (note: pastry will not cover the entire filling). Slash a few vent holes in the pastry. Brush with egg. Bake for 40 minutes or until crust is golden and the filling is bubbling.
Tip:
If you don't have an ovenproof skillet, transfer the mixture to a 10-inch shallow round baking dish or a 9-inch deep-dish pie plate (add 5 minutes extra bake time for the deeper dish).