Recipe: White Bean & Spinach Soup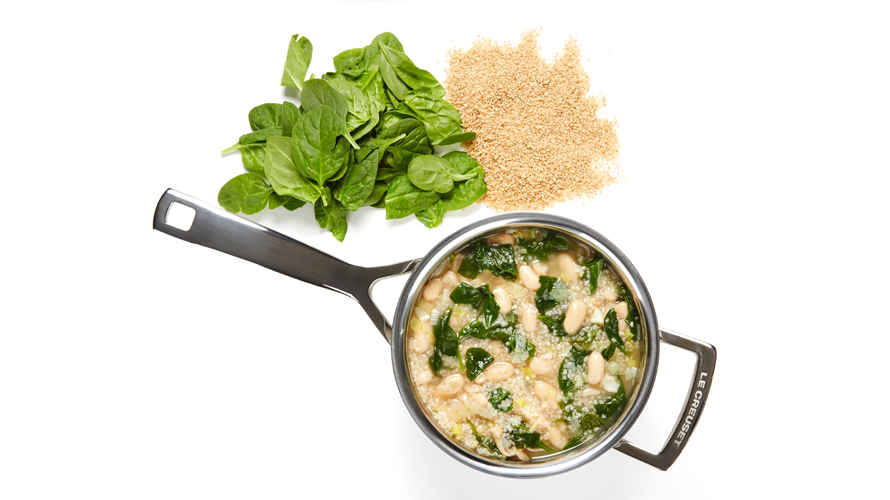 This delicious and easy white bean, spinach and couscous soup recipe is an exotic spin on a Tuscan tradition, relying on leeks, the mild cousin of the onion, for their subtle flavor, creamy beans for their rich texture, and couscous, with
a nutty taste, that makes every trip to the bowl delightful and surprising.
Ingredients
2 tsp olive oil
2 leeks, rinsed well, white portions chopped and green discarded
2 large garlic cloves, minced
2 tsp ground cumin
8 cups chicken broth
3 cups canned white kidney (cannellini) beans, rinsed and drained
2 dried bay leaves
1/2 cup whole-wheat couscous
2 cups fresh spinach leaves, packed tight
Kosher salt and freshly ground black pepper, to taste
Directions
1) Heat oil in a large soup pot over medium-high heat. Add leeks and garlic, sautéing 2 minutes or until tender.
2) Stir in cumin. Add broth, white beans and bay leaves. Over high heat, bring to a boil.
3) Add couscous, reduce heat to low, cover and simmer for 5 minutes.
4) Remove bay leaves and discard. Stir in spinach and cook until wilted, about 30 seconds. Season with salt and pepper.
Serves 6