Recipe: Tomato, Cucumber & Pita Salad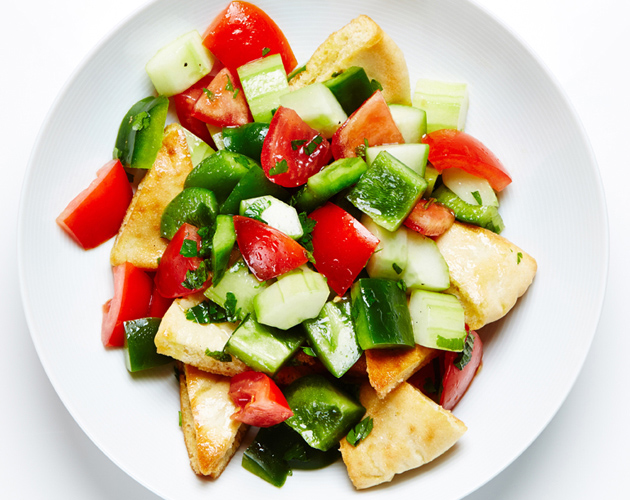 #MeatlessMonday. While we love stuffing them, we're thrilled to cut up our pitas for this easy and refreshing Middle Eastern salad. A combination of juicy tomatoes, crunchy cucumbers, sliced pita and peppers tossed with mint, parsley and a lemon dressing, this pita salad is both fresh and fantastic.
Ingredients
3 large pitas, cut into 1-inch pieces
1 tbsp olive oil
1/2 tsp kosher salt
1 English cucumber, peeled, seeded and chopped
4 large tomatoes, seeded and chopped
1 large green pepper, chopped
2 tbsp chopped fresh flat-leaf parsley
2 tbsp chopped fresh mint
Citrus Dressing
1/4 cup fresh lemon juice
1/3 cup olive oil
1 large garlic clove, minced
1/2 tsp kosher salt
1/4 tsp freshly ground black pepper
Directions
1) Preheat oven to 350°F. Coat a baking sheet with non-stick cooking spray.
2) In a medium bowl, toss cut pita with olive oil and salt. Spread on prepared baking sheet and bake 10-15 minutes, until crisp. Set aside and let cool.
3) In a large bowl, toss cucumbers, tomatoes, green pepper, parsley and mint.
4) For the dressing, in a small bowl, whisk lemon juice, olive oil, garlic, salt and pepper.
5) Just before serving, toss the cucumber-tomato mixture with the dressing. Gently add toasted pita and let stand for 5-10 minutes, allowing flavors to blend. Add salt to taste.
Serves 8
Julie Albert & Lisa Gnat are thrilled to announce the launch of their newest cookbook, Lick Your Plate. It has received rave reviews and features over 160 recipes that are foolproof and fantastic. It's a fresh and fun cookbook perfect for the home cook and also serves up over 100 drool-worthy recipe images, countless tips and tricks, meal pairings, and leftover suggestions. On shelves now, buy your copy online.