Recipes: Cinnamon Spice Makes Everything Nice
Fragrant, sweet and warming, cinnamon is a spice that has it all – it both serves up health benefits and enhances the flavor of food. Head for your spice rack, grab the cinnamon and whip up this selection of scrumptious recipes guaranteed to make you a spice girl (and boy)!
For some superb cinnamon sips, give this Cinnamon Hot Chocolate and Cinnamon Bun Milkshake a try.
1. Caramelized Spice Cauliflower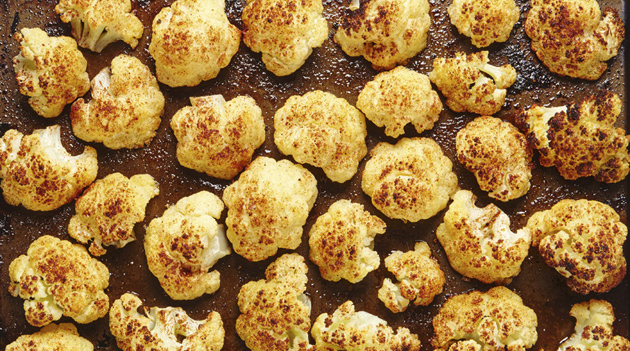 I feel for Mark Twain. At the mention of cauliflower, food writers inevitably blast the literary icon for his slandering the veggie as "nothing but cabbage with a college education." Surely he didn't mean to disparage the snowy white heads. When roasted, cauliflower is transformed into an elegant, sweet and tender side dish – a truly brilliant veggie with a Phd in Gastronomy.
INGREDIENTS
1 large head cauliflower, about 3 lbs
1 tbsp sugar
1/2 tsp kosher salt
1/4 tsp freshly ground black pepper
1/4 tsp ground cinnamon
1/8 tsp paprika
1/8 tsp ground cumin
1/8 tsp cayenne pepper
3 tbsp melted butter
DIRECTIONS
1) Preheat oven to 475°F.
2) Break apart the cauliflower into large florets and cut off the thicker stems. Place cauliflower in a single layer in a roasting pan or on a baking sheet.
3) In a small bowl, stir together sugar, salt, pepper, cinnamon, paprika, cumin and cayenne pepper.
4) Drizzle melted butter over cauliflower and sprinkle with the combined spices until evenly coated. Place in oven and bake 18-20 minutes stirring halfway through cooking. Remove from oven when cauliflower is tender-crisp and lightly browned around the edges. Serve immediately.
Serves 6-8
2. Sweet Citrus Spiced Salmon 
If you're a fan of this omega-3 rich fish but prefer when it doesn't taste, well, too salmony, this Sweet Citrus Spiced Salmon recipe is for you. Salmon is marinated in pineapple and lemon juice and then baked with a sweet and spicy topping, leaving every bite the perfect blend of flavourful (but mellow) fish!
INGREDIENTS
Citrus Marinade
3/4 cup pineapple juice
6 tbsp fresh lemon juice
6 (6oz) salmon fillets, skin removed
Sweet & Spicy Topping
1/2 cup packed brown sugar
2 tsp lemon zest
2 tsp chili powder
1 tsp ground cumin
1/2 tsp kosher salt
1/4 tsp ground cinnamon
DIRECTIONS
1) In a large resealable plastic bag, combine pineapple juice, lemon juice and salmon. Refrigerate for 1 hour, turning occasionally.
2) Preheat oven to 400°F. Coat an 11×7-inch baking dish with non- stick cooking spray.
3) For the topping, in a small bowl, combine brown sugar, lemon zest, chili powder, cumin, salt and cinnamon. Remove salmon from refrigerator and dispose of marinade. Place fillets in prepared baking dish and rub brown sugar mixture over salmon. Bake 12 minutes or until fish is flaky.
Serves 6
3. Apple Cinnamon Cobbler 
It's easy to do my job when the star of the dessert is called Golden Delicious. This old-fashioned dessert, a deep-dish inverted pie of sweet apples, cinnamon and buttery crust, is golden and delicious. Crisp and juicy, Golden Delicious are the perfect baking apple. In this cobbler, slices are cooked with cinnamon and sugar until slightly softened, and topped with a sweet drop batter until caramelized and bubbly. Golden-crusted and deliciously fuss-free (no kneading, rolling or fluting required), this dessert is as tasty and easy as pie.
INGREDIENTS
Apple Mixture
8 Golden Delicious apples, peeled, cored and cut into ½-inch slices
¾ cup sugar
2 tbsp flour
¼ tsp ground cinnamon
¼ tsp kosher salt
2 tbsp butter
Cobbler Topping
2 cups flour
6 tbsp sugar
1 tbsp baking powder
½ tsp kosher salt
½ cup butter, cold
½ cup whole milk
2 large eggs, lightly beaten
2 tsp sugar, for topping
DIRECTIONS
1) Preheat oven to 400°F.
2) For the apple mixture, in a large bowl, toss apples with sugar, flour, cinnamon and salt. In a large skillet, melt butter over medium heat. Add apple mixture and cook 7 minutes until apples are slightly tender. Transfer to a 9-inch pie plate.
3) For the cobbler topping, in a large bowl, combine flour, sugar, baking powder and salt. Cut the butter in until the mixture resembles coarse crumbs. Using a wooden spoon or our hands, stir in the milk and eggs, just until batter is moistened, careful not to over mix. Taking large spoonfuls, drop the batter over the apples and sprinkle with 2 tsp sugar. Place pie plate on a baking sheet and bake 30 minutes until top is nicely browned.
Serves 6-8
4. Cinnamon Coffee Scones  
In many ways, these Cinnamon Coffee Scones are the perfect baked good. Not only are they delicious (each bite is a perfect one of the cinnamon, coffee and brown sugar filling mingled with the moist and buttery scone), but they are also extremely easy to make. While the thought of baking scones conjured up British perfectionism, these are in fact the most forgiving pastry, ideal for both beginner bakers and a steaming cup of tea.
INGREDIENTS
Cinnamon-Coffee Filling
¼ cup brown sugar
2 tbsp flour
1 tsp finely ground coffee
½ tsp ground cinnamon
2 tbsp cold butter, cut into small pieces
Scone
2½ cups flour
½ cup sugar
2 tsp baking powder
½ tsp baking soda
½ tsp kosher salt
½ cup cold butter, cut into 1-inch pieces
1 cup vanilla yogurt
1 egg
2 tsp vanilla extract
Egg Wash
1 egg white, lightly whisked
2 tsp sugar
Glaze
1¼ cups icing sugar
3 tbsp strong brewed coffee, cooled
DIRECTIONS
1) For the cinnamon-coffee filling, combine brown sugar, flour, coffee and cinnamon in a medium bowl stir to combine. Add butter, incorporate until coarse crumbs and set aside.
2) For the scones, preheat oven to 375ºF. Line a baking sheet with parchment paper. In a large bowl, combine flour, sugar, baking powder, baking soda and salt. Cut in butter with your fingers until pea size crumbs. In a small bowl, whisk yogurt, egg and vanilla extract. Add to flour mixture and stir with a wooden spoon until moistened. Dump onto a lightly floured surface and knead 5 to 6 times. Divide dough in half, and pat each half into an 8-inch circle. Sprinkle cinnamon-coffee filling over one circle and place remaining dough circle over top. Pinch edges gently together. Cut into 8 wedges and place each wedge on prepared baking sheet. Brush wedges with egg white and sprinkle with sugar. Bake for 20-25 minutes, until tops are golden.
3) For the glaze, whisk together icing sugar and coffee in a small bowl. Drizzle over cooled scones.
Yield: 8 scones
5. Cinnamon Swirl Breakfast Bread 
Contrary to popular belief, you don't need fresh cut flowers or a fresh coat of paint to sell your house. Heck, you don 't even need a real estate agent. The homey aroma of this cake-like loaf is the ultimate welcome mat – once buyers catch the irresistible scents of spicy cinnamon and bread baking, their olfactory euphoria will blind them to any leaky faucet or drafty corner.
INGREDIENTS
1/2 cup butter, softened
1 cup sugar
2 large eggs
2 tsp vanilla extract
1 cup sour cream
2 cups flour
1 tsp baking powder
1/2 tsp baking soda
1/4 tsp kosher salt
Cinnamon Swirl
1/2 cup sugar
1 tbsp ground cinnamon
2 tbsp melted butter
DIRECTIONS
1) Preheat oven to 325°F. Coat a 9×5-inch loaf pan with non-stick cooking spray.
2) For the batter, in an electric mixer, cream together butter and sugar on medium speed until well blended. Add the eggs one at a time, beating well after each addition. Add the vanilla and sour cream and mix on low speed for 30 seconds. Using a wooden spoon, stir in flour, baking powder, baking soda and salt just until moistened and the flour has disappeared.
3) For the cinnamon swirl, in a small bowl, stir together sugar and cinnamon.
4) Spoon half of the batter into the prepared loaf pan and sprinkle with half of the cinnamon sugar mixture. Pour remaining batter over the top. Sprinkle with remaining cinnamon sugar and drizzle with melted butter.
5) Place the loaf pan on a rimmed baking sheet to catch any drippings. Bake for 55 minutes. Let cool in the pan 10 minutes before removing. Serve warm.
Serves 12
6. The Best Cinnamon Buns 
I really don't have to do much of a sell job on these, but here are the adjectives that best describe these fluffy, gooey, rich, warm, blissful, sweet pastries swirled with buttery, cinnamon-brown sugar and smothered with a cream cheese frosting: amazascrumptabulous. If that doesn't sell these to you, the intoxicating aroma of these finger lickin' rolls of kryptonite will certainly seal the deal.
INGREDIENTS
Dough
1 cup whole milk, warmed
½ tsp sugar
1 (¼oz) package active dry yeast
½ cup sugar
½ tsp vanilla extract
2 large eggs
4 cups flour
1 tsp kosher salt
1/3 cup butter, softened, cut into pieces
Extra flour for dusting
Filling
1 cup packed brown sugar
2 tbsp ground cinnamon
1/3 cup butter, melted
Cream Cheese Glaze
½ cup cream cheese, softened
½ cup butter, softened
1¾ cups icing sugar
1 tsp vanilla extract
DIRECTIONS
1) For the dough, in the bowl of an electric mixer, combine warm milk and ½ tsp sugar. Sprinkle in yeast and let sit 10 minutes, until foamy.
2) Using the dough hook, add ½ cup sugar, vanilla and eggs on low speed. Add flour and salt on low speed. Once incorporated, turn mixer to medium-high, allowing it to knead dough for 4 minutes. Add butter and continue on medium-high speed for 6 minutes, until dough is smooth and pulls away from the sides of the bowl. With floured hands, remove dough from mixer and roll into a large ball. Place it in a large bowl that has been coated with non-stick cooking spray. Cover with plastic wrap and let rise in a warm spot until doubled in size, about 1 hour 15 minutes.
3) Line 2 large baking sheets with parchment paper. On a lightly floured surface, roll dough into a ¼-inch thick rectangle that measures 16×21 inches.
4) For the filling, in a small bowl, combine brown sugar and cinnamon. Brush the melted butter on the surface of the dough leaving a ½-inch border around the edges. Sprinkle brown sugar mixture over melted butter. Roll the dough into a fairly tight cylinder and press along the edges to seal. Cut into 12 equal pieces. Place on prepared baking sheets, cover with a cloth and let rise in a warm area for 1 hour.
5) Preheat oven to 400°F. Bake buns 10 minutes or until golden.
6) For the glaze, in an electric mixer, cream together cream cheese and butter on medium-high speed until well blended. On lwo speed, add icing sugar and vanilla. Once combined, raise speed to medium and mix well. Spread on warm cinnamon buns.
Yield: 12 cinnamon buns
Authors of bestselling cookbooks Bite Me, Bite Me Too and Lick Your Plate, saucy sisters Julie Albert and Lisa Gnat love eating, feeding, entertaining and dishing up easy recipes at BiteMeMore.com.
RELATED: