How the World's Oldest Models Embrace Aging
Carmen Dell'Orefice, photographe by Bryan Adams
As we age and notice changes that come along with the passing of time, it is hard to always feel comfortable in our skin. Our Zoomer mandate of feeling good and embracing aging can be much easier said than done. Sometimes, we need to take a tip from the pros to power through a rut.
Carmen Dell'Orefice, Marion Finlayson, Daphne Selfe, China Machado and Jenni Rhodes all have one thing in common – the ability to age gracefully and do so in front of the cameras. All models are in their 80s, in an industry with severe Peter Pan syndrome.
Each woman has made headlines for participating in campaigns usually reserved for models more than half their age – and they've helped reshape the industry with their grey-haired presence. Click through our slideshow to see how these octogenarian models manage to step comfortably behind the lens and set the bar for what it means to age gracefully and above all, glamorously.
Jeanne Beker interviewed Carmen Dell'Orefice in 2011 for Zoomer magazine. Beker asked her how she continued to feel as beautiful as she is when she sees something different in the mirror. The then 79-year-old said, "As soon as I wake up, I say hello to the stranger I see in the mirror. The first thing I do is make friends with that person I meet in the morning. I have to do my exercises and I have to do what makes me feel good physically because if I'm not feeling good physically, my brain falls apart. And I certainly am suffering the ravages of time like everybody else."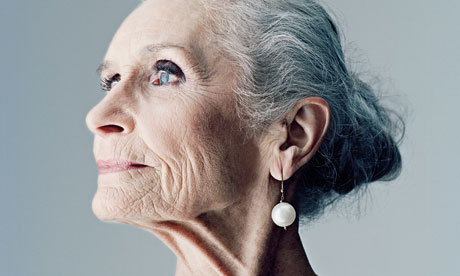 Considered the world's oldest model, Daphne Selfe, 83, has worked with the fashion industry's biggest names including Dolce and Gabana, Rankin, Mario Testino and Vogue. Selfe was recently featured in Britain's TK Maxx (their answer to TJ Maxx) campaign. The long (grey) haired model should also be pegged as the world's most low-maintenance model. Despite the stereotype, Selfe told the Daily Mail that she's never done any work to her face. "Not that poison, not a face lift. I think it's a waste of money. Anyway, I couldn't afford it!" She adds that doesn't use many skin creams, either.

Eighty-year-old Marion Finlayson dabbled in modelling in her 40s but put it on hold to raise a family. This year, she signed with a modelling agency and became Scotland's oldest model. She told the Daily Record, "I keep in shape by doing yoga and Pilates classes every week. I've got lots of energy and I love meeting lots of new people and keeping up with fashion." Adding, "I'm really enjoying the jobs, travelling around and keeping up with fashion. I'll keep doing it, as long as anyone asks."
China Machado is certainly not taking her first trip down the catwalk at 82. Machado was one of the first non-white cover girls and photographer Richard Avedon's muse. After years of fulfilling other interests and publicly declaring she would not model again, the grandmother of two signed with IMG models at the age of 81. It's clear that she has good genes on her side after admitting to the Telegraph, 'I've never dieted, never exercised. I eat like a pig and I drink – mainly vodka" When it comes to aging, though (she dyes her grey hair) – her beauty regime is simple: soap and Pond's cold cream. She admits to wanting to look her best at her age but says, "But have I ever had my face done? No. Have I ever had my boobs done? No."
Semi-retired Hollywood actress and jewelry designer Jenni Rhodes, 81, amazes us with the recent work she's done with fashion label VIELMA's campaign as well as Zara. Zara is especially impressive as its brand sways toward the younger demographic. Chilean designer Gabriel Vielma told the UK's Daily Mail, "Her presence tells a story and this is inline with my collection. The clothes sit just as well on this woman as they would on a 17-year-old." And there should be more models like this – who ooze character rather than having to paint it onto to them. The human form in all genders and ages is magnificent.