Vogue Model is 100-Years-Old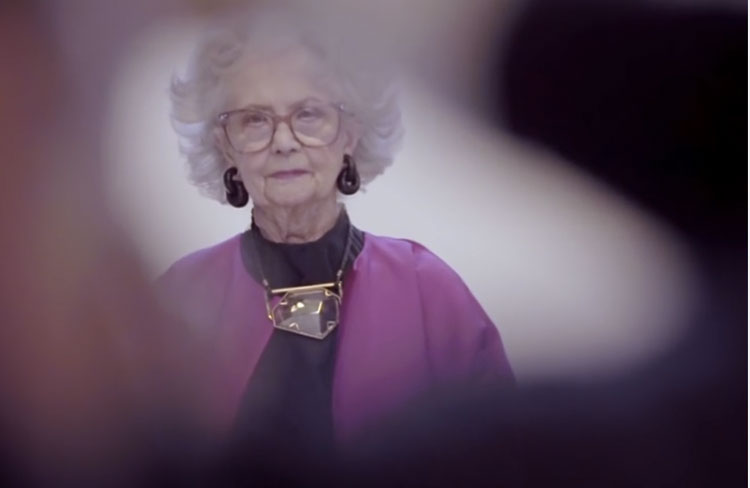 To celebrate the 100th anniversary of British Vogue, the British fashion store Harvey Nichols is featuring 100-year old Marjorie Gilbert as the model in its exclusive campaign in the May issue of the magazine.
And she looks fabulous in her designer outfit.
She's wearing a bright coat by Dries van Noten, a Victoria Beckham black top, trousers by The Row, shoes by Celine, and Valentino glasses.
Known as Bo, the centenarian has lived in a supportive housing facility in Birmingham since she was 74. Her husband and daughter both died but her son-in-law visits often, reports the Telegraph.
It's the first modelling gig for Bo, who has lived alone in a supportive housing facility in Birmingham. She was discovered by an advertising agency after her picture appeared in a local newspaper with an article about her 100th birthday.
"I was shocked really," Bo told the Telegraph, "just unbelievable. Something that you would never dream of thinking about or doing, it was quite an honour to be asked."
When she's not modelling haute couture, she wears "nice cardigans" and trousers, she said — "easier than wearing a skirt."
She's always admired Audrey Hepburn's stylishness and says that it's important to "keep standards up."
Bo wears make-up every day, according to the Telegraph, wears heels and makes sure her hair is done properly.
But, she says, "I never dress up for boys."
The creative people who worked on the campaign had nothing but praise for her. "It was a privilege to work with Bo," said the marketing director of Harvey Nichols. "She is a fabulous, independent lady who epitomises timeless style."
Bo's explanation for her longevity and fabulousness?
"I do things a lot of people wouldn't do at my age,"  she said.