Stock Smarts: New Flyer a Success Story in Bleak Manufacturing Landscape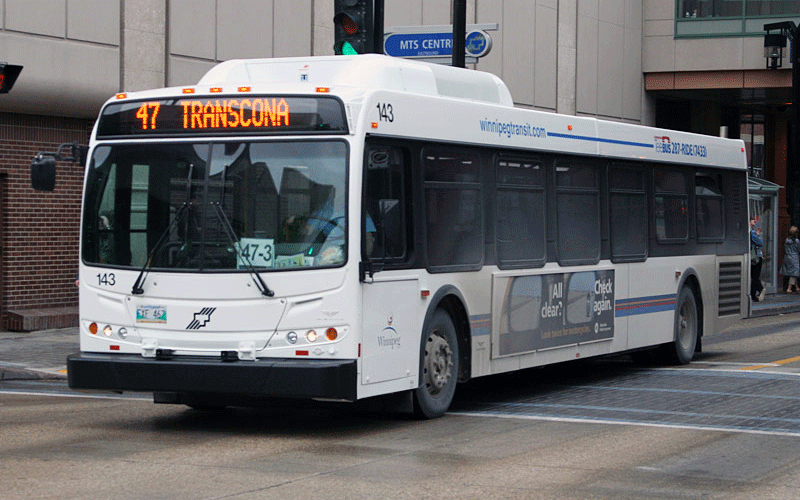 Demand is soaring for Winnipeg-based bus company's clean energy products.
It's no secret that Canada's manufacturing sector isn't what it used to be. It seems like every time we turn around, another company is closing down facilities and laying off staff.
The automotive sector, once the backbone of Ontario's industrial complex, has seen hundreds of high-paying jobs move to the U.S. and Mexico in recent years, leaving the unemployment rate in Windsor hovering around 10 per cent.
A few weeks ago, giant Caterpillar Inc. announced it is closing its Electro-Motive Diesel rail locomotive office in London, Ont. About 50 people will lose their jobs. Three years earlier, the company closed the London locomotive plant, switching production to Indiana at the cost of 450 jobs.
Last year, H.J. Heinz shut down its ketchup plant in Leamington, Ont. with the loss of 740 jobs. Earlier, the Hamilton area was rocked by the news that U.S. Steel was pulling out. And the beat goes on.
Against that backdrop, it's encouraging to come across an industrial success story. Winnipeg-based New Flyer Industries (TSX: NFI) is proof that manufacturing can survive and prosper in today's Canada.
New Flyer is the leading producer of heavy-duty transit buses in the United States and Canada. The company, which is based in Winnipeg, has manufacturing operations in that city and across the border in Minnesota.
This is a leading edge company, with a strong emphasis on clean transportation. It developed the world's first zero-emission hydrogen fuel cell fleet and offers customers a broad product line of transit buses including drive systems powered by clean diesel, natural gas, diesel-electric hybrid, electric trolley, and battery-electric.
The company also operates an aftermarket parts organization, sourcing parts from hundreds of different suppliers and providing support for all types of transit buses. New Flyer employs 3,300 people with manufacturing, fabrication, parts distribution, and service centres in both Canada and the U.S.
Demand for New Flyer's products continues to grow. On Oct. 15 the company announced that its order backlog had increased to $3.59 billion as of Sept. 30, up from $3.49 billion at the end of the second quarter and $3.07 billion at the same time last year.
The company said that clean propulsion systems (such as natural gas, diesel-electric hybrid, electric-trolley, and battery-electric) represented approximately 71 per cent of the total backlog. New Flyer delivered 625 buses during the third quarter and received 1,133 new orders.
The company added to its backlog late last week with the announcement of a firm order from the Massachusetts Bay Transport Authority for 325 buses, with a value of $223 million. The deal also includes options for another 400 buses at a cost of approximately $254 million.
Earlier, New Flyer announced second-quarter results that showed significant improvement over 2014. Revenue was up 8.2 per cent year-over-year to $375 million, due to growth in both bus manufacturing and aftermarket sales. Net earnings came in at $12.4 million ($0.22 per share) compared to $3.6 million ($0.06 per share) in the same period of 2014. Free cash flow was $26.4 million and declared dividends were $8.4 million.
For the first half of the 2015 fiscal year, the company reported net earnings of $23.2 million ($0.42 per share). That was a big improvement over $9 million ($0.16 per share) the year before. Free cash flow in the first half was $38.8 million while $16.8 million was paid in dividends for a free cash flow payout ratio of 42.7 per cent. That compared with 61.2 per cent during the first six months of 2014.
For years, New Flyer was a low-profit operation, better known for its attractive dividend than for its growth potential. It was only this year that the share price began a breakout above the $14 mark, reaching a high of $20.84 at the start of this month before pulling back to the current level.
The monthly dividend stayed flat at $0.04875 per unit ($0.585 per year) from August 2012 until May of this year, when it was increased to $0.05167 ($0.62 a year). When the stock was trading around $8 at this time three years
ago, the yield was a very attractive 7.3 per cent. Even with the recent dividend hike, the yield has dropped to 3.2 per cent. That's below what the big banks are paying so the shares have become less attractive from a cash flow perspective. New Flyer now looks much more like a growth stock than a yield play, which from a business perspective is good news for the company.
The bottom line is that New Flyer is a Canadian manufacturing winner. The shares offer a combination of further growth potential along with a still respectable yield. Ask your financial adviser if it is suitable for your portfolio.