Why You Should Add Digital Photos and Data to Your Will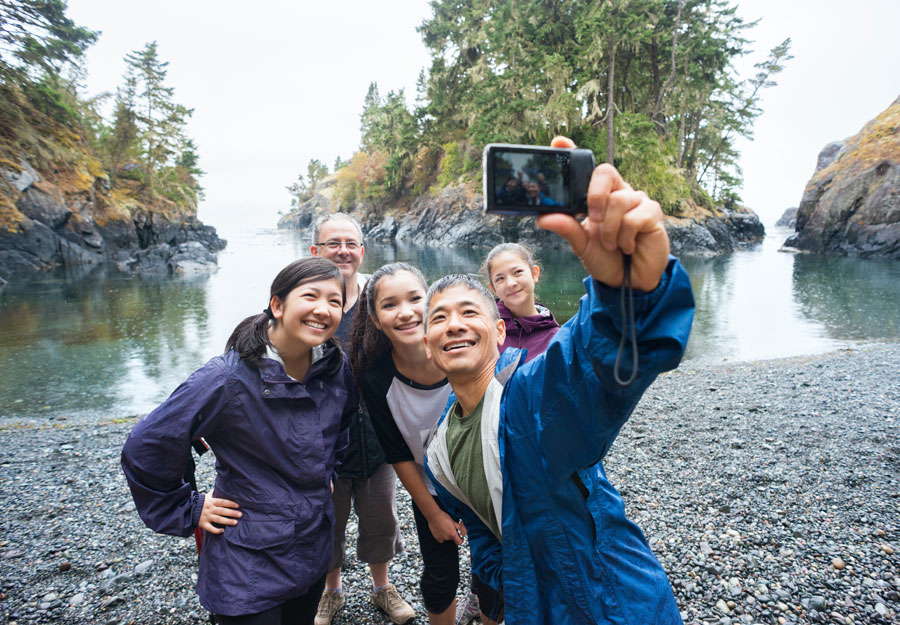 Photo: Pamela Joe McFarlane/Getty Images
You've spent years amassing Air Miles or hundreds of hours posting pictures of the grandkids and their funny sayings on Facebook. Your Instagram is a work of art – your art, in fact. But have you ever thought about what will happen to all that when you're gone?
As baby boomers become more digitally savvy and embrace new tech, big chunks of their lives reside in nooks and crannies of the digital landscape such as apps, clouds, devices and hard drives.
So what do you do if you want to leave your digital music collection to your kids? Who gets that half a Bitcoin stashed in your cyber wallet?
Sharon Hartung, an engineer with 30 years experience in IT and project management, wants you to put it in your will. In her recent book Your Digital Undertaker: Exploring Death in the Digital Age in Canada, she talks about how digital assets are every bit as important as money and tangible property when it comes to estate planning.
Hartung also hopes to address a major blindspot for Canadians.
"I'm using technology as a means of having a conversation about the importance of having a will and getting your affairs in order," she explained in a phone interview from her office in Vancouver.
Many Canadians need the reminder. According to a 2018 Angus Reid Poll, 51 per cent of Canadians don't have a last will and testament, while only one third said they have one that is up to date.
For those who already have a will, Hartung hopes her book introduces digital assets into the estate-planning conversation.
"If you're an executor, I'm hoping people will ask their loved ones a lot more questions," she says. "If they don't have these conversations and ask these questions, they're going to be really challenged to meet the wishes of their loved ones."
Hartung, a former IBM executive, was thrown into the world of digital assets when her mother died in 2015 without a will (known as intestate).
"I had no idea how big the job was," Hartung said.  "It's kind of the least-known project that your family is going to give you."
While her mother's digital footprint was quite small, the process got her thinking about the digital assets in her own life.
"We have wishes and preferences about these things that need to be addressed," Hartung says.
Planning who gets what digital assets can be an enormous undertaking, and ignoring it can mean handing your executor what Hartung calls "digital hell in a hand basket."
So to simplify the project, Hartung suggests identifying the top three digital assets we'd be devastated to lose, include them in our wills and figure out how to pass them down.
Here are the main things to consider when planning your digital legacy:
Sentimental Journey
For many, the days of printing out photos for the family album are over. Instead, our photos are uploaded to the cloud, shared on social media or stored on other online accounts, each of which has their own rules around providing access to an executor or family member when the user dies.
His case underlines an important consideration for Canadians, who often use U.S. service providers to store their data. Companies like Apple use U.S. servers to store customer data, which means they require a U.S. court order before they can provide access to a deceased person's account.
Policies regarding a user's privacy extend beyond their lifetime. Yahoo, for instance, will shut down an email account and delete it if proof of the user's death is provided, but will not give out the password or any specific content from the account.
Gmail, another American-based service provider, requires proof of the user's death, Google's approval and a U.S. court order before they turn over any content.
Fortunately, there's easy ways to ensure loved ones have access to photos without any complicated provisions.
"Beyond the idea of sharing photos with others while you're living, printing them out the old-fashioned way still works," Hartung says. "It just takes a couple of minutes to come up with the solutions once you're aware of the issue."
This can be as simple as uploading pictures to an external hard drive or sharing them online with friends. For Facebook users who've restricted access to their photos, tagging friends and family is an easy way to share photos as they're taken.
Online music collections can also be difficult to pass on.  For instance, the terms of service for iTunes don't allow the transfer of any content, and there is no mention of steps to take if an account holder dies. However, these online music services often provide an option for users to share an account with members of their household, which may be the best preplanning option.
Social Lives
Our online lives don't end with our physical death. Most social media platforms and email providers require proof of death before they will shut down an account.
For Janeen Wagemans, a 72-year-old retired teacher who provides courses on smart phones and tablets at her local community centre in Iroquois, Ont., including her Facebook account in her estate plan was less about passing digital assets on and more about consideration for fellow users.
"I keep wishing dead people happy birthday," Wagemans says. "Over time, you find you have an awful lot of dead friends floating around on your Facebook, and you kind of wish someone would make it into a memorial page or do something with it."
If a Facebook user hasn't specified whether they'd like their account deleted or memorialized, a family member or close friend can submit a request to Facebook for either option after they've died. Memorialized accounts remain on Facebook for friends to write tribute posts, but no longer allow anyone to access it, even with a password.
Wagemans urges her students to go a step further and use Facebook's Legacy Contact option, which allows a user to choose someone to look after their memorialized account. The legacy contact can download an archive of information shared to the account, including uploaded videos, photos and wall posts but will not have access to the user's private messages. After the data is downloaded, they can either delete the account or maintain the site as a memorial page, which includes sharing a final message on the wall and viewing and managing tribute posts.
Wagemans jokes that she won't "worry about an awful lot" after she goes: she has appointed her step-daughter as her legacy contact to do "whatever she likes" with the account and anything shared on it.
Gmail has a similar option called Inactive Account Manager, where users select a trusted contact to receive data they've chosen to share after their account has been inactive for a period of time that they specify. After the account is inactive for that time period, the contact receives an email with a link to the selected data.
Digital Assets
Unfortunately, the majority of online service providers have no preplanning options and leave it up to the user to make arrangements.
Suzana Popovic-Montag, an estates and trusts lawyer and managing partner at Hull & Hull LLP in Toronto, has added digital assets to the checklist she goes over with clients when they are drafting their wills.
And if you want to ensure your data ends up in the right hands, Popovic-Montag says it's crucial to have a lawyer add them to the will.
"It's important for you to bind someone with the responsibility," she says. "You want to make sure you've done it right. Otherwise it's just …  crossing your fingers and hoping they'll do right by you."
Don't forget that bank accounts and magazine subscriptions are also managed online and have little to no paper trail. So simply naming them can make the executor's job a lot easier.
"If you don't (leave a list of digital assets), you're just kind of hoping that the executor is a very good investigator," Popovic-Montag explains.
Passwords
The most common issue when it comes to digital assets is access. Leaving a list of passwords is an option, but Hartung says they're not an "effective estate planning tool" for practical reasons.
"As we know they can get written down incorrectly," she explains.
Also, as we continue to adopt more secure alternatives, including facial recognition and two-factor authentication, passwords are becoming more and more obsolete.
Unfortunately, very few online accounts that house our photos, points and data provide pre-planning options.
"I think every technology provider should be giving us some options," Hartung says. "You can name someone on your insurance policy, you can name them on your RSPs and your TFSA. We need the same choices with our technology."
Until then, leaving passwords for those accounts without preplanning functions may be the easiest way to provide access.
Instead of providing each individual password, Wagemans has given her executor access to her password wallet, an online account that manages and stores all of her online passwords in one place.
Reward Points
Service agreements also play a role in passing on rewards points. While many loyalty programs including Air Miles and WestJet Rewards allow transferring points to a beneficiary if a letter from the executor and proof of death is provided, others like Canadian Tire's Triangle Rewards points and PC Optimum points expire on death.
For those that do expire, check to see if they have a joint account option, which would allow you to share points with a beneficiary before it's too late.
Others, like Aeroplan, treat points like any other financial asset and require the beneficiary to be named in the account holder's will.
When it comes to cryptocurrencies like bitcoin, an alphanumeric password known as a private key needs to be left behind to allow for access or any transfer of funds.
RELATED: