From Downsizing to Death Cleaning, How Baby Boomers Can Purge a Lifetime of Possessions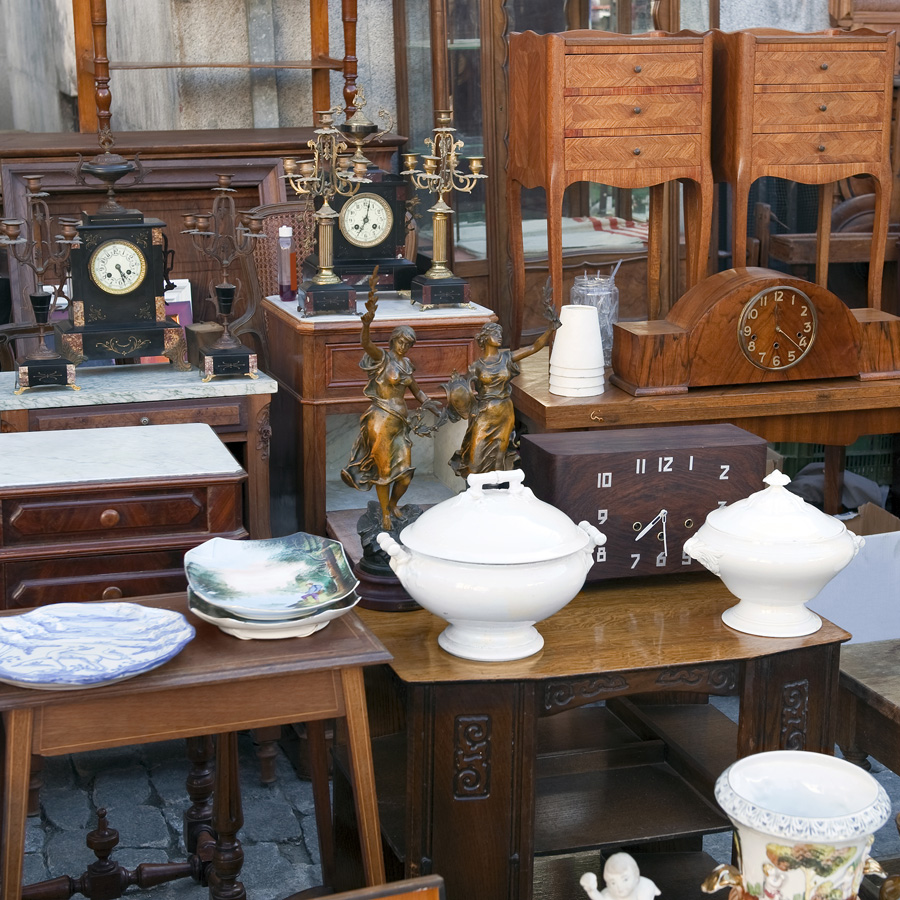 A purge of your own, or a loved one's, possessions can take many forms, from professional estate sales to downsizing parties where the guests take an item with them when they leave. Photo: Parema/Getty Images
The saying, "You can't take it with you," was invented for this 5,000-square-foot home in Brampton, Ont., which was owned by a Southeast Asian matriarch who left the house and its treasures to her son when she died last fall.
As you enter, a one-metre tall statue of the Hindu elephant god Ganesh greets you in the foyer. "Trust me, it weighs a tonne," says Veronica Harding, owner of The Great Estate Sale company, who was hired to clear out the place by the Chicago-based son.
Behind Ganesh, tables are covered with more Corningware than you'll ever see in a department store, silverware, teacups and saucers and chef's knives. Harding's team spent two months sifting through the belongings the woman left behind, including in every closet — all filled from floor to ceiling.
"I don't think I'm going to make much money off this. Most of this is not high end and, if it is, it's not in demand. But the money here is in jewelry and saris," she notes.
That's because Brampton has one of the highest immigrant populations in the country, and census information shows that more than half of its visible minority population is South Asian.
"We're going to entice a culture that will respond. We'll flyer the neighbourhood, go to the Indian newspapers online."
After researching saris, Harding says some could be worth $20 or $30, but others could go for $500 or even thousands. "It depends on how much work has gone into beading and stuff."
"Stuff" has been Harding's life for 40 years. Trained at Toronto's Humber College as an auctioneer, she is an old-school estate-sale manager. Most of her clients are offspring of the recently deceased who need to empty their parents' homes.
Harding notes that every estate sale company operates differently, but hers charges a commission on the revenue earned from selling the contents of a house. "The commission amount can vary, as some homes will generate only $3,000 or $4,000 and can run upwards of $100,000 depending on the contents. It also depends on how much work is involved.
"There's a time frame, and the money is the house," she adds. "Anything you can get from the contents is a bonus."
Harding also offers a key piece of advice to people who are downsizing and families who are purging a loved one's estate: "Do not throw anything out until you have a professional come out to view the contents."
Keepsakes Aren't for Keeping Anymore
Keepsakes, it seems, are a thing of the past that may die with the older generations. Because baby boomers were raised by parents whose lives were shaped by war, the Depression or the immigrant experience, frugality is a trait that has been imbued in us. For that reason, many people over 50 find it hard to let go of possessions and the memories they represent. TV shows like Pawn Stars and Antiques Roadshow harden that attitude, suggesting that our "stuff" is really a valuable inheritance for our kids.
But that is changing. It's stunning to consider what a diminished role possessions play in the lives of millennials and gen-Zers.
"In cities like Vancouver, 500 square feet is a one-bedroom condo these days, and often it's what young people can afford. And in those tight corners, there is a necessity to be lean," explains Linda Chu, director of marketing for Professional Organizers in Canada and the owner of the Vancouver-based company Out of Chaos.
Harding, meanwhile, adds that, "The family unit is not what it used to be," noting that adult children don't always live in the same province or country as a deceased parent. "Interests are much different now, and adult children do not seem to collect what their parents collected.  With regards to furniture, adult children tend to go more streamlined."
So, it's a hard "no" when it comes to passing on that Victorian dining room table that's been in the family for generations. But the possession-free existence also extends to the small stuff, like your records, CDs and DVDs. The 20-somethings listen to music, but it's all streamed off Spotify and other services.
"A lot of them don't even have TVs," says Josh Horowitz, whose contents sale company Sell My Stuff Canada has franchises in Ottawa, Toronto, London, Montreal, Calgary and Edmonton. "It's like, 'I have a laptop, I like watching my Netflix in bed. Why do I need a TV?'"
The Art of Death Cleaning
Gradually, this reality is sinking in to baby boomers. There's a Swedish word, döstädning – or "death cleaning" – that has taken off in lifestyle culture. It's a concept that has been embraced by home organizers and inspired countless self-help books and YouTube tutorials. Its basic tenet is that possessions are a burden for heirs, and it's an act of kindness to streamline your life while you're alive.
But Horowitz and Chu differ in the execution of the sell-it-while-you're-alive downsizing approach.
Horowitz, who was inspired to start his company a decade ago after emptying his grandmother's house for her move to a nursing home, holds fast to his rule that the client who is downsizing cannot be present when selling off their stuff. That's because their presence can lead to problems like constant second-guessing the possessions they choose to part with and those they insist on keeping. He adds, "You have to separate yourself from the possession side of it and treat it as business."
But Chu is all about holding the customers' hands and giving them agency over their own downsizing.
"It's about the generation gap in many respects," she says. "But really, it's the waste, the years people spent in layaway plans paying for these things. It's the blood, sweat and tears of acquiring a houseful of life and, then, in a matter of weeks — a week for every decade on average — you've got to process all you've acquired and re-home. And it's a really, really different and emotional process."
She notes that while her service offers advice and hands-on help in organizing possessions, "It's also about helping the individuals maintain the order once it's achieved."
One Man's Trash …
Of course, in a disposable society, the easiest route — particularly for heirs who must empty a house in a hurry — is the garbage. In Toronto and other large cities, possessions of the recently deceased are often piled on the front curb, to be rifled through by passers-by and professional "pickers."
This, of course, varies by city. Stanley Q. Woodvine is a sometime graphic artist who blogs about his ongoing 13 years as a homeless person in Vancouver (his posts also regularly run in The Georgia Straight newspaper). Some of the laptops he's used have been rescued from dumpsters. In one case, the laptop was simply in "sleep" mode, but the owners deemed it broken.
He says the upper-middle-class Fairview neighbourhood whose streets he calls home is laid out in such a way, "There's alleys everywhere. This is a huge renter neighbourhood, and every building has at least one dumpster. So, everybody throws everything out behind their building.
"Renters very often prefer to throw things out rather than move them when they move. So, between people moving, getting tired of things or passing away, there tends to be a lot of stuff."
He blogged recently about an antiquarian friend who came upon an estate housecleaning that included tossed-out Kodak negatives 70 to 100 years old. As he snagged them, the relative of the deceased came by and suggested he come back for more. That's how little these pieces of history meant to the heirs.
"There's definitely a connection between downsizing, dumpster diving and death," Woodvine says.
He tells a touching story of finding a perfectly functional tablet with a Bluetooth keyboard in a dumpster in a bag that also included a teen's journal. "I know their birthday, I know who their father was, and that they were constantly suicidal and in emotional pain." He thought of tracking down the owner. "But then I'm thinking, 'Maybe this person really did kill themselves, and that's why all this stuff is in the dumpster.'
"It would be psychologically devastating to a parent to find out a homeless person was pawing through their loved one's things. It's just hard to guess why people throw stuff out."
TIPS FOR DOWNSIZING
Curtail your book buying. This gets avid readers mad but, in real terms, books take up loads of space and relatively few are worth anything in resale. When you read a book, pass it on. If you're not averse, invest in an e-reader. Better still, get a public library card.
Digitize your music. Free up space in your home by uploading your entire CD collection to a digital device. Then, as an added bonus, sell the CDs at a yard sale, a local marketplace or even online to reward yourself with a little monetary bonus for your downsizing work.
Learn how to properly "wipe" your old phones and computers. "I can't tell you how many times I've found a telephone and before I've wiped it, I've skimmed the contents," Woodvine says. He says one phone had even belonged to a police officer. "I knew the person's name, I had a copy of their condo contract, credit card numbers, a vast amount of information."
Buy fewer clothes. Horowitz and his wife recently started Sprout Collection, a high-end name brand clothes rental for women. Again, it's taking a tip from millennials. "A lot of younger women don't want to be seen wearing the same thing in every Instagram post, and they'd rather spend $1,000 on a trip than on a dress."
Throw a downsizing party. A brainchild of Chu's, it's the opposite of a housewarming party, where, instead of bringing things, the invitees take things away.
Know what you're allowed to sell. Meds and alcohol are no-nos. This will vary by province, but selling angler-caught fish, taxidermy mounts, skulls, meat, bones, antlers and even bearskin rugs could bring huge fines under various wildlife protection acts.
Consider your options according to your needs. Private yard sale? Professional contents sale company? Consignment stores? There are even online auctions that will sell everything you want to get rid of in a single lot.
Be thoughtful with your purchases. "The philosophy I like to live by is, 'Will this item bring me joy?' Horowitz says. "If it's no, then it's not a need. It's a want, and you should put it down. Maybe you've been fed a lot of commercials about this item. It's very easy to whip out a credit card and just say, 'Sure.' There are always Facebook ads; you click and you've bought it."
RELATED: