Record-High Gas Prices Have Angry Drivers Seeking Relief and Looking for a Scapegoat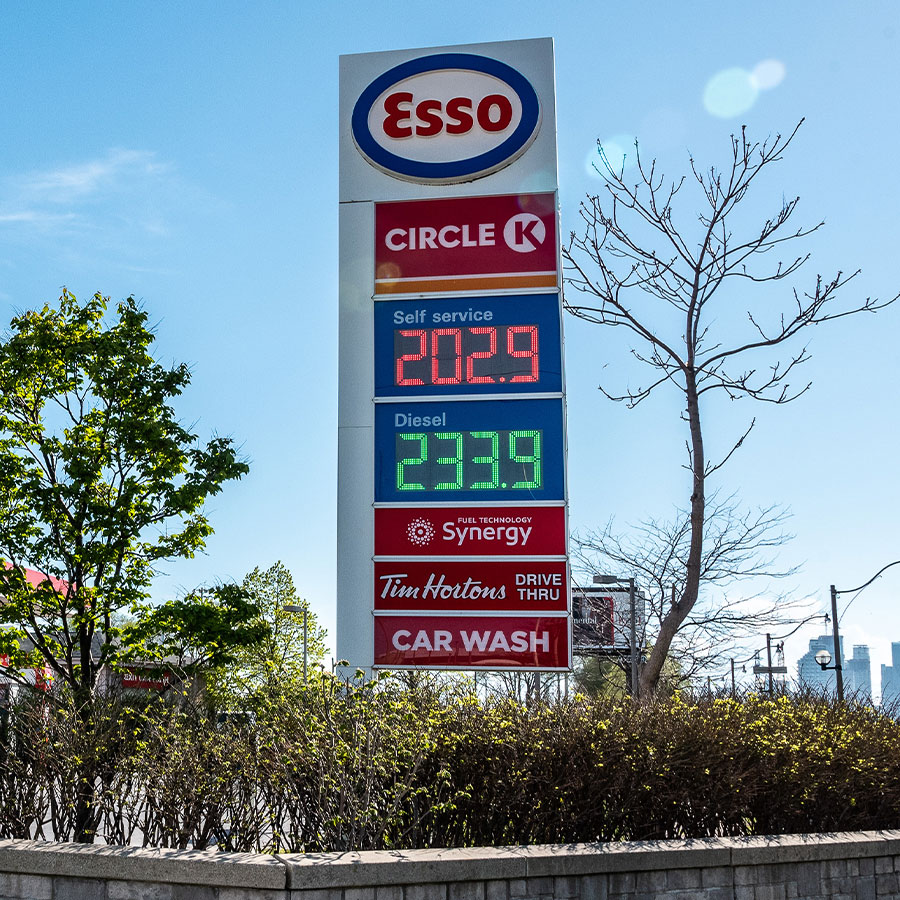 An Esso gas station on Lakeshore East in Toronto displays the latest gas prices as they climbed to a record high of above two dollars per litre earlier this week. Photo: Dominic Chan/The Canadian Press
You could almost hear the collective groan from drivers across the country as they watched the number on the gas station price display boards spin past the $2 a litre mark, as the national average reached the height for the first time ever earlier this week.
The staggering prices mean that some of us are changing our habits — a recent survey by Rate.ca found that 54 per cent of Canadians said they were driving less because of the increased prices.
Still, we can't all park our cars in the driveway and wait till prices go back to normal. As Dan McTeague, president of Canadians for Affordable Energy, told CBC: "people still have to drive. They have no choice." McTeague, a former Liberal MP from Toronto, is spokesperson for the GasWizard app, which predicts where gas prices are heading so users can decide whether to fill up or wait for a price drop.
Playing the Blame Game
With no end in sight for soaring prices, many drivers are asking the same question: who — or what — is to blame for the absurdly high prices that are putting a crimp on things like vacation plans and visiting family members?
It turns out that there's no one thing or person to whom we can vent our anger. Rather, it's a confluence of world events and domestic and global policies that are causing so much pain at the pumps.
Let's take a look at some of the culprits.
It's Putin's Fault
When Russian President Vladimir Putin ordered the invasion of Ukraine, world leaders responded by imposing economic and trade sanctions. Since Russia is the second-largest exporter of crude oil in the world, this has created a shortage and caused oil prices to skyrocket, with the inevitable costs being passed on to you when you fill your tank.
It's Trudeau's Fault
Since he first came to power in 2015, Prime Minister Justin Trudeau has consistently introduced measures to transform our economy away from an overreliance on high-emission fossil fuels. As a result of this policy, the Liberal government has cancelled nearly $150 billion worth of energy projects. If these projects were up and running, they could mitigate the worldwide shortage and drive prices down. As well, the Liberal's carbon tax on energy companies isn't helping. It's estimated that this levy adds 11.2 cents to every litre of gas you purchase.
It's the Province's Fault
Provincial governments generate massive revenue from taxing drivers when they fill up at the pump. According to the Canadian Taxpayer Federation, Canadians pay, 44 cents of tax on every litre the put into their tanks. At an average of 51 c/l, drivers in Quebec pay the highest gas tax in the land, followed closely by Newfoundland and Labrador, at 48.4 c/l. Manitoba drivers pay the least tax, paying only 34.4 c/l to tax.
It's OPEC's Fault
When governments around the world began shutting down their economies in 2020 to control the spread of COVID-19, demand for oil cratered. This led the 15 countries that comprise Organization of Petroleum Exporting Countries to lower production, thus boosting prices. Now that lockdowns have ended, and demand is returning to its pre-pandemic level, OPEC still hasn't ramped up production.
It's the Oil Companies' Fault
Who stands to benefit most from higher gas prices? It's not the filling stations but the oil companies. Major Canadian energy companies like Cenovus, Imperial Oil, Canadian Natural and Suncor are obvioiusly benefitting from the higher prices, reporting their best first-quarter earnings in years.
It's Our Own Fault
After several years of putting off vacation plans due to pandemic travel restrictions, it seems that everyone is booking flights or driving down south. "It's like the doors just opened all at once and everyone went rushing through them," says Patrick De Haan, an energy analyst at GasBuddy, a hugely popular app that lets users find the cheapest price of gas in their area.