A Need for Speed: On the Track at Charlotte Motor Speedway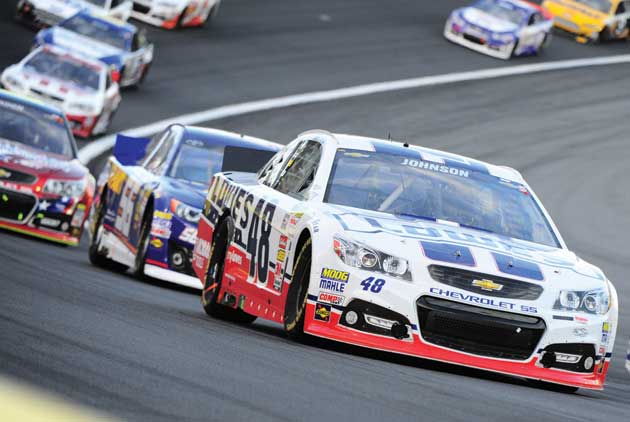 On the track at Charlotte Motor Speedway, Vivian Vassos discovers a rich history
America is all about speed. Hot, nasty, badass speed." This quote, in the opening credits for Will Ferrell's now infamous Talladega Nights: The Ballad of Ricky Bobby, is attributed to that well-documented keen observer on American life, Eleanor Roosevelt. Of course, we're not sure if anyone actually said "badass" during Roosevelt's time, but knowing what we do of that grand dame, she may just have been the one to coin it.
Ferrell, however, is an observer in his own right, twisting the American condition into comedic perfection, canonizing and satirizing it at the same time.
Talladega Nights, Ferrell's ode to NASCAR racing, kneels at the feet of a culture that started in the Prohibition era for a wholly other reason: rum-running and bootlegging. Souped-up cars built for speed – to outrun the Feds – soon became objects of sport; racing through cornfields, back alleys and byways, particularly after the Second World War, when the liquor laws were much more relaxed. In fact, some of the South's most notorious bootleggers – from Virginia pretty much down to Georgia was contraband heaven – were also NASCAR's most successful first racers.
Speaking of badasses, North Carolina native Junior Johnson, one of racing's most decorated (he won 50 races, including the Daytona 500 in 1960), was also a moonshiner and, now in his 80s, attributes his success on the track to his rather unorthodox (and highly illegal) training, the twists, turns and integral instincts of learning evasive manoeuvers – he invented "the bootleg turn," a 180-degree turn-on-a-dime as a method of self-preservation rather than crossing the finish line. I'd be remiss if I didn't mention that he also parlayed his distilling talent – and an old family recipe – into his going concern, Junior Johnson's Midnight Moon, a handcrafted legal moonshine.
North Carolina is what most stock-car race fans would consider the epicentre of it all. Today, at Charlotte Motor Speedway, in the city of Concord, Cabarrus County ("where racing lives" is the motto, and about 90 per cent of all racing teams are located in the area), the 1.5-mile track is slick from a fresh dousing of rain. And even though it's not a race day, the stadium hosts visitors, looking to feel the reverberations of racing's hallowed ground where such names as Earnhardt, Allison and Petty resonate. Heck, you could even say Dale Earnhardt was born and bred to it, raised just down the road in Kannapolis. Richard Petty is another North Carolina homegrown talent, yet his first pro race, funnily enough, was not in the U.S. at all. Petty made his debut in 1958, at the CNE grounds in Toronto. He went on to win the Daytona 500 seven times; not bad for a guy who got his start in Hogtown. In 1959, he was named rookie of the year. Now, his legacy is secure. His enterprises bear his name, including the Richard Petty Driving Experience, a franchise that allows the regular guy or gal an opportunity to get behind the wheel of a high-speed machine.
"I wanna go fast!" I say, borrowing from Ferrell's Ricky Bobby. The rain, however, thwarts my yearning to seat myself next to a driver in a NASCAR racer at the Charlotte Speedway. But there's still a chance I can get on the track. There is another option: the Feel the Thrill Speedway Tour, where you climb into a passenger van with a larger group and an expert behind the wheel.
Start your engines! The driver takes us up to 75 miles an hour and then, bang! He slams on the brakes. On the bank. Yes, the part of the oval track that curves up and round, creating that slingshot effect for drivers to literally whip back on to the straight. And did I mention that the banking is a full 24 degrees? It may not sound like much but, as the van sits on the bank on such an angle, we are actually looking down out the window at the track below. Hard to believe that the van is not tumbling, but somehow G-force and nature make it stick.
A newfound respect grows as I can see how these drivers have to face nearly the same brain- and body-pounding speeds and pressures as an astronaut, due to those same G-forces that held the van on the bank. Yes, an astronaut – for 500 laps! These are highly trained athletes, with reflexes that maintain their functionality in some of the most intense conditions on earth. It's no wonder the sport has a fervent following. On race weekends, area campgrounds and hotels are overflowing, select hotels provide shuttle services to make sure you get to the track and the lots outside the track are one weekend-long tailgate party.
One of the most ridiculous yet somehow prophetic statements Ricky Bobby makes, "If you ain't first, you're last" may also be one of the most remembered bon mots from the film. I, however, prefer his exchange with French F1 racer-turned-stock car competitor Jean Girard (campily played by Sacha Baron Cohen).
Ricky Bobby: I will not shake your hand but I will give you this. [kisses Jean Girard]
Jean Girard: You taste of America.
Ricky Bobby: Thank you.
Yes, Ricky, there's something about a day at the Speedway that gives you a real taste of America in all its checkered-flagged past and hot, nasty, badass glory. www.charlottemotorspeedway.com; www.visitcabarrus.com
IF YOU GO
The Speedway will host the Bank of America 500, Saturday, October 12. The 500 NASCAR Sprint Cup Series teams compete during this race. If you're new to the sport and might be thinking about taking it in live at the venue, go here  for some tips. Not far from the track, you can see Ricky Bobby's "Me" stock car, the same one Ferrell drove in the film.
In uptown Charlotte, don't miss the NASCAR Hall of Fame. It's a stock-car fan's mecca for all ages, with hands-on exhibits (form your own pit crew!), historical displays (booze! cars! Feds!) and inside the great hall 18 of the most storied cars sit on "Glory Road," a ramp that banks just like the real thing. www.nascarhall.com
ALSO ON EVERYTHINGZOOMER:
RON HOWARD ON HIS FILM RUSH
ONE OF A KIND ADVENTURES IN NORTH CAROLINA
TEST DRIVE: 2013 NISSAN SENTRA