Trump-Biden Presidential Debate: The Toddler-in-Chief vs. America and Political Norms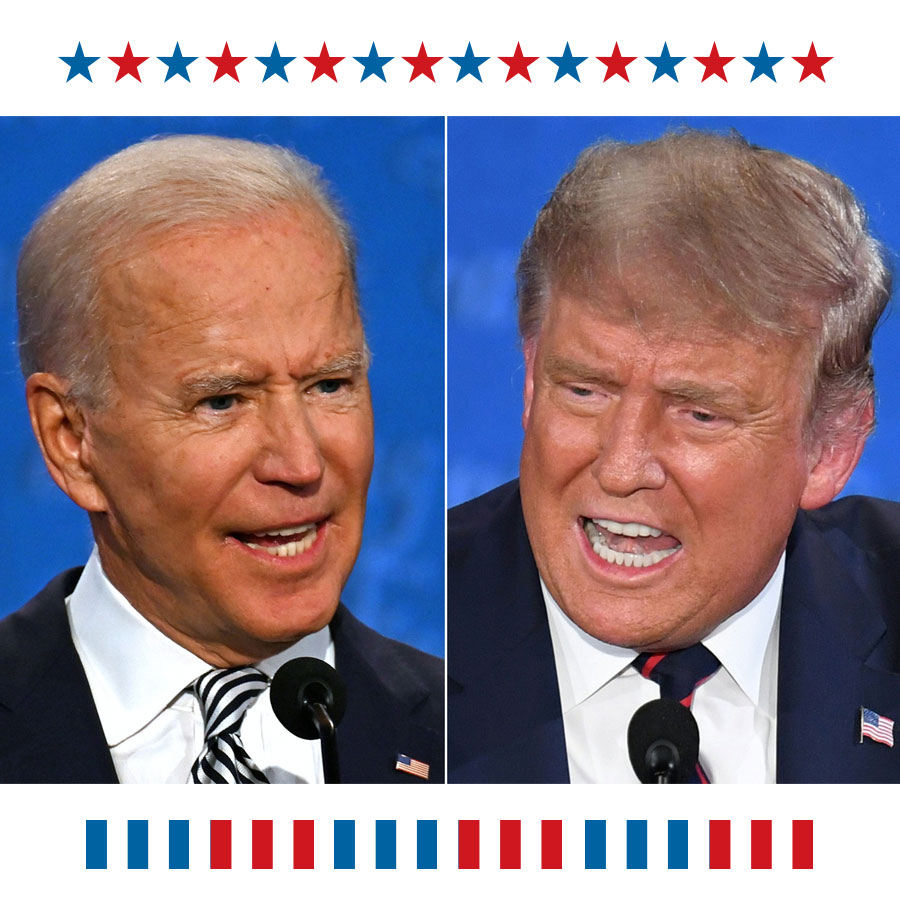 The first presidential debate between Donald Trump and Joe Biden is being portrayed as a fist fight between two angry old men. Photo: Jim Watson, Saul Loeb / AFP via Getty Images
In the immediate aftermath of the horror show that passed as a presidential debate between President Donald Trump and Vice President Joe Biden, CBS ran a snap poll showing that 80 per cent of viewers found the event to be "annoying."
Had they asked voters whether it was the worst debate in U.S. history, it's likely that 100 per cent would have agreed.
Because instead of a rational discussion on the serious health, economic, race and environmental issues that voters tuned in to hear, they got an ugly demonstration of the state of political discussion in that country.
An angry, blustering and bullying Trump didn't even bother to present his case for re-election. Instead, he spent the entire 90 minutes unleashing a never-ending series of vitriolic pot-shots and despicable personal attacks on Biden.
The fact that Biden responded by telling the President to "shut up" and "stop yapping" before describing him variously as a "clown," "fool," "racist" and
"the worst president ever" would normally be seen as crossing the bounds
of acceptable political decorum. But Trump had already lowered the bar so far with his vicious assaults on his opponent that Biden's comments seemed almost mild in comparison.
Grumpy Old Men?
One of the bigger items of interest for older viewers was the question of what the role age would play in the outcome of the debate and consequently the election.
With both leaders set to become the oldest U.S. president to ever assume office — Trump is 74 and Biden 77 — a prevailing question underlying the campaign is whether either of the two leaders would be able to overcome the physical and cognitive barriers of age that might hinder their ability to run the country.
Back in the 1984 election, the 73-year-old Ronald Reagan faced down similar concerns in his own debate with Walter Mondale. Reagan famously put those fears to rest by making light of the question, quipping that, "I will not make age an issue of this campaign. I am not going to exploit, for political purposes, my opponent's youth and inexperience."
There was nothing approaching that level of humour in last night's debate and very little to put the age question to rest.
Trump came off as the stereotypical angry and delusional old man who has completely lost the ability to filter his comments. He failed to reproduce the smarmy jibes that usually rile up the Liberal establishment and fire up his base and instead seemed to all the world like a washed-up politician with nothing left in the tank but poisonous invective.
Though Biden clearly won the debate, he didn't exactly settle the age-related questions either. While the former vice president was able to draw on his ample avuncular charm to establish him as the more likeable candidate (no great accomplishment in light of who he was up against) he struggled with numbers and at times seemed to lack the energy to deal with the hateful comments spewing from his opponent.
On the plus side, his ability to recall names and events and ability to look at the camera and put forward a cogent plan, all while Trump was hurling insults at him, suggest that he's still got the cognitive chops to be an effective leader.
And many onlookers didn't lump Biden into the "angry old man" category for getting frustrated with Trump's behaviour, which included everything from refusing to condemn white supremacists — Trump instead told the racist white nationalist Proud Boys group to "stand by" — to interrupting Biden as he spoke about his deceased son Beau to spew insults about his other son, Hunter.
"As I said on @ABC tonight, this debate was embarrassing internationally, and it was embarrassing for our fellow citizens," Matthew Dowd, Chief Political Analyst for ABC News, tweeted. "And it wasn't embarrassing because of the moderator, it wasn't embarrassing because of Joe Biden. It was embarrassing because of President Trump."
However, other observers, including The Times of London, described the debate as "an ill-tempered and at times incomprehensible squabble between two angry septuagenarians who palpably loathe each other."
Clearly, the age question remains an unsettled issue.
And the reaction from the younger generation on social media was equally scathing. Last night's outcome produced countless posts mocking the "two old white men" for wasting this important opportunity by bickering on stage and generated an endless flow of memes drawing on unfavourable cultural touchstones like Grumpy Old Men, Grandpa Simpson or Statler and Waldorf  (the two crusty wise-cracking Muppets).
There is still time, though, to change this unflattering portrayal.
With two debates remaining, both leaders have the opportunity to show the world that they have a bold vision and practical ideas to confront the pandemic, economy and racism head on rather than acting like two old guys arguing over a fence. And if they can somehow manage to put this debate behind them and focus on the issues, they'll go a long toward silencing the critics who claim that age is a barrier to higher office.
Unfortunately, if Trump's approach to future contests doesn't change from the fist fight we saw yesterday, that possibility seems increasingly remote.
RELATED: