Idealists Unite: Ideacity 2017 Highlights, Day Three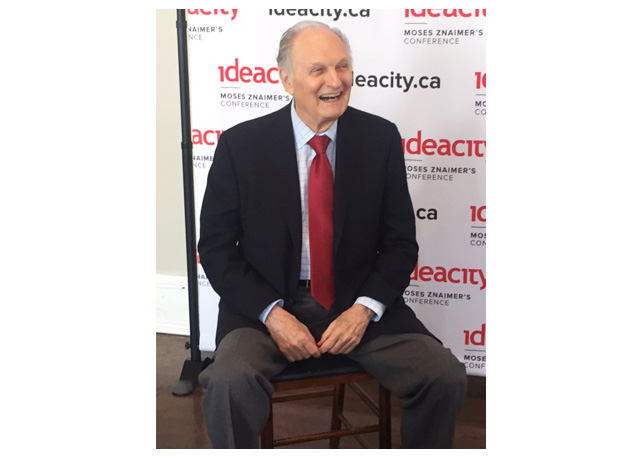 Alan Alda during his interview with EverythingZoomer.com at ideacity 2017 (Photo: Cynthia Cravit)
We closed out ideacity 2017 with fascinating talks from TV stars, nature buffs, journalists, activists, athletes and media mavens, as well as a one-on-one interview with famed actor Alan Alda. It's like an ideacity highlight reel and we've collected some of the best quotes of the day below.
QUOTE OF THE DAY: "Ignorance is a wonderful thing as long as it has curiosity attached to it." — Alan Alda
WHAT WE LEARNED TODAY: People are passionate about everything from beavers to birds, politics to pot. Also, Alan Alda is just delightful. But we already knew that.
VIDEO OF THE DAY: We sat down with acting legend Alan Alda for a one-on-one interview before he took the stage at ideacity. Check out the video below for the full interview!
https://www.facebook.com/everythingzoomer/videos/10155912853777565/
SAY WHAT?

* "I love saying things with my body what I can't always say with my words." — Claudia Moore, performer, curator and artistic director of MOonhORsE Dance Theatre.
* "My reasons for rowing the Atlantic: I'm a life-long runner but I've been slowing down, so I was looking for a challenge." — John Beeden who, at age 49, set a record as the second-fastest person to row solo across the Atlantic Ocean (53 days) and at age 53 set a record as the only person to row mainland to mainland, non-stop, across the Atlantic Ocean.
* "I sold the boat last year to stop myself from doing anything else stupid. And I've asked to buy it back." — John Beeden
* "It's such a natural thing, as a child, to be connected to nature. When did we lose our connection to nature?" — Les Stroud, Survivorman
* "Everything I was about with Survivorman was about flowing with nature. It was never about fighting with nature." — Les Stroud
* "Nature's ability to heal is not folklore anymore. It's scientific. It's peer reviewed … All I'm saying is that you can reconnect with nature. You don't have to be Survivorman. Nature is the baseline of who we are and everything we will be. A tree breathes out and we breathe in. It doesn't get more connective than that." — Les Stroud
* "As a society, we were suffering from a bad case of ecological amnesia; we had forgotten what we have and why beavers matter." — Frances Backhouse, award-winning Canadian author of Once They Were Hats: In Search of the Mighty Beaver
* "The fur trade was North America's first gold rush, and beaver pelts were the gold." — Frances Backhouse
* "I'm a lifelong birder, I know there's others in the audience. It's okay. We're the in-crowd." — Jody Allair, biologist and science educator for Bird Studies Canada
* "You could make an argument that the loon is overexposed. We see it everywhere. Maybe it's time for a newer symbol … Canadian Geographic, after much consultation, decided that the Grey Jay should be the national bird! The Grey Jay used to be called the Canada Jay, and they can be found across Canada in every province & territory. Grey Jays are in the same category as crows, and they're an incredible smart bird." — Jody Allair
* "The Grey Jay nests in the winter. What's more Canadian? They can sit on eggs in -30 temperatures." — Jody Allair
* "About a third of Canada's birds are at risk of extinction without a significant change … This isn't just about birds. It's telling us about what's happening in our own backyards." — Jody Allair
* "I become like a moral compass for them. I put them on the spot and they have to decide why I'm there and who we put into the criminal justice system." — Marc Emery, Prophet of Pot, on how he feels when he's in prison
* "Civil disobedience has been effective for many causes. Bad laws need to be broken." — Jodie Emery, the Princess of Pot
* "I've heard that 11,000 women are going to run for election in the US this year. Last year was 800." — Rick Smolan, photographer, storyteller, filmmaker, bestselling author
* "A lot of these hard-fought battles feel like we're maybe on the verge of slipping backwards … If you don't understand your #history, you're doomed to keep repeating it. So many of these [activist] groups learn from each other." — Rick Smolan
Thanks for joining us at ideacity 2017! See you next year!