Zoomer-Friendly: An Umbrella That's Not Gone with the Wind
Courtesy of bluntumbrellas.com
April showers not only bring May flowers, they also bring out the umbrellas, ready to unfurl and battle a downpour. But as with all battles, there will be casualties, with many an umbrella randomly turning inside-out, failing to open or breaking in a myriad of ways, even during the less typhoon-type wet weather attacks.
One company estimates such umbrella carcasses number in the hundreds of millions, all of which end up in landfills. Which is why this particular company, Blunt Umbrellas, decided to spend a great deal of effort on engineering the mechanics of their product to weather storms and avoid being tossed into the garbage. Designed by New Zealander Greig Brebner, a product design engineer, who was living in London, England (famous for its rain and fog) when he set out to redesign the standard "brollie" – which had remained virtually unchanged for over a century.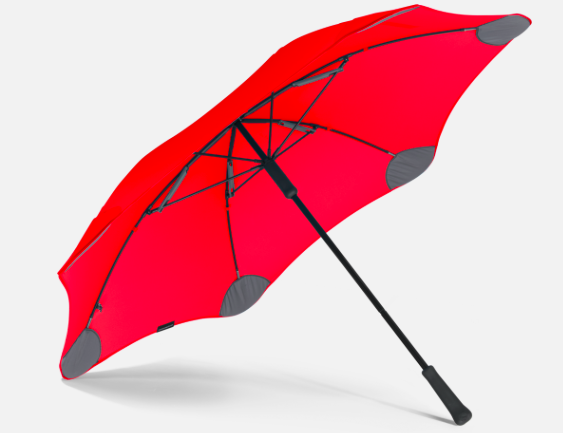 Brebner developed the patented Blunt tips (which prevents the wires from piercing through) and telescopic ribs that form part of the brand's RTS (Radial Tensioning System), making it the world's only fully tensioned umbrella with a super tight canopy that stays in place even during wind gusts of 100km/h).
With its distinctive floral-shaped canopy, this award-winning umbrella has garnered some lofty accolades. The Wall Street Journal described it as, "Structurally, the Blunt falls somewhere between suspension bridge and NASA space probe." While Wired, praised with religious fervour, "Its architectural integrity is as unbroken as the dome of St. Peter's."
This is one umbrella that is determined not to be gone with the wind.
For availability and prices, please consult Bluntumbrellas.com for a Canadian retailer near you.