The First Ladies' War of the Wardrobes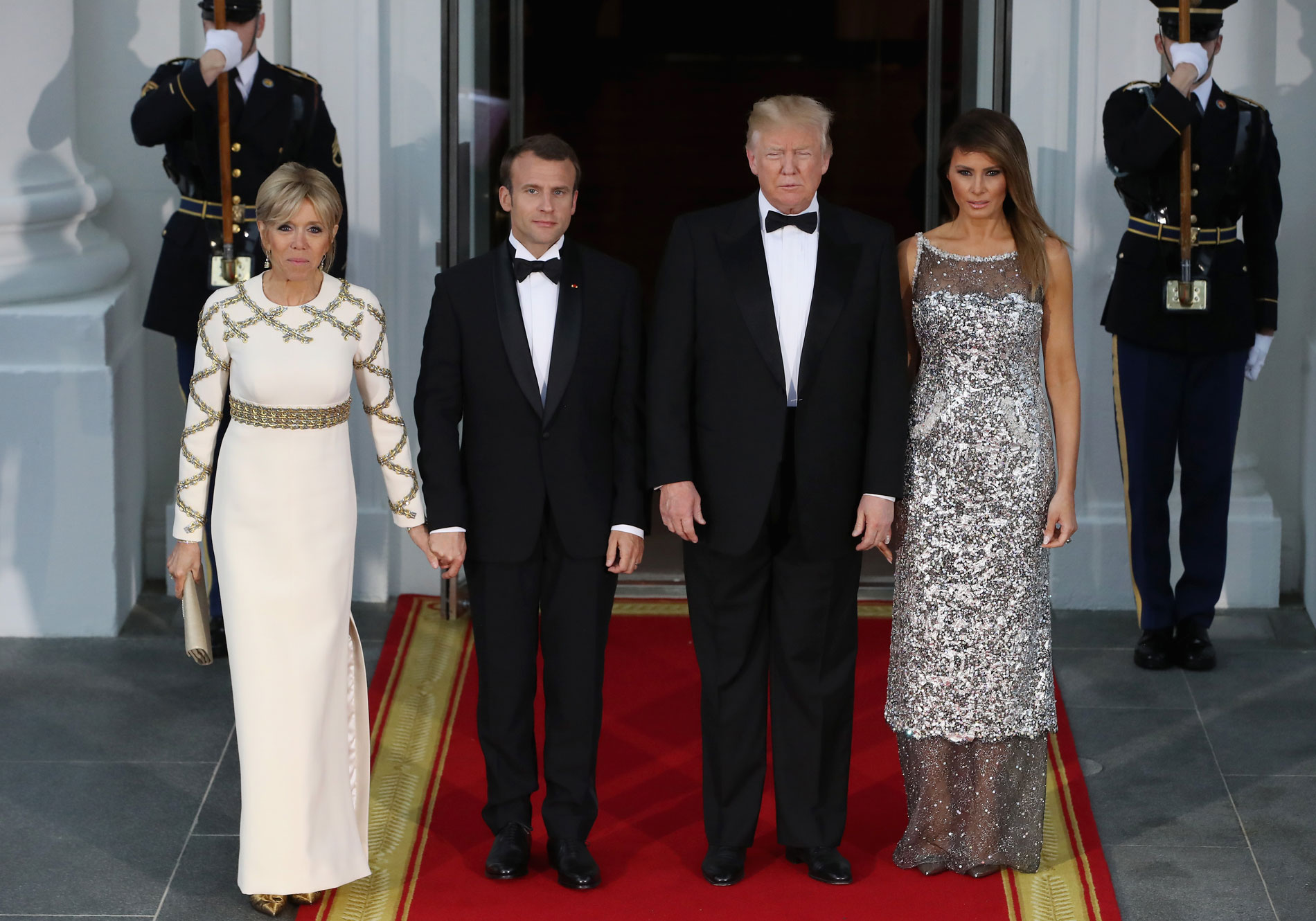 (Photo by Mark Wilson/Getty Images)
Political pomp is the ultimate backdrop for iconographic imagery. Flanked by a military colour guard and those commanding Ionic White House columns, Melania Trump delivered a visual message on blast Wednesday night.
She would hold her wayward husband's hand when she damn well chose to.
Glittering and poised in a silver Chanel haute couture column gown, she declared her position as the hostess of the first couple's first State Dinner, honouring the first couple of France, Emmanuel and Brigitte Macron.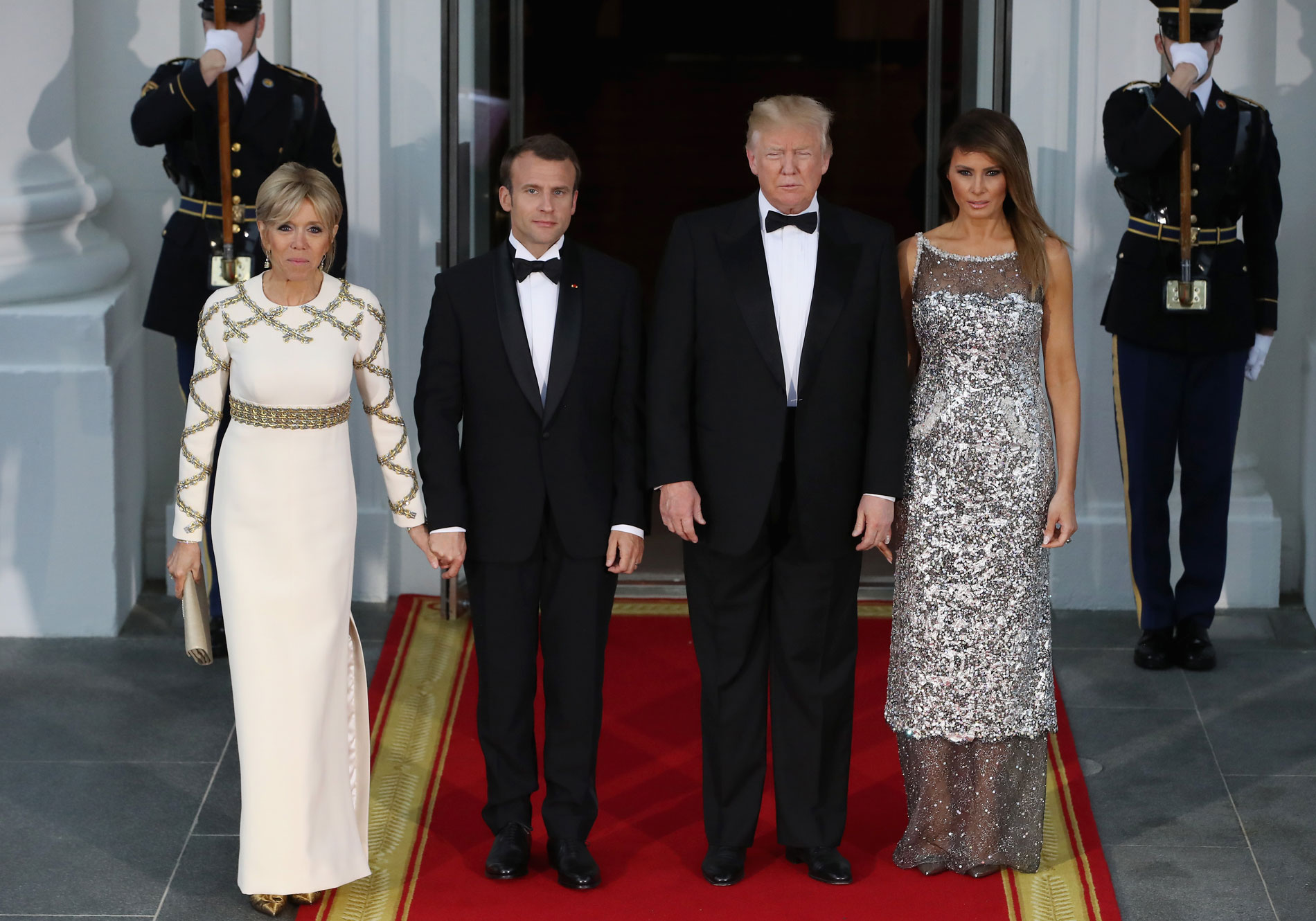 French President Macron and  Brigitte (wearing Louis Vuitton) and President Trump and Melania (in Chanel) before a State Dinner at the White House. (Photo by Mark Wilson/Getty Images)
The dinner was the climax of a four-day blitz of photo ops that showcased the power of fashion, and the political theatre of gestures grand and small.
Melania had already nabbed the spotlight that day, fomenting frenzy on the internet with her oversized white hat. And there was a close-up viral meme of her just hours before, swatting away Donald's hand not once, not twice but thrice before she let him briefly lay claim to a couple fingers.
The husbands cavorted in a macho bro-style physical pantomime—a primate-like display that the Washington Post dubbed "touchy-feely" and "playful dominance."
Meanwhile the wives, Melania and Brigitte, continued a fashion conversation begun in France the first time the Trumps made a formal call in Paris last year.
Brigitte Macron, who is 24 years older than her husband, is the epitome of classic French chic: she is rail-thin and oozes confidence and has devised a rigid fashion formula. She wears only Louis Vuitton for official events, a venerable and very French label. (LVMH owner Bernard Arnault and wife Hélène Mercier, a concert pianist from Canada, were among those who made the stripped-down list for the 150-person event.)
French Chic: Brigitte Macron deplanes in America wearing sunglasses and a Louis Vuitton pink peacoat. (Photo by LUDOVIC MARIN/AFP/Getty Images)
Louis Vuitton is designed by Nicolas Ghesquière, who has made the centuries-old luggage house modern and has helped Mme. Macron fashion a hip take on the skirt suit with motorcycle zippers and hemlines almost always above the knee.
For the State Dinner dress, Brigitte wore a long, Grecian-style cream gown synched with gold cording. It was stunning, appropriate, and did not outshine her hostess. Because for all the hassle Brigitte has taken for being 24 years older than her hubby (and she of course was once his high school teacher back home in Amiens), she is a confident equal, publicly cherished by her partner for both her brains and style.
The Trumps also have a 24-year age gap, but in reverse. And Melania has suffered stoically as humiliation and betrayal and potty mouth blather goes on all around her. The hand swatting and a sparse few grimaces are all the responses we have to gain insight into her experiences.
In lieu of words she uses fashion to express herself. And she has done so admirably, with clothing that is always pitch perfect (save for that one time she wore stilettos to a disaster zone). Her clothing is militaristic, strong of shoulder and snugly belted, neutral and most of all always tasteful.
There was much hubbub about designers refusing to dress her in protest to her husband: she got around that by simply purchasing things for herself, with her stylist and inaugural gown designer Hervé  Pierre.
On that first official trip to Paris, she wore red, white and blue to nod to the colours both countries' flags shared. She did not bow to the tradition of recent first ladies of wearing only American. She loves Dolce and Gabbana, and wore Valentino and Dior in France.
Melania Trump with Brigitte Macron during a state visit to France on July 13, 2017. (Photo by Philip Rock/Anadolu Agency/Getty Images)
A year later, though, her skirts, once decorously below the knee (see the smashing red Dior "bar" skirt suit she wore in France), have crept upwards, mirroring Brigitte Macron's habit of showing more leg.
Let's get to the excitement of the white hat. Pierre designed the wide brimmed hat to match her slim, belted Michael Kors skirt suit with asymmetric hemline. Brigitte also wore a white LV skirt suit for the official arrival ceremony.
Melania (in Michael Kors andHervé  Pierre hat) and  Brigitte (in Louis Vuitton) tour the National Gallery of Art. (Photo by Aaron P. Bernstein/Getty Images)
But it was all about Melania's hat. Tweeters likened it to the obvious Kerry Washington/Olivia Pope "purity" trope from the recently ended Scandal series, where a white hat signalled the good guys, just like in the Westerns and hacker culture. And also Jude Law's character in The Young Pope.
The hat was arresting, and had the advantage of not enabling her husband to reach her cheek to kiss.
Melania has notably worn white before, as the New York Times' fashion editor Vanessa Friedman has pointed out, channelling the colour associated with the suffragette movement for the State of the Union address in the days after the Stormy Daniels cheating scandal erupted.
She also wore a Givenchy cape (over a Dolce Gabbana sheath, again with a shorter hemline) the day before of the Macron visit. There is no item of clothing more loaded than a cape, a signal of protection that goes back to the middle ages.
Melania (in Givenchy cape and Dolce Gabbana), President Trump, Brigitte and French President Macron walk across the South Lawn. (Photo by Chip Somodevilla/Getty Images)
There were virtually no celebrities on hand at the State Dinner (beyond Jerry Hall and Rupert Murdoch, plus creepy Treasury Secretary Steve Mnuchin and his "actress" wife Louise Linton and Jared and Ivanka Kushner; the last wore a very "non-power," nay girly, polka dotted pink poufy Rodarte).
Thus the political wives got all the ink and the likes.
Good thing, because it was a welcome distraction from the raging macho bro-fest mangling the political activity of the trip.
In years to come, we wonder, will Melania and Brigitte's classy outfits manage to last longer than the uncomfortable image of Donald Trump "grooming" the imaginary dandruff off the shoulder of Emmanual Macron?
One hopes the handsy-one won't win, in the eyes of history, as least.