15 Chic Flats to Wear Now Until the First Snowfall
Photo courtesy of anntaylor.com
Flats are the workhorse of any woman's wardrobe. Comfortable, reliable, easy to wear, they are often the go-to footwear. But despite such noteworthy attributes, they are often out-shined by their stiletto sisters, whose spindly heels ooze glamour, give off feminine vibes and those treacherous heels hint at danger. 
But stilettos only get limited air time – once their pinching agonizing nature is felt, back in the shoe box they go. But like that true best friend, a woman can spend hours with her flats. And to their credit. they have stepped up their game in recent years – there is now a flat for practically any occasion or time of day. Sleek croco-prints gave them an elegance for the office, while sweet suede ballet flats are perfect with jeans on the weekends. And when done in sumptuous materials like velvet, they can hit the town at night. 
And they are also the perfect transitional shoe. Slip your bare feet into them now and once you feel autumn's nip, wear with socks or tights. 
Let's hear it for an unsung hero – fabulous fashionable flats! 
1. Zebra Print Hair Calf Leather Demi Loafer, $145, bananarepublic.ca
2. Soft Ballet Flats With Knot, $45.90, zara.com
3. Ursula Tassel Loafers, $194.85, anntaylor.com
4. Faux-leather Driving Moccasins, $26.99, oldnavy.ca
5. Velvet d'Orsay Flats, $245, jcrew.com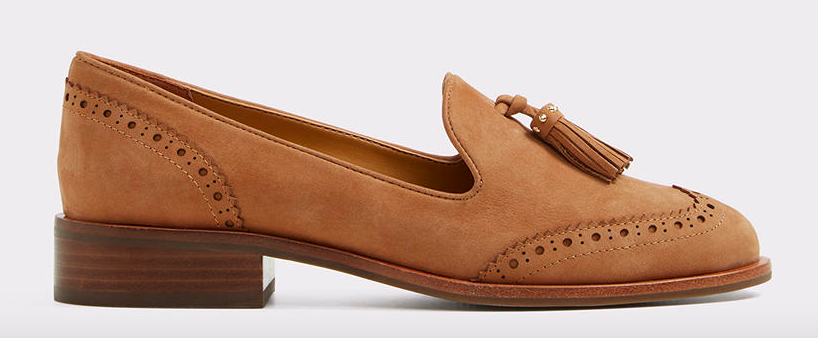 6. Tasseled Loafer, $95, aldoshoes.com
7. Two-tone Academy Loafers, $259.50, jcrew.com
8. Tortoiseshell Ballet Flat, $45.90, zara.com
9. Browns Couture Suede Flats, $298, brownsshoes.com
10. Dark Green Croc-print Leather Slip-on, $109.00, hm.com
11. Croc-embossed Leather Loafer by Schutz, $215, thebay.com
12. Caroline Patent Leather Loafers by Michael Michael Kors, $168, michaelkors.ca
13. Browns Couture Suede Flats, $248, brownsshoes.com
14. Ballet Flats, $24, joefresh.com
15. Italian-made Leather Flat, $129.95, lechateau.com
RELATED:
Stay in Step With Fashion: Shoe Brands That Combine Style With Comfort