How Older "Cover Girls" Are Changing the Beauty Industry's Anti-Aging Message
Joan Collins, 86, was signed by cosmetic company Charlotte Tilbury to be the face of its new Airbrush Flawless Foundation. Photo: John Shearer/Getty Images
It caused quite the stir when Lancôme, the French luxury cosmetics brand, signed actor Isabella Rossellini as its "face" in 1982. And it was not just because she was the spitting image of her mother, Ingrid Bergman – the star of Casablanca and other classics – or that Rossellini was an edgy up-and-coming Hollywood muse. Or that signing the exclusive contract made her the highest paid model in the world. The buzz among us beauty editors was that she had managed to land this at the advanced age of 30, ancient in beauty advertising years. By 1996, at 43, Rossellini was out. "They told me they needed somebody younger," she has said of that time. "The advertising was aspirational and, even though they have clients of all ages, the desire was for youth."
Aspirational, FYI, is the code word used by marketers to explain why teenaged models are usually booked to illustrate the benefits of skin creams that claim to do everything from blasting wrinkles to upholstering saggy jawlines. But IRL, the world is a greying place with the largest and wealthiest demographic in history, the boomers, topping out at 75. Is there any way a demo who upended ingrained social systems – hi there, feminism – while also being dubbed the "me generation" for their First World self-involvement would allow themselves to be perpetually cancelled in advertising? After all, they're buying.
In 2018, at 65, Rossellini was back at Lancôme. And in the interim, its parent company, L'Oréal, had hired not only a slew of admittedly youth-y 50-somethings like Julia Roberts and Julianne Moore to shill products for its brands but 74-year-old Helen Mirren and 79-year-old Jane Fonda, too. In 2017, CoverGirl cosmetics signed Maye Musk, a former Toronto-based dietitian who modelled as a side hustle.
Apart from being the mother of disruptor Elon and two other very accomplished children, Musk is also known for her Instagram hashtags: #KeepSmiling, #ItsGreatToBe71 and #AWomanMakesAPlan, which uncoincidentally is the name of her new book.
And it seems this fashion moment has lasted beyond its 15 minutes with both the original supermodel Lauren Hutton, 76, and legendary nighttime soap star Joan Collins, 86, recently landing beauty gigs.
Its first celebrity spokesperson, Hutton was tapped by StriVectin, the American skin-care brand, to relaunch one of its cult products, the SD Advanced Plus Intensive Moisturizing Concentrate. The company's CEO, Joan Malloy, said they were "inspired by her intelligence, resilience, authenticity and fierce determination. We see her as a real partner, with a shared passion and purpose. We're not just interested in her face – we want her voice and opinions as well."
Always a trailblazer, Hutton has many firsts in her career. In the '70s, she was the first model to demand an exclusive contract from cosmetics giant Revlon. At age 47, she told magazine editors they should be featuring women over 30 in their pages, thus starting the "older model" trend of the '90s and the aughts, which is now hopefully not just a trend but a permanent fixture. At 61, Hutton posed nude for Big Magazine, noting it was the first time her pictures were not retouched. In 2017, her Italian Vogue cover made her the global brand's oldest cover model. In 2019, she walked the Valentino runway with models a fraction of her age, making news when she fell, sparking a debate on whether a woman of her age should be wearing heels.
StriVectin, like Valentino, took a multi-gen approach, with Hutton's 30-something goddaughter, Nina Clemente, the daughter of artist Francesco Clemente and his stylish wife, Alba, appearing in the campaign with her. And ironically we may partly have millennial "wokeness" to thank for this new emphasis on "elder" representation. Powered by social media and celebrity, cosmetic company unicorns like Fenty Beauty from pop star Rihanna, Kylie Cosmetics from reality TV personality Kylie Jenner and Glossier from former Vogue staffer Emily Weiss have made gender, sexual and racial diversity a given. With ageism the last acceptable "-ism," it was only a matter of time and fashion's contrarian urge that age would become edgy and cool à la Instagram sensation 91-year-old Baddiewinkle; Drake's dancing bestie 70-year-old Toronto artist Andrea Bolley; and 98-year-old New York fashion maven Iris Apfel.
Cue the cosmetic company Charlotte Tilbury picking Collins as a face of its new product. With her high-camp show The Royals cancelled in 2018, Collins can now mostly be seen on Instagram portraying a woman rapturously in love with life – from frolicking in a bikini in the south of France this past summer to grooving on the dance floor in a glittering silver jumpsuit, all while presumably wearing Tilbury's Airbrush Flawless Foundation.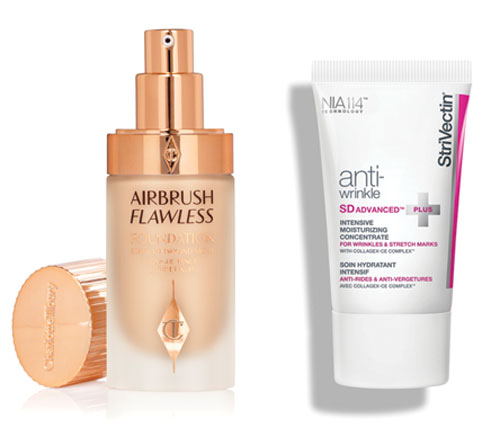 Tilbury, the 46-year-old celebrity makeup artist-turned-business owner, poses with the grand dame in the advertisement, surrounded by a gaggle of women of all ages and races.
But what many are still waiting for is an across-the-board attitude shift from the industry gatekeepers. The beauty bible Allure magazine attempted this, when, in 2017, it demanded "the end of anti-aging" in a big cover line on its all-important September issue, which featured Mirren, resplendent in hear-me-roar red lipstick. The magazine called on the industry to banish the term popularized in the '80s, which is not just a normalized buzzword but also a lucrative skin-care category worth billions in yearly profits.
"Whether we know it or not, we're subtly reinforcing the message that aging is a condition we need to battle. Changing the way we think about aging starts with changing the way we talk about aging," wrote editor-in-chief Michelle Lee. Just ask Mirren, who also that year told a L'Oréal panel, "It used to drive me crazy that ads promoting skin products were using pictures of 15- and 16-year-olds. As a 30-year-old, I used to look at that and think, what the f*** are you talking about? It was ridiculous. Pissed me off majorly. Advertisers are only just coming out of that, and it's taken them a long time."