A No-Rob Ford Zone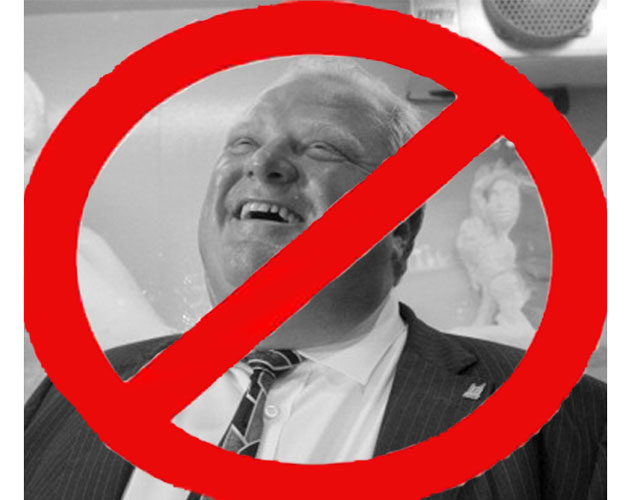 Today, we're officially proclaiming this a No-Rob Ford Zone (did we just mention the unmentionable?)
We've had enough of the embattled mayor, his nation, his apologies and his detractors. All of it. All of them. But especially the international media types who only notice us when there's the appearance of a coup d'etat in Canada, a brawl at City Hall, a 'toonish buffoon on the loose.
But it's also true that all of the above is newsworthy in a country where we don't have to worry about health care because we're all covered by a universal government plan, a country which comes in third behind Australia and Sweden in "life satisfaction" according to the Organization for Economic Co-operation and Development, a country where most of the violence takes place on the hockey rink.
Still, enough's enough. Time to move on.
Time to think that maybe politicians don't always make the best, well, politicians. With that in mind, here's a list of a dozen seasoned people who could run Toronto without embarrassing us.
1) Hilary Weston, 71
She's already served graciously as Ontario's lieutenant-governor, raises millions for charity, does good works and has stayed successfully married to one of the country's richest men ($9 billion and counting) for almost 50 years – no mean feat. A shoo-in …
2) Ellie Tesher, 70-something
This advice maven who doles out solutions to problems in the Toronto Star knows her way around human nature and how to handle the thorniest issues. "I tell it like it is and I tell you why," she told a Ryerson reporter. She managed the divas in the Star's Life Department before becoming a social justice columnist. Before that, she worked as a caseworker at Children's Aid Society in Toronto. Need we say more …
 3) Tie Domie, 44
The former Toronto Maple Leaf wasn't known as The Enforcer for nothing. He even shoots right, which would keep the incumbent's people happy.  He's pretty much managed to stay mellow and out of the news since the rink fights and the kerfuffle with Belinda Stronach. On the other hand …
4) Charles Pachter, 71
Multi-talented as a well-connected artist with a sense of humour (The Queen and the Moose) and successful developer who knows how to schmooze and make things happen.
5) Robin Kay, 63
Founded Toronto Fashion Week and grew it "from an audience of 200 in 2000 to an event that attracts 40,000 guests over five days," reported the Toronto Star, which described her as "known for being tough, savvy — at times unpredictable — and for being a comeback kid." She's remained president of the Fashion Design Council of Canada and plays an advisory role to Fashion Week. When the Star asked what her title would be, Kay replied, "Queen." But why not Mayor?
6) Richard Florida, 56
The renowned urban studies theorist came to Toronto as  professor and head of the Martin Prosperity Institute at the Rotman School of Management at the University of Toronto. Sixteen months ago, he told the Huffington Post, "We got this mayor, who I would argue is the worst mayor in the modern history of cities. Given my platform, I want to be on record as a voice saying we can do better." His own pick for mayor in 2014: "Someone who looks and acts like Jian Ghomeshi."
Recently, he wrote an impassioned plea in the Globe and Mail for a change in Toronto beyond a new and better mayor – and "not just massive investments in transit but more flexible building and zoning regimes that promote greater density at the core and in the suburbs alike." Wouldn't it be terrific to have this highly respected scholar who knows what he's talking about and who's been described as "a leading public intellectual" as mayor of Toronto?
7) Peter Bourque
Admittedly a dark horse but nonetheless a candidate with qualifications. He's the least well known of the candidates, being a retired clarinetist with the Toronto Symphony, a music teacher and recognized (according to his eponymous website) as "Canada's leading bassethorn player." He's now the conductor of the York Symphony Orchestra. This man knows about achieving harmony, bringing together groups of people with different voices, getting others to follow his lead and, as a second clarinetist for 28 years, not hogging the spotlight.
8) Norman Jewison, 87
Canadian film director and producer who brought some of the most beloved movie classics to the screen, founded the Canadian Film Centre and has wrangled the likes of Nicolas Cage, Steve McQueen, Cher and Jane Fonda. You think he couldn't handle a few Toronto city councillors?
9) Stephen Grant, 60-something
One of Canada's most prominent divorce lawyers before leaving McCarthy Tetrault and partnering with Gerry Sadvari in a boutique firm that specializes in dispute resolution, mediation and arbitration. Suave and formidable, he'd get it together for Council and the city …
10) Bruce Westwood
President and CEO of Westwood Creative Artists Ltd. for 20 years, he's been described by Business Week as a business executive, venture capitalist and literary agent. Before that he was president and CEO  of Royal Gold Enterprises Inc. and Bittners Packers Ltd. The list of his credentials goes on and on … the man can obviously do anything and everything, including running Toronto.
11) Bill Wilkerson
Co-founder and CEO of the Roundtable on Addiction and Mental Health, chairs the U.S./Canada Forum on Mental Health and Productivity and recently wrote about the present incumbent, "Unless he leaves City Hall now to get medical, psychological and physical care – a real overhaul – he may well run out of time. As for his critics, your point has been made – by him. Now he needs love – tough love if need be …" Here's a man who knows about healing and empathy, something the City of Toronto desperately needs.
12) Ron MacLean, 53
The nice guy host of Hockey Night in Canada and sidekick to the not-so-nice one is low-key, well-spoken and non-controversial. He's the kind of stable, amiable person who helps us make sense of what's been happening on the rink and at the Olympics and keeps things on an even keel. Sure, he's less colourful, less outrageous, less fun, less compelling than Don Cherry but omigosh, haven't we had enough of that at City Hall? Besides, he's such a familiar name and face after more than 25 years of Saturday nights that he'd blow away the competition on the ballot.