In her most gastro move made since becoming the Duchess of Sussex, Meghan Markle — the former food blogger and self-styled restaurant connoisseur — had lunch at Delahunt, in Dublin, recently.
"I heard it's the best food in Ireland," her husband, Prince Harry, was said to have beamed when making the acquaintance of the 34-year-old in-house chef, Dean Staunton, during a whirlwind trip they were on through the Irish capital.
I, for one, cannot speak for the entirety of the Emerald Isle … but, having made a pilgrimage to the same resto just this past spring, it was definitely my most memorable meal during my time in Dublin-town. And — all things considered — probably this globe-trotter's fave meal of the year, thus far, in any town!
A rhapsody of a place that looks like something out of a Cecil Beaton pic from the 1930s — all mahogany bar and wooden floors and hanging pendant lamps — Delahunt has the new-old thing down tight. For one, it's burrowed into a Victoria building that has serious provenance — the grocery store that used to stand in its place, and to which the restaurant owes it name (the owners decided to revive it), is a place actually name-checked in James Joyce's Dublin-set Ulysses.
For another, though — owing to an alchemy of service, music, and non-try-hardness — it's a paradigm of modern Irish cooking for which it was even awarded a Michelin Bib Gourmand in 2016.
Kind of the perfect marker for the newlywed royal duo, no? A duo charged with representing an antique institution, while being pacemakers for a dynamic new generation … right?
Located on Camden Street, on the south side of the city — a street abuzz with contemporary Irish life — Delahunt also carries the indelible spirit of of a capital that's said to be Europe's youngest! (Did you know, indeed, that some 40 percent of Dublin's population is under the age of 30?!)
Ok, so, the food: thanks to an ever-changing but well-edited menu (four staters, four mains, four desserts), it's the sort of place, when I was there, that made entirely rethink asparagus (the Wye Valley greens came grilled, doused with egg yolk) and had me in a beef cheek state of mind (gorgeously plated, it arrived braised in stout!).
Because this is Ireland, though, I probably could have been happy just digging into the butter they presented with bread — a butter so ethereal I had to inquire about its make, to which my officious waiter ambled over to present me with a card with two words written: Glenilen Farm.
In terms of Harry and Meghan's visit — the resto entirely shut down for them, and their entourage — their plates of choice included a duchess-worthy "roast hake" (laden with curried mussels, saffron potato, baby leek, etc) and, for him, a "slow-cooked lamb (lovingly garnished, too!). Both of them also washed it down with some Guinness.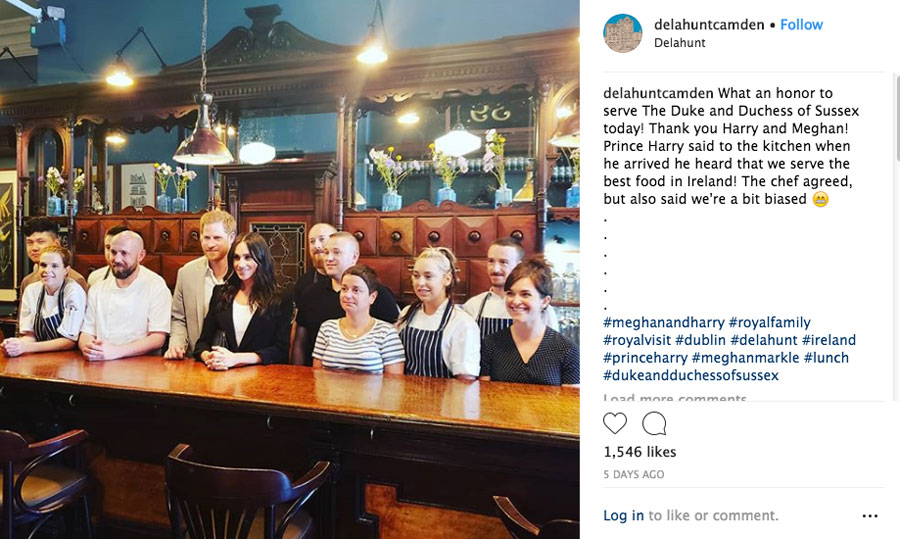 And it terms of a pic-perfect symbol of Dublin's exciting new food-naissance, as even Vogue has decreed — owning, mainly, it said, to its "geographic centrality, recent economic boom, shifting perceptions towards food, and new generation of eager chefs" — there could not have a better endorsement than the Instagram pic that Delahunt posted that day: the Duke and the Duchess posing with the entire staff at the restaurant.
Luck of the Irish, or what?