Heading to London? According to our latest travel survey, you, dear reader, are 40 per cent more likely to book a trip to the U.K. than the average traveller. Of course, no visit to the British Isles is complete without a stop in London, but may we offer up a different itinerary? Sure, the British Museum, Big Ben and Buckingham Palace should always be on the list, but what about heading to the other side of the Thames?
We asked our local insiders, the guest experience team at the Sea Containers London Hotel ( formerly the Mondrian), to share a what-to-do, where-to-go guide. The hotel sits directly on the Southbank of London near the Oxo Tower Wharf complex of galleries, shops and theatres (above) between Blackfriars and Waterloo Bridges.
Standout views from the river-facing rooms include across the river to St. Paul's Cathedral to the east and Somerset House to the west (tip: you'll also find the London Eye just beyond Waterloo Bridge). Tube stations include Waterloo, Southwark and Borough.
Oh, but before you head out to explore the neighbourhood, do spend some time in the hotel. If a bird's eye view is what you're after, the rooftop bar, 12th Knot (above), will suit very nicely. A showcase of English eclecticism, it's a panoramic perch that offers window seats to the London skyline across the Thames. We also recommend stopping by the hotel lobby bar, Lyaness. It just so happens it's the brainchild of one of the world's most lauded bartenders, Ryan Chetiyawardana, better known as Mr. Lyan, the man behind some of the top 50 bars in the world, including White Lyan and Dandylyan. Mr. Lyan and his team frame the menu around ingredients – infinite banana, tea/vermouth, purple pineapple and vegan honey among them – rather than cocktail concoctions themselves. The bar is a mash-up of electric blue and marble green, with a view of the Thames.  seacontainerslondon.com
Ready to go? Here, the insider guide of what to do while in London's Southbank and south-of-the-Thames areas.
1 British Film Institute (better known as the BFI) Mediatheque. Open Tuesdays to Sundays. Free archives/films.
2 Drawing Room. The secret bar behind the bookcase at Benugo Bar at the BFI.
3 Olivier Circle deck. In the National Theatre (quieter than the Queen Elizabeth Hall roof garden).
4 Sherling High Level Walkway at the National Theatre. You can look down on backstage workshops, prop-making, etc.
5 Southbank book market (outdoor stalls).
6 Borough Market/Maltby Street Market/Southbank Centre food market.
7 Union Street Arches. Small restaurants built into the arches underneath the railway line. Tip: Macellaio RC is very good!
8 Florence Nightingale museum.
9 Imperial War Museum.
10 Bankside Gallery for watercolour and print exhibitions.
11 River cruise on the Thames between Tate Modern and Tate Britain. Free!
12 Flat Iron Square. Drinks/food/flea market (on weekends), gigs (on certain days).
13 Where the Pancakes Are for a bite in Flat Iron Square.
14 Two One Four. A gin bar hidden underneath Antico Restaurant on Bermondsey Street.
15 The George pub. Owned by the National Trust and the only still-standing galleried coaching inn in London.
IF YOU GO
Three places for a London nosh beyond Southbank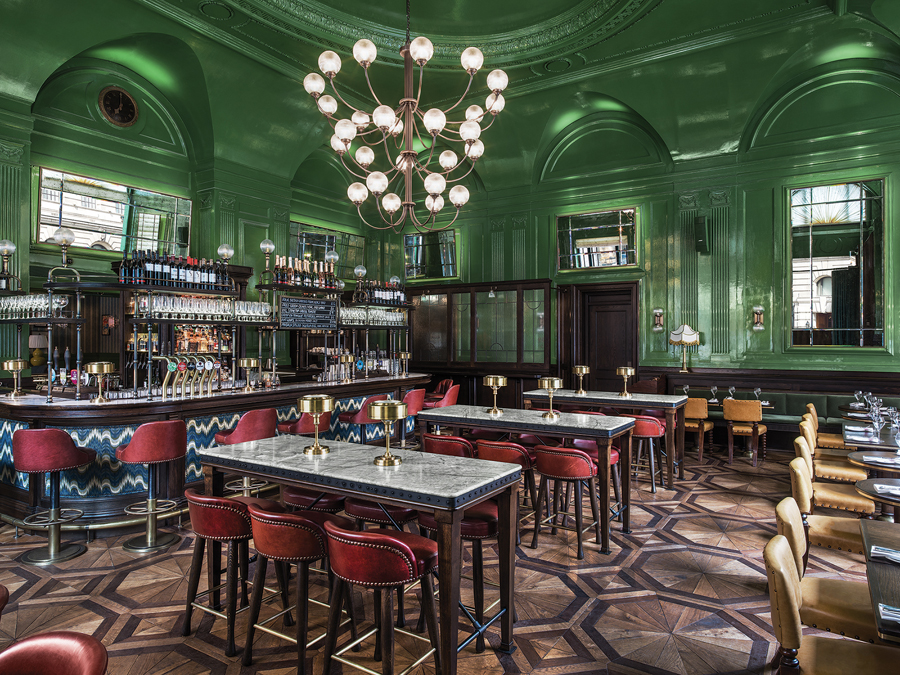 Try an elevated pub experience
The Wigmore, attached to the Langham London hotel, where Regent Street meets Langham Place, on the cusp of Marylebone and Mayfair. A quick walk from British Museum, this reimagined version of the iconic British Pub features a cocktail menu conceived by the award-winning team at the Langham's Artesian and where gin is king. You can have it two ways: the classic G&T or go a little more artisanal and have it in a balloon glass. Of course, being a pub, there's plenty of beer on tap, with a house-brewed Saison, a crafted collab with local Bermondsey's Brew by Numbers. The U-shaped bar itself encourages conviviality. Pub grub is elevated here by chef Michel Roux Jr. and if you're feeling like sharing or you're extra hungry, don't miss what's essentially a massive open-faced grilled cheese, the XXL stovetop three- cheese and mustard toastie, with cranberry and Stilton. Those watching what they eat will appreciate the plant-based burger, topped with red pepper relish and a dab of saffron emulsion. Sexy pub style? We say, yes, please. the-wigmore.co.uk
Have lunch in Her Majesty's neighbourhood
Newly opened in June 2019, Wild Honey at the Sofitel London St. James at the corner of Pall Mall and Waterloo Place is the vision of Michelin-starred chef Anthony Demetre and, in a way, his new location of his acclaimed Wild Honey Mayfair, which he shuttered in October 2018. Since moving into the Sofitel, Demetre has had the double-height ceilinged restaurant space redesigned with a nod to his penchant for statement lighting – massive circular chandeliers illuminate the sunken bar area (above) – and a mix of modern eclecticism witnessed in the classic black and white marble floors of the Grade II-listed building in what was once the HQ of an army banking agency, and the plush velvet banquettes and artwork personally selected by Demetre. Oh, the food's absolutely delicious, too, a palate-pleasing recipe of French technique with British ingredients (Cornish cod or Welsh lamb, anyone?) and, true to the spot's name, dessert is sometimes served with a dollop of fresh-off-the-comb honey. Sweet. wildhoneystjames.co.uk
Spend Saturday in a storied market
What is it about public markets? We love to stroll, peruse – and eat. One of the oldest in London, the Portobello Road market in tony Notting Hill is also still one of the most popular. The pedestrian-only street (on Saturdays) is jam-packed with shoppers, looking for antiques and flea-market finds such as vintage jewelry, rare books and vinyl recordings, but it's also a place where you can buy fresh farmers' fare as well as take a taste-test drive through the ad-hoc food stalls-meet-food trucks areas. Treat yourself or make like Julia Roberts did in the film Notting Hill and live – or just hide out – like a local. OneFineStay, the high-end vacation rental arm of Accor, which also owns the Fairmont hotels, offers up everything from artists' lofts in Shoreditch to three-bedroom flats owned by photographers, politicians and pet lovers near Portobello, for anywhere between £200 and £1,000 per night to boot. Unlike other services that leave all the search and the booking to you, OneFineStay offers advisers that can help you find the right place for your fine stay and then connect you with your local guest services team that acts like a concierge, arranging airport transfers, dinner reservations, theatre tickets and more.
But I digress. About that Saturday nosh in the storied market: grab fresh ingredients to go and head back to your flat. One high-ceilinged space in Notting Hill a short walk to Portobello Road, for example, features a gourmet kitchen for those who love to cook, as well as the work of a London-based landscape photographer whose art covers the walls, with a balcony overlooking the street, a perfectly romantic spot to serve supper. Hugh Grant not included. onefinestay.com; visitbritain.com