Winter Wanderlands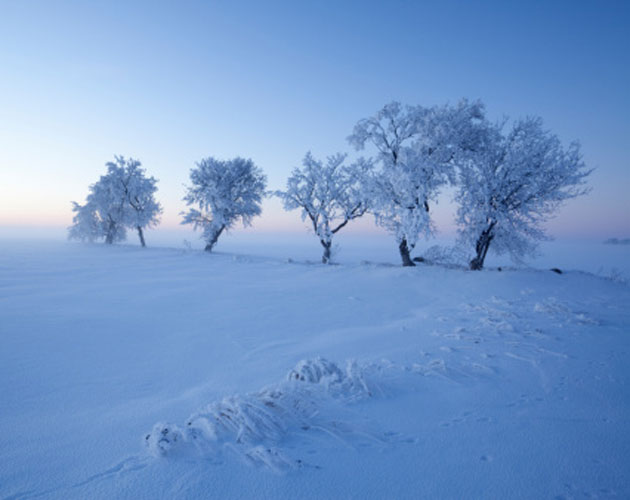 Baby, it's cold outside! But hey, we're Canadians after all. Here's how to enjoy the season head on.
Explore our desert region
Osoyoos, B.C., known as the snowbird capital of Canada, lives up to its tagline as Canada's warmest welcome. One block from the charming shops of small-town Main Street, the pet-friendly Watermark Beach Resort offers smartly decorated suites with expansive balconies and fully equipped kitchens.
Watermark becomes a real community in winter, with guests staying as long as five months, enjoying bridge, hockey and cooking classes or relaxing at the spa or the yoga and Pilates studio. Rooms cluster around a central patio overlooking the 1,000-foot beachfront on Lake Osoyoos, which never freezes – it's too deep – permitting sailing and kayaking year-round. Snowmobiling, eco-tours and birdwatching are popular. Guests can ski and on the same day, weather permitting, golf at any of five courses within a half-hour's drive. (888-755-3480; www.watermarkbeachresort.com) — Vivian Vassos
The old-meets-new elegance of Kelowna, B.C.'s Hotel El Dorado dates from 1926, when the original structure stood three kilometres south of its current location on Okanagan Lake. In 1989, the hotel was about to be razed when current owner Jim Nixon bought the building, barged it to its new site and restored it. He rebuilt and updated the dowager, adding a pool, spa and new rooms. The El Dorado attracts a varied clientele; diners at the boardwalk eatery, open until late October, range from suits to the swimsuit-clad. The bar and restaurant stay busy year-round, thanks to support from locals who see the El as their neighbourhood watering hole. Wine touring is popular off-season, when winery staff have more time to dedicate to guests. (866-608-7500; www.hoteleldoradokelowna.com) —David Lasker
 NEXT: TAKE AN URBAN RETREAT
Take an urban retreat
Snowbirds don't have to fly south: consider the more temperate climes of Canada's Pacific Coast, where properties like the Time Square Suites in Vancouver offer special packages for long-term visits, perfect for those looking to escape the bluster of winter further east. Stays of 30 days or longer are 50 per cent off regular rates and tax-exempt. The suites include separate bedrooms, kitchen, washer, dryer, TV, Wi-Fi, fitness membership, use of the rooftop patio with barbecues and herb garden, and concierge services. With Stanley Park an easy walk and the vibrant West End neighbourhood to explore, you'll understand why Vancouver is one of Canada's most livable cities. (887-684-2223; www.timessquaresuites.com) —Athena McKenzie
Hit the slopes
At Le Massif de Charlevoix ski resort, you can channel your inner child on a rodel, a European sled that's steerable and stoppable. You'll catch on fast and be hooked forever. The resort is also opening a 7.5-kilometre run on Mont a Liguori on Dec. 24 (snow permitting, of course) and runs Friday to Sunday in January and February and everyday in March. You can take a motorized vehicle to the top or get physical and snowshoe up. Starting this winter, you can hop aboard the winter train in Quebec and arrive at Petite-Rivière-Saint-Francois, Que., near the ski lifts. (877-536-2774; www.lemassif.com/en)
Warning: people go to ski the Powder Highway in the southeast corner of British Columbia and don't want to leave! With seven major ski resorts in the region, there are hundreds of runs, ranging from beginner to expert – all set in spectacular scenery with lots of powdery snow that skiers love. Ski operators are expecting La Niña will deliver another year of great snow. There's easy air access into Cranbrook, Castlegar and Trail, B.C. (www.powderhighway.com) —Jayne MacAulay
NEXT: GET FESTIVE
Get Festive
Wine goes with everything, including winter. During the Winter Okanagan Wine Festival at Sun Peaks Resort, near Kamloops, B.C., there are wine tastings, culinary and educational events and opportunities to meet the makers of the award-winning wines of the region. And did we mention skiing? Before you imbibe, of course. (800-807-3257; www.sunpeaksresort.com)
While at Winnipeg's Festival du Voyageur, Feb. 17 to 26, cheer on wannabe voyageurs – those intrepid fur traders who canoed across the Great White North way back when – who will be competing indoors in manly games like leg wrestling and log sawing, while the more hirsute compete in the beard-growing contest. Then, head out to the First Nations encampment, puzzle out the snow maze, get lost among the giant snow sculptures and go for a sleigh ride. There's also the Bal du Gouverneur, a gala event with an 1820s theme, great festival entertainment, a fiddling contest and a kitchen party. Warm up with a taste-testing of pea soup recipes or toast your toes by the fire at Le Grand Hé Ho, a free evening of music, dance and street performers. (For dates and details, go to www.festivalvoyageur.mb.ca.)
Stroll or snuggle up in a horse-drawn carriage and be dazzled by the magic of the half-a-million lights of Alight at Night Festival in Upper Canada Village, Morrisburg, Ontario (closed Dec. 24 and 25). Children under five ride free on the Toy Train. And don't miss the sound and light show at Crysler Hall, the star attraction. (www.uppercanadavillage.com)  —Jayne MacAulay
ARMCHAIR TRAVELLER
Looking for a taste of Whistler without scaling its heights? Nonna Pia's Gourmet Balsamic Reductions (1) are brewed here but were born of Italian tradition. B.C.-based founder Norm Strim was inspired by his Mediterranean mom to create his gourmet finishing sauces, using a six-year-old Modena balsamic vinegar as his base, then slow-cooking and infusing it with locally sourced ingredients – all the while skipping nasty additives. According to legend, the ancient Romans believed that the vinegar had restorative powers and was a source of energy – perhaps enough to climb a mountain. (www.nonnapias.com)
Food and drink enthusiasts will spend hours poring over Ultimate Food Journeys: The World's Best Dishes & Where to Eat Them (2) (Reblochon, a delicate cheese from the French Alps, mais oui!) and 1000 Great Everyday Wines From the World's Best Wineries, in which ex-Wine Spectator editor Jim Gordon picks the best bottles, including a handful from Canada.  —Vivian Vassos