Insider's Guide to Paris: Farmers Markets
When Jackie Kai Ellis' new book, her memoir entitled The Measure of My Powers, crossed my desk, I couldn't resist cracking the spine. In it, the Canadian author, baker and travel writer chronicles her marriage, her relationship with her grandmother and her rise from depression via a love of food, a connection to Paris (among other points, including Italy and the Congo) and an obsession with the food writer M.F.K. Fisher as inspiration.
Kai Ellis (above, photographed by Samantha Lauren) is a food expert in her own right and sprinkles her book with some of her most tried and true recipes, from chocolate chip cookies (recipe below) to ricotta gnocchi to passion fruit baba au rhum, the founder of Vancouver's Beaucoup Bakery and the owner of The Paris Tours.
Here, the author shares her chapter entitled "Farmers Market, Paris, 2011," along with her list of must-tastes and must-dos at the market.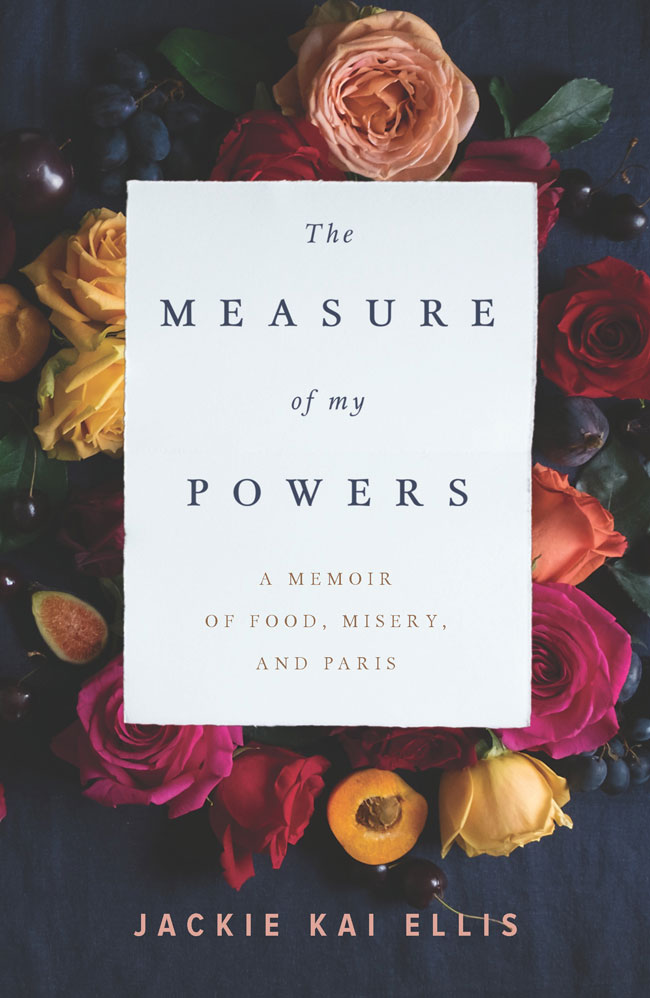 When I imagine a foreign place that I've never been to, I tend to string together the small beads of facts I've collected over my life, and then I fill the spaces between with my imaginations, fantasies or fears. After a time, it becomes hard to tell which are real and which are just my flourishes.
Before I visited, the only things I remember hearing about France was that it had the most beautiful and sophisticated food on every street corner (even the fast food was supposed to be better) and that the people were unfriendly. Both of these things, when I finally visited, turned out to be mostly untrue.
One of our first meals in Paris was at a neighbourhood restaurant near our flat in the 11th arrondissement. It was Valentine's Day, and G and I celebrated by eating out but couldn't go far as we were both only just recovering from horrible flus and were still feeling weak. I scanned the menu and decided on the dish that felt the most "French" – the duck confit. I'd had it a few times in Vancouver and liked it, so I fully anticipated having my definition of the dish changed forever with this meal, leaving all other versions inedible in comparison. Instead, I got a pallid, flabby-skinned leg with a scant handful of frisée drizzled in oil that was haphazardly dribbled all over the plate, making the entire presentation seem anemic and blubbery.
And all over the city, concentrated in the tourist-dense areas, were sorry excuses for dry and wrinkly croque monsieur, salads burdened with pasty white dressings lugging slices of smoked salmon and sprinkled with bits of dried chives, as if they had put rose petals on a rhinoceros and expected an elegant dance from it. I was embarrassed at the fantasies I'd so earnestly relayed to G before we left about all the beauties of French cuisine. So in complete denial, I stubbornly refused to show how disappointed I was, and I continued to eat it, giving hearty reassuring nods to G throughout each meal.
Over the coming weeks and months, I eventually found where beautiful French food existed in Paris. I explored the nuances of the city with my mouth, forming new words with my tongue, learning the subtle language of a smile and new flavors passing my lips.
I shopped at the farmers markets in my neighbourhood like most Parisians did, Marché d'Aligre during the week and Marché Bastille on Sundays. It was here that Paris revealed herself to me first, teaching me the questions to ask to draw her story out, and allowing me to taste her character in what I thought were insignificant moments. She'd drop a word, a sigh when she thought no one was looking, and she fed me sensuously, one bite at a time.
"Un-uh-roh," said the husky man behind the vegetable stall, wearing a dirty apron over a winter coat and holding his hand out toward me.
"Pardon?" I asked, confused as to what to do next. I think I'm supposed to pay now, I had just asked for beets, he bagged them . . . now what?
His thick black eyebrows, like slugs on his forehead, rose and he looked me in the eyes and repeated himself. The movements in his mouth were exaggerated and he slowed the pace of the syllables so I could decipher them: one euro. "Got it," I thought to myself, noting the way the liaisons in the language made it both gentle on the ears and difficult to understand. And I put one euro into his fingers, which peeked through his fingerless gloves.
The vitality of the market; the sounds of conversations and food stalls; the smells of fish, herbs, onions, roasting meats; bright vegetal colors and deep earth still clinging to roots – all of these layered and piled on top of each other like books in an old Parisian bookstore.
I tasted far Breton for the first time, biting into the soft prunes and letting them meld with the faint scent of vanilla; the inspiring kouign amann in large wheels stuffed with roasted apples; the mature-tasting, wise crêpes made of buckwheat, educating me with their crisp edges caramelized in butter.
As I wove through the stalls, vendors would entice me with segments of clementine, the leaves still attached to the sunny skins; juicy dates, weeping their own syrup; candied strawberries, sweet and sticking playfully to my molars; and aromatic pistachios, making me crave knowledge of cultures that I hadn't wondered about before.
There were bottles of good, honest wines cared for by sturdy men wearing tweed caps with wine-stained hands and terroir under their nails, and just a few steps away, mushrooms of all kinds – black trumpets, chanterelles, morels. Their savoury forest scent was trumped only by the smell of sizzling chickens twirling on a rotisserie, their juices and fat basting themselves and dripping onto a pan of potatoes embracing it. I ate the roasted chicken, simply and with my fingers.
Paris inhabited me. And I was so full of her that I simply forgot to feel ashamed of eating and being hungry.
TASTES OF THE PARIS FARMERS MARKETS
Things you must taste at the Bastille farmers market on Sunday mornings:
TIP: When passing vendors, they will pass you bites. Try everything!
Buckwheat crêpes with lemon and sugar. Try to find a stall that focuses on foods from Bretagne, as they will usually have the best crêpes.
Juicy medjool dates, prunes, pistachios, and candied strawberries from the dried fruit and nut stalls.
Forty-eight-month cave-aged Gruyère especially, but really, all the cheeses!
Whole roasted chicken. Be sure to ask for the potatoes roasted in the chicken fat.
Fromage blanc bought by the carton at the fromagiers. Eat with fresh fruit as a dessert.
Artichokes. The artichokes in Europe seem so flavourful and much meatier than the imported ones I've tried in North America.
Fresh fraises du bois or alpine strawberries if you can find them in the summer.
Radishes, with good butter from the fromagier and fleur de sel.
Oysters eaten right at the stall on plastic plates. At some stalls, they will pour white wine into the empty shells for you to drink.
Jackie Kai Ellis' CHOCOLATE CHIP COOKIES
This recipe has been adapted from the well-known recipe from the New York Times. I had tried many recipes obsessively over the years and narrowed them down to three favourites: this is one
I still make often when I want an ooey gooey cookie that is chewy in the center with crisp, caramelized edges.
FOR THE VANILLA MALDON SALT
1 vanilla bean
½ cup (125 ml) Maldon salt
Split the vanilla bean lengthwise and scrape out the seeds in the centre with the back of a small paring knife. Place the husk and the seeds in a resealable container with the Maldon salt and mix gently with a fork to combine. Infuse for at least 36 hours at room temperature. You can leave the husk in the salt indefinitely to continue infusing, storing at room temperature. The salt will just pick up more of the vanilla scent and flavours the longer it is left to mingle. When the cookies are warm and just out of the oven, sprinkle a pinch onto the top of each one.
A note on the uses of the salt: This recipe makes more than you might need for the cookies, but I like to keep some on hand at all times. Vanilla salt is perfect for finishing dishes like seared scallops or on almost any kind of sweet such as brownies, cakes, cookies and caramel ice cream.
FOR THE COOKIES
2½ sticks (10 oz/284 g) unsalted butter, room temperature
1 cup plus 2 tbsp (8 oz/227 g) granulated sugar
1¼ cups (10 oz/285 g) light brown sugar
2 tsp (10 ml) vanilla extract (I prefer Nielsen-Massey)
2 large eggs
3¾ cups (16.5 oz/468 g) all-purpose flour
1½ tsp (7.5 ml) fine sea salt
1½ tsp (7.5 ml) baking powder
1¼ tsp (6 ml) baking soda
10 oz (285 g) bittersweet chocolate fèves (I prefer Valrhona Alpaco; see note below)
10 oz (285 g) milk chocolate fèves (I prefer Valrhona Jivara)
Cream the butter and sugars in a large bowl or in the bowl of a stand mixer, until lighter in colour and texture. Add the vanilla extract and eggs to the butter mixture and mix on medium speed until fully incorporated, scraping down the sides of the bowl as needed.
Slowly add the flour, salt, baking powder, and baking soda, mixing on low speed until just combined. There should be large streaks of flour still remain- ing. Add the chocolate fèves and mix briefly until just incorporated.
Cover the dough with plastic wrap or place in an airtight container, and then refrigerate it for 48 hours. Aging the dough melds the flavours and creates nutty caramel notes that won't develop otherwise.
When you are ready to bake the cookies, preheat the oven to 350 F. Remove the dough from the refrigerator about 30 minutes before scooping to soften it slightly. Line 2 sheet trays with parchment paper. Scoop balls of dough about 2 inches in diameter and place them about 2 inches apart on the trays. You can use a heaping #30 (1 fluid ounce) scoop if you have one.
Bake for about 15 minutes or until the cookies are browned and caramelized along the edges and centres are just set.
Top each cookie with a sprinkling of the vanilla-infused Maldon salt, about ¼ teaspoon. Cool on trays for 2 minutes and transfer to a rack to cool com- pletely, or eat warm. Repeat with remaining cookie dough. Keep in an air-tight container for up to 3 days.
A note on measurements: I have given measurements here in both volume and weight. However, I find I get the most consistent results using weight. A kitchen scale is reasonably affordable, and you will find that it makes baking and cleanup much faster and easier.
A note on chocolate: While it is harder to find fèves (discs of chocolate) than chocolate chips, there is a distinct difference in the resulting cookie – the chocolate layers in the cookie in a way that does not quite happen with regular chocolate chips.
Makes 30-36 cookies
Excerpted from The Measure of My Powers by Jackie Kai Ellis. Copyright © 2018 JKE Media Inc. Published by Appetite by Random House, a division of Penguin Random House Canada Limited. Reproduced by arrangement with the Publisher. All rights reserved.