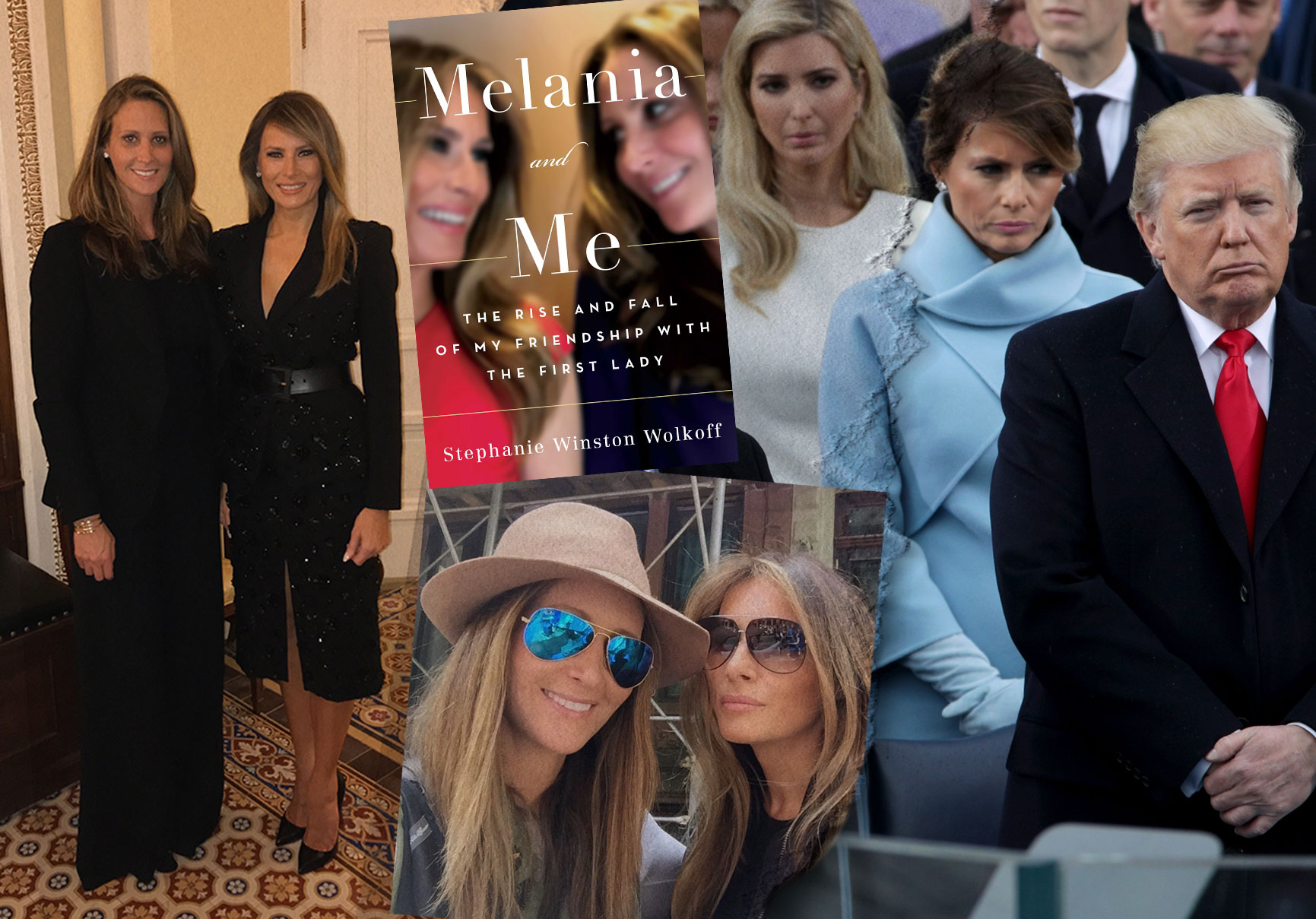 Photo: Trump and Melania at inauguration: Alex Wong/Getty Images; Melania Trump and author: Courtesy of Stephanie Wilson Wolkoff
>
The Big Read
"Melania and Me": A Post-Mortem of a Friendship
This break-up memoir puts the enemy in frenemy and the reader in the middle of a one-sided relationship replete with juicy inside-baseball details about the Trumps.
/ BY Shinan Govani
---
"I gave her the benefit of the doubt, and she took it."
It is a simple line – matter-of-fact in its venom.
Found within the first few dozen pages of the sensational new Melania and Me, it also amply sums up the through-line of the whole book by Stephanie Winston Wolkoff. Awash in Faustian bargains and stabs in the back, and equipped with what the kids these days call "receipts," the tell-all is supported by tons of phone calls, emails, emoji-laden texts, and Signal chats with her one-time BFF, the current First Lady of the United States. It is also demonstrative, evidently, of a very particular micro-genre: Hell Hath No Fury Like The Party Planner Scorned.  
Wolkoff, who used to produce the Met Gala as the director of special events for Anna Wintour and was once in charge of overseeing Fashion Week in New York – and who was then brought on to help organize the 2016 inauguration of her friend's husband – finds herself thrown to the wolves soon enough, but not before she comes to work for Melania as a senior adviser in the East Wing. What follows is supreme inside baseball (the book works best if you recognize Trump-world names like Dina Powell and Rick Gates and Reince Priebus) and also office politics at the highest level (her exasperating blow-by-blow of the inauguration preparations is "a farrago of failures, missteps, and confusion"), but, at its core, the book is a post-mortem of a friendship. One that ought to have come with this warning: With First Ladies like that, who needs…? Dot-dot-dot. You get the drift.
Friends and Frenemies
How good a pal was Stephanie? Well, good enough that the actual image on the cover of Melania and Me comes courtesy of a selfie the two took together on Air Force One, when the author and her family touched down with Melania's at Mar-a-Lago. Close enough that the Slovenian-born Melania asked Stephanie to write a support letter to accompany her sister's immigration application, years ago. And she was the one person Melania deigned to lunch with – just them, at The Mark Hotel – four days after the infamous Access Hollywood tape scandal broke, leading up to the 2016 election. (She details that lunch in one long passage in the book – all in strangely ghoulish detail! Melania sticking to her boys-will-be-boys talking points!)
One main theme of the book – one that throbs like a sonic boom the further you get into it, and basically leads to the big question: How well do you really know you friends? – is summed up via an almond allergy. One that Melania apparently has, and Stephanie only discovered when she came across a flight manifest detailing the First Lady's aversions. Perhaps not the strangest thing in the world unto itself, sure, but odd considering Melania is the woman who'd sat through endless sob sessions with Stephanie as the author talked about the debilitating allergies endured by her son, Zach (ones that have landed him in the hospital, and led to him being enrolled in an oral immunotherapy food trial).
Remembering also that Melania had always been conveniently unavailable for the fundraisers that Stephanie threw over many years for causes related to – and never once written a cheque either – she asks of the reader, "All this time, she had a nut allergy and never mentioned it once to me?"
Yes, Stephanie, that is right! this particular reader felt like shouting back to the book.
All too late, it is a realization that syncs up with many of the conclusions that she eventually makes about her "friend" – much, much too late.
Appearances Are Deceiving
Painting a pic of a woman who is so distrustful, and so cagey, that she creates a feedback loop of distrust all around – Melania's veil of cynicism only begets more cynicism – the author writes: "The wall around her is her defense mechanism. The secret to her happiness is to be authentically and unapologetically skin-deep. She lives through her external attractiveness and how her appearance is perceived."
Likewise, this (when Stephanie is made into the convenient fall woman following questions that arise around misused funds surrounding the inauguration budget): "The one time I asked for a precious thing – for her to speak the truth – she left my corner, leaving me bleeding in the ring … she wasn't really my friend. In fact, I wish I had never met her."
It is not that Melania is "mysterious" or "elusive" (another descriptor that media likes to often throw out, re: her). It is that there is nothing there, which is what one might come away persuaded after reading this. And that those words blasted on that now-notorious jacket of the First Lady – remember that I Really Don't Care, Do U? jacket? – is her actual life motto. (Indeed, during one 70-minute-long phone conversation, Melania confirms to Stephanie that she wore that jacket to pretty much just troll the media).
Be Best, huh?
Book of Revelations
For all the revelations in the book – the scoop, for instance, that Melania told the author she would not move to D.C. until the shower and the toilet in her suite had been replaced – and even the events of this past summer that never made it into the book – Melania literally ripped up the crab trees in her mausoleum-like re-do of Jackie Kennedy's rose garden – it is the contents of that same 70-minute-long call that struck me as the most damming. When she endeavours to justify the child-separation policy at the border, it is an explainer so Sean-Hannity-sounding in its callousness, it pretty much comes down to this: Hey, it's not so bad.
As much as the book is titled Melania and Me, it could actually be called Melania and Ivanka and Me, given just how much insight Stephanie offers into the two rival courts between the women, and in her descriptions of how she tried again and again to protect the First Lady from being usurped by the First Daughter – in one case, quite literally, in a manoeuvre dubbed "Operation Block Ivanka," when she worked to block the stepdaughter's face from appearing in photos of Donald taking the oath of office during the transfer of power. What follows is example after example of Ivanka trying to poach staff from Melania, Ivanka trying to insert herself in functions led by Melania, Ivanka even trying to possibly sabotage Melania with that famously plagiarized speech at the 2016 Republican Convention. (Stephanie dangles a conspiracy theory here that is not out of the realm of believability!)
Energy Vampire
But what happens when protector inevitably becomes the one in need of protection? That is the ditch the story in this book ultimately ends up in. As far as friendship blow-ups go, its account covers all the usual bases, I noted. We get, for instance, a classic example of slow drift, that all-too-common silent killer – when resentments build up, and the friendship dies bit by bit. There is also a dash of ghosting, or quasi-ghosting – as in when Stephanie describes a sort of "push-pull feeling, the back-and-forth of her being cold on Monday and warm on Tuesday … sending love-you texts and then not replying to calls."
If nothing else, finally, the story is what happens when one of the two in a tango is a quintessential "energy vampire," someone (in this case, a First Lady) slowly sucking the life out of the other friend.
Reading the book, I was reminded of another friendship break-up memoir written by Mariana Pasternak, the one-time intimate of Martha Stewart, who ended up testifying against her in Martha's 2004 insider-trading trial. That book was called The Best of Friends: Martha and Me. Though, as far as narratives go, it is, of course, an evergreen one: female friends who fall out have always provided much fodder, be it one-time BFFs Winona Ryder and Gwyneth Paltrow, or Paris Hilton and Kim Kardashian.
Fickle friendships and big blow-ups. It is a subject that has titillated, going back to Jane Austen (her novel, Northanger Abbey, in particular, is all about this) to Real Housewives of Pick-Your-City (the slow, decade-spanning dissolution of the friendship between Lisa Vanderpump and Kyle Richards, in Beverly Hills, is just one example).
So, when Stephanie writes of her friendship with Melania, "I was the sucker who bought the fake watch on the street corner," it is right on track. (This, despite, the White House hitting back by calling the book wildly "self-aggrandizing.")
The biggest shade of all, though? It comes right near the very front, where I clocked the dedication.
"To Melania," it says.
Melania and Me was published by Simon & Schuster on Sept. 1.
More from The Big Read: 
Margaret Atwood, Wayne Gretzky and Other Canadian Icons Reflect on How Terry Fox Inspired Them in New Book of Essays

Finding Freedom: New Book Aims to Set Record Straight on Palace Intrigue and Drama Around Meghan and Harry's Royal Relationship
Emma Donoghue's The Pull of the Stars Will Tug on Your Heartstrings
---
WANT MORE CONTENT?
TAKE ME TO
> STAY UP TO DATE
Our Book Club Newsletter Will Keep You in the Know