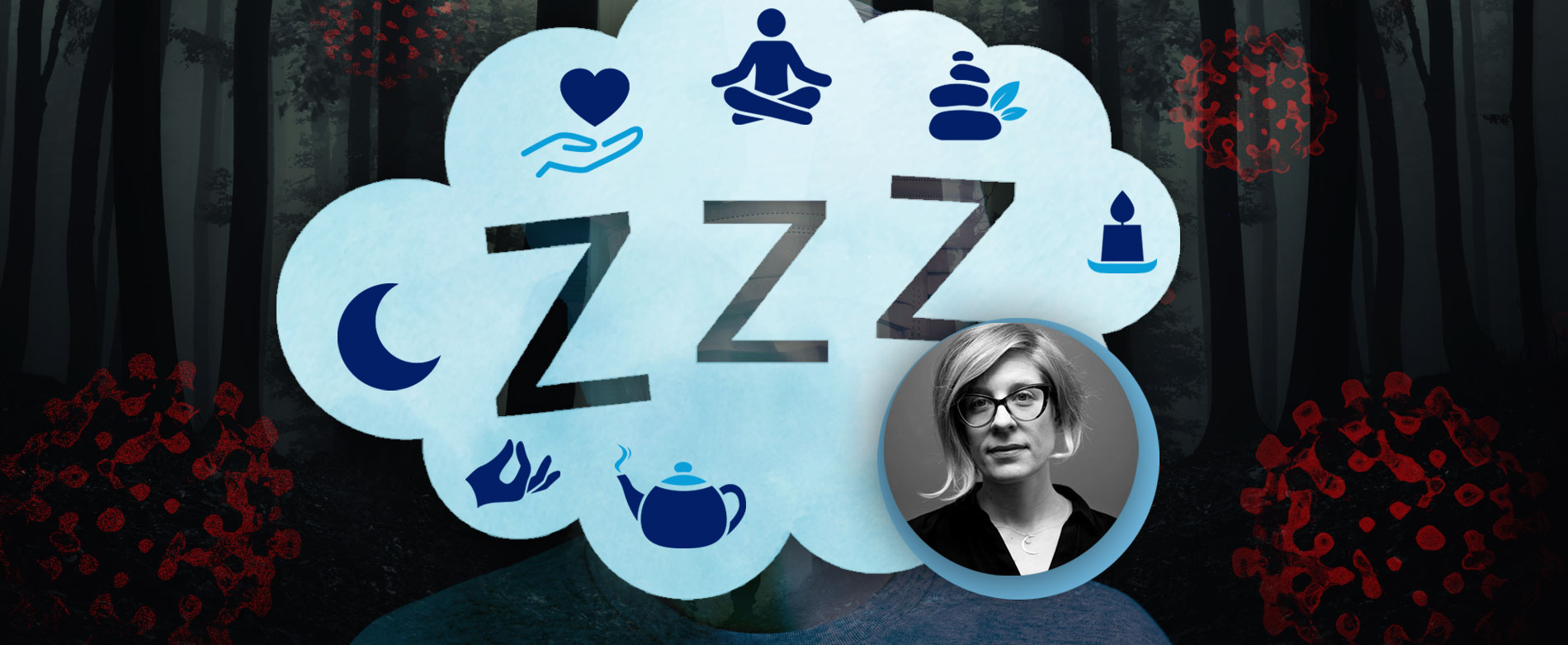 >
Opinion
When books are too traumatic, bibliotherapy can ease your anxiety
A Michigan yoga practitioner and podcaster argues for books as therapy, like Nothing Much Happens, stories she created to help empty your mind and lull you to sleep
/ BY
/ October 30th, 2020
---
If you've ever been taken outside of yourself, had your worries reframed, your perspective realigned or just had a break from your thoughts and the weight of the world by spending some time in a story, then you know that books are therapy. They let us travel when, especially now, we simply can't. They show us other ways of looking at the world, other versions of what it means to be a friend or a lover or a parent or a child. Whether full of useful lessons or just an easy, silly escape, they are still a balm to the spirit of a weary human, particularly in the middle of the COVID-19 pandemic.
I often think back to very first book I ever read all by myself. It was Little House in the Big Woods by Laura Ingalls Wilder and I was probably five years old. I remember finishing the last page and closing the book (paperback, yellow cover, a dozen cracks in the spine) and setting it down on my bedside table, thinking about starting the next book in the series and then, giddily, any book in the library after that. Reading meant a thousand possible adventures were waiting for me on the shelf. Since then, I've always had at least one book on the go and a healthy stack of To Be Reads by the bed. Most of my reading happens in the minutes before I fall asleep, and a few years ago I shut my book at bedtime, turned off the light and laid there, wrapped in my blankets, thinking about the characters and story lines with an ache in the pit of my stomach. There was a trend I noticed in book after book, and it was leaving me disillusioned, despairing and just plain sad. After a while I got mad about it and made a Facebook post about what I started to call "despair porn:" Books that cobbled together the most upsetting circumstances with the least redeemable characters in a polluted grey location where something awful was about to happen. "These books," I posted, "are like being fed a plate of salt. They're like a sucker punch." I listed a dozen bestsellers I'd forced my way through in the previous six months and ended with, "Why is it gauche to write about something that isn't awful?"
Looking back, I can see that moment was one of upheaval and burnout in my life. I was worried about my small business – a yoga studio where making payroll each month was getting more and more difficult – I was steeped in fears about my country, my personal liberties as a gay woman and just plain exhausted by the escalating belligerence of politics and public life. I needed soothing. I needed a place to rest my mind after reading the news. I'd trusted books to give me that, and while this recent batch hadn't, I didn't give up on the idea that stories could be medicine.
Once I'd stopped grousing online about it, I decided if the stories I needed weren't out there, I'd better write them myself. I didn't want to write a self-help book; it didn't seem like the world needed one more book about how to be mindful or how to feel better. I wanted to write something that would simply make people more mindful, make them feel better. I had an idea, but I wasn't sure if it would work as a book. I was taking a fiction-writing class at the time and I sent a message to my prof asking if a person could write a book about nothing. She patiently explained that no, books needed action, inciting incidences, and that characters needed arcs.
"Harrumph," I thought, and I called the project Nothing Much Happens.
I write bedtime stories for grownups. Stories deliberately designed to be therapeutic. They take you to simple familiar places and let you rest there. They don't explain how to be present and calm, they just make you present and calm. When I first sent them out into the world in the form of a podcast, I didn't know what to expect. Would people want to hear a story about coming home at the end of a long day, turning the lock on the front door and making a cup of tea as the rain beat down outside? Would they find solace in the simplicity or just be bored and disinterested? Soon I was hearing from folks all over the world who told me that they'd been longing for this sort of experience. Certainly, people used the stories to fall asleep, but I heard from so many who told me they listened just to be taken someplace safe and soft. Listeners wrote in to say night terrors had kept them from bed for years, but now they hopped into their sheets, eager to follow the stories into their dreams. Survivors of attacks, cancer patients, military folks who suffered from PTSD and plenty of just plain old worn-out people told me the stories were healing them. From the start, I felt like Canadians got me; they understood right away what I was trying to do. Maybe there was something simpatico in the language I used, the reverence for nature and small honest moments of connection that felt in line with Canadian values and culture. (As a Michigander, I can tell you, we think of ourselves as at least one third Canadian.)
Then came 2020. I don't need to tell you what that means, because the pandemic is a shared experience. Suddenly our collective anxiety was scaling new heights. My first book, a collection of my stories with illustrations and recipes and self-care rituals delivered in a soothing screen-free publication, was coming out. Though my world tour was cancelled, and book sales are projected to be down, I was so glad my book came out when the world needs bibliotherapy so badly. And the idea that books can help us through difficult moments is gaining recognition around the world. Oprah has just curated a list of books for tough times. British mystery writer Ann Cleeves is personally funding a bibliotherapy project to help readers find the right books to carry them through. Your local independent bookshop probably has a whole table right now of books set out just for this need. I have a group of friends, the folks who talked me down from my Facebook ledge, who share recommendations on what to read when the world feels heavy. Books are therapy. Take your medicine.
Kathryn Nicolai is a Michigan yoga practitioner, studio owner and creator of the Nothing Much Happens podcast. Her book Nothing Much Happens: Cosy and Calming Stories to Soothe Your Mind and Help You Sleep was published Oct. 6 by Penguin Canada.