20 Favourite Hollywood Romances of All Time
Charlotte Ottaway
|
February 22nd, 2017
Their love is the stuff of legends. Here, a look at famous celeb couples.

Grace Kelly and Prince Rainier
This fairy-tale began at a photo shoot in Apr 1955, where Kelly and Rainier first met. The American actress married the Prince of Monaco on Apr 18, 1956. Prince Rainier and Princess Grace had three children together. A royal love life constantly placed in the spotlight as the object of tabloids, gossip and speculation across the world; their romantic legacy lives on.
Michael J. Fox and Tracy Pollan
This tightly knit bond began on set Bright Lights, Big City in 1987, and the actors were engaged the following Christmas. They had a private wedding on Jul 16, 1988 in Arlington, Vermont with only 70 guests. Fox was diagnosed with Parkinson's disease in 1991 and the couple endure the battle of the chronic illness together. Fox says getting married was the best thing to ever happen to him; "Tracy and our children put everything in perspective."
Paul Newman and Joanne Woodward
Here is one of Hollywood's most successful love stories. The couple tied the knot in Vegas on Jan 29, 1958. As a wedding gift, the screen legend presented his wife with a silver cup inscribed: "So you wound up with Apollo. If he's sometimes hard to swallow, use this." Newman credited their long-lasting marriage to "great impatience tempered by patience." They celebrated a half-century spent together before Newman died in Sept 2008.

John and Jackie Kennedy
They first met at a dinner party organized by mutual friends in May of 1952 and were married on Sept 12, 1953 in Newport, Rhode Island. Though the romance between the couple was true without a doubt, like any ordinary couple, it wasn't always wedded bliss throughout John's presidency. Still, the 35th President of the U.S. and his First Lady shared a comfort and joy in one another that could fill the spacious White House with love.

Baby and Johnny Castle [Dirty Dancing]
Played by Jennifer Grey and Patrick Swayze in the 1987 romantic film, the love story between this pair is a classic. While vacationing at a resort with her family, what begins as a 17-year-old's crush on the dance instructor becomes an economic conflict of the affluent versus the working class. Despite the pair's clashing backgrounds, the flames continue to ignite, until the couple find themselves fighting for outsider approval. This blend of secrecy, scandal and steamy dance moves add up to one majestic love story.
Elizabeth Taylor and Richard Burton
Despite both being separately married at the time, Taylor and Burton couldn't help falling in love onset Cleopatra in 1961. Their wedding took place on Mar 15, 1964, in Montreal. But they needed more than steamy chemistry to stay together, and divorced in June of '74. After getting married for a second time 16 months later in Africa, they divorced again in July of '76. Taylor explained, "I love Richard Burton with every fibre of my soul, but we can't be together."

Jessica Tandy and Hume Cronyn
They shared their love both on stage and under the altar. Married in 1942, the English-American actress and Canadian actor went on to make many dramatic stage, film, radio and TV appearances together. Cronyn's wife was chosen as one of People Magazine's 50 Most Beautiful People in 1990, at 81-years-old.

Scarlett O'Hara and Rhett Butler [Gone With the Wind]
The romantic novel written by Margaret Mitchell was first published in May 1936. After two tragic endings to protagonist Scarlett's first romances, she becomes a widow at merely sixteen. Left to fend for herself, she eventually develops a love-hate relationship with Rhett, who always loved Scarlett, even in spite of himself. This scandalous story depicting a stormy marriage in the time of the Civil War won the Pulitzer Prize in 1937 and was adapted into an Academy Award-winning film in 1939.

Goldie Hawn and Kurt Russell
Also known as Hollywood's Golden Couple, the actors' relationship began on the set of Swing Shift in 1983. Despite never walking down the aisle together, the emotional connection between the two holds as strong as ever. Together, they raised their children, and now share the beautiful experience of grandparenthood.


Ron and Cheryl Howard
Here's a classic love story of two high school sweethearts. Ron and Cheryl married on June 7, 1975 in California, when they were both 21-years-old. The actress has made steady appearances in the director's films, and he calls his wife his "good luck charm." Together they continue to achieve their aspirations both in the television and film industry and in family life with their four children.

Danny Zuko and Sandy Olsson [Grease]
Everyone remembers the love story of the 1978 American musical film, where John Travolta and Olivia Newton-John star as Danny and Sandy. After falling in love on the beach in the summer—like every young woman's dream—the two reunite for a complicated fairytale ending. Their story may be fictional, but Travolta and Newton-John grasp the true essence of young love.

Helen Mirren and Taylor Hackford
It was a rocky start for Mirren and her husband-to-be, as director Hackford kept the actress waiting to audition for White Nights. They began dating in 1986, and finally married on Hackford's 53rd birthday on Dec 31, 1997. For years, Mirren claimed she would never marry, but Hackford offered her a change of heart, and to this day the 65-year-old dame doesn't look back.


Elizabeth Bennett and Fitzwilliam Darcy [Pride & Prejudice]
This feisty twosome find love despite initial poor judgments of one another. The stuck-up Darcy is the new man in town, and considered to be quite a catch according to the town's single ladies. However, his neighbour Elizabeth finds his ego to be repulsive… at first. After enduring much adventure and controversy, Elizabeth and Darcy become engaged. Jane Austen's novel has sold over 20 million copies worldwide.
Marge and Homer Simpson
Real-life couples find the married life of this notorious cartoon pair relatable, whether they wish to admit it or not. Many have questioned why Marge, the kind-hearted and extremely patient mother, stays with her crude and incompetent husband. But the witty hit-show attracts a vastly spread audience, with some of the most influential characters on TV. At the end of the day, Homer is a devoted family man who undergoes many romantic endeavours and remarkable experiences along with his wife and three kids.
Tom Hanks and Rita Wilson
A powerful pair—Tom and Rita make Hollywood relationships look easy. They met onset Bosom Buddies in 1981, but the real sparks started flying four years later as the actors both appeared in Volunteers. Hanks divorced his first wife and married Wilson in April of '88. Wilson became a stepmother to Hanks' two children and the couple had two more kids together. Their ever-lasting union will continue to thrive both in the film and TV industry—as co-producers—and in their personal life.
Jane Eyre and Edward Rochester [Jane Eyre]
The famous novel written by Charlotte Bronte reveals the improbable love story of an abused orphan and her abrasive, but very rich employer. Jane discovers Rochester's tender heart hidden behind his rough exterior, only to learn on their wedding day he is already married. Over the last century and a half, this classic tale of love and heartbreak has taken readers on a ride through romantic turmoil.
Ozzy and Sharon Osbourne
This wild British duo has created a memorable image for their family—including their three children Aimee, Kelly and Jack—which took off from the reality TV show The Osbournes. Sharon met her future husband at the age of 18 while working for her father. She took over as his manager and helped him launch what became a highly successful solo career. Married on Jul 4, 1982, the couple has certainly gone through their share of ups and downs, but have come a long way since the troubled early stages of their marriage.

George Burns and Gracie Allen
The American comedy pair widely known as Burns and Allen achieved a successful career in vaudeville, films, radio and television over a span of four decades. They first met when performing together in 1922. They were married in Cleveland on Jan 7, 1926. Each has attributed their success to the other in regards to both their long-lasting romance and their thriving profession.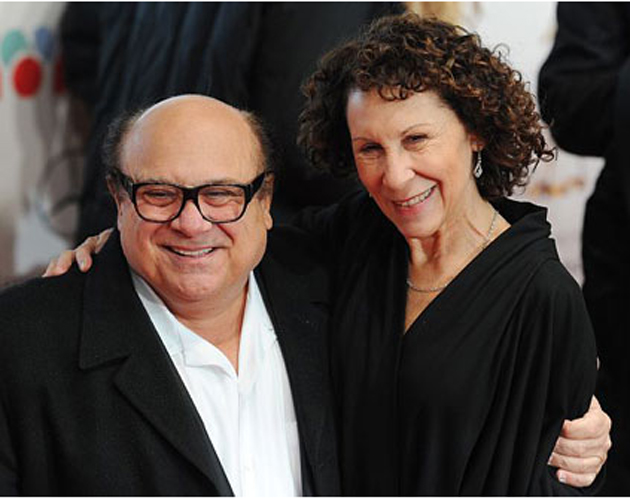 Danny DeVito and Rhea Perlman
Devito and Perlman married on Jan 28, 1982. The Cheers favourite later played the Canadian-American actor's wife in Matilda. Their long-term relationship is only the beginning of their success. The happy couple founded Jersey Films, a production company known for films such as Pulp Fiction, Garden State and Freedom Writers. They also have three children together.
Rick Blaine and Ilsa Lund [Casablanca]
Finally, what would a list of the greatest love stories be without the 1942 romantic drama starring Humphrey Bogart and Ingrid Bergman? Rick is a bitter man, having been scorned by his ex-lover. But everything changes the night Ilsa suddenly walks into his establishment with her husband. Rick is forced to face his deep-rooted heart-ache. After reconciling old matters, Rick and Ilsa rekindle old sparks. But is that enough?  Famous for its cultural significance, dialogue, characters and music, the tale is well-deservedly named one of the greatest films of all time.