Between the Lines … with Eric Peterson, Talking Chekhov and Corner Gas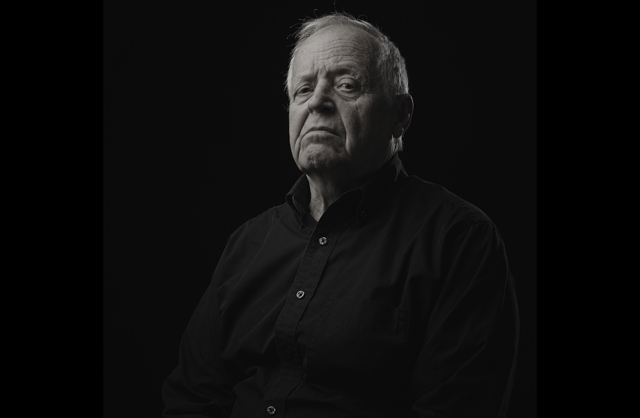 Some actors wouldn't take too kindly to being hung up on. Luckily for me, Canadian acting legend Eric Peterson (not surprisingly) has a great sense of humour.
"That's so rude of you to hang up on me like that," he laughed after I told him that all I heard was a loud beeping noise on his first call. "You're a man after my own heart. Any time I hear a loud beeping, I hang up immediately."
Peterson, of course, is most famous for his roles on two beloved Canadian TV series. In the late 1980s, he starred as activist lawyer Leon Robinovitch on Street Legal. And fans of the hit comedy Corner Gas may recognize glimpses of his grouchy Oscar Leroy character in Peterson's current role, as grumpy Uncle Sorin, in a Toronto production of Anton Chekhov's classic The Seagull alongside such talents as Tom McCamus, Christine Horne, Yanna McIntosh, Philip Riccio, Tom Rooney and Bahia Watson.
"I can promise you I won't say 'jackass' in [the play]," Peterson quipped, noting Oscar's trademark expression. "But I will be available afterward if [audience members] are disappointed. And they can wait at the stage door, and I'd be happy to call them a jackass or even just say the word. I don't want them to go away feeling unsatisfied."
Peterson and I went on to discuss his role in The Seagull as well as the recent Corner Gas reunion.
MIKE CRISOLAGO: An intriguing note about your role in The Seagull is that you actually starred in a Toronto production of the same play years ago in the role of the young playwright Konstantin.
ERIC PETERSON: And funnily enough they've [now] cast me as the old uncle, Sorin. You see that? If you stay around long enough, you get to move through the cast in a generational way. I have to admit the parts get smaller, but that's just as well. The memory's worse … and you can use all that age that you've accumulated in the aged parts. I don't have to act aged quite as hard as I used to. [Laughs]
MC: What was the experience like coming back to the show now, decades later?
EP: To tell you the truth, it was so long ago – it must be 35 years ago or something like that. I'm 68 now so I would have been in my early 30s when I did that [or] late 20s. And it was at Tarragon Theatre, and Bill Glassco was the director of it, and Gordon Pinsent was in it. He played Trigorin – that's the part being played by Tom Rooney in this production. And David French – it was his adaptation of the translation. And to tell you quite frankly, I was such a young, callow actor at that time, I was so worried about everything I don't have much of a memory of doing it.
I was tickled pink when [current director] Chris Abraham [asked me] to be in it. I'd been Konstantin at one point, [now] Philip Riccio is playing the part. Wonderful. And I've worked with Phil before – I've been his father, he was my protégé in another play I was in. So now I'm his uncle. [Laughs]
MC: As an actor who has played that part in the past, does Philip come to you for advice or do you just let him do his job and keep quiet about it?
EP: Absolutely, absolutely. [Acting] a part is such a deeply personal response by that actor and his character and his experience to the part. And, like I say, I don't remember [the old production] that well. I actually just, when I'm on stage with Phil, I'm too busy trying to remember what I'm supposed to be doing rather than busying myself with what he's supposed to be doing. [Laughs] He's doing a wonderful job. It's beautiful work being done by everyone in this cast.
MC: What is it about this play that still resonates with audiences more than a century after it debuted?
EP: It's a wonderful play. The exteriors of things may change – the clothes we wear and the technology and the politics and economics of the world change, but human beings haven't changed a drop. So that's why I think the classics, these plays have been around for a long time. The people who produce them capture what is essentially … our loves, our longings, our disappointments – those ideas which the characters in this play are grappling with … And all these themes, of course, are totally and continue to be eternal and contemporary. And he's got a sense of humour about it. If one can sense the humour in the human condition, which I think is a necessary characteristic to getting through the day, to a certain extent, then this play certainly has enough of that too.
MC: Can you speak to the brilliant cast assembled for this production?
EP: It's been a very interesting room, rehearsing. These are very skilled, experienced, talented actors and intelligent people, as well as fun to be around. And it's so interesting working in a play like this because it is about being a human being so on some level I find it therapeutic too – spending your day with these wonderful people talking about what it's like being alive, in a way. That's a real perk of being an actor, or being in theatre, being an artist – one gets to talk about those things.
MC: Finally, the Corner Gas film hit theatres last month. Tell us what it was like to reunite with the cast one more time.
EP: That was incredible. It's been six years since we shot, [and] suddenly there you are, six years later, back in your same costume, in the same city, with all the cast, living in the same apartment, having the same dressing room … I thought "Am I dreaming? Am I having a hallucination here?" We were all six years older – at my age, six years is a mighty big difference. [Laughs] Most people, they're concerned about a few wrinkles and a grey hair here and there. I was concerned about getting up from the chair. But it was great fun and a wonderful, wonderful group of people. And, you know, that has been just the best, wonderful, luckiest thing for me, that show. And people love it so much, and Canadians respond to it not only because they like it but because they think it's theirs … And I had a great time doing my own stunts, being hung upside down and riding a horse. I'm a geriatric stuntman. I do a stunt every six months. That's good recovery time. [Laughs]
MC: Thanks so much for your time today and break a leg with the show!
EP: I'll try to do that. The French say "merde," of course, instead of saying "Break a leg." [It means] "shit." [Laughs]
MC: Whatever works, right?
EP: Anything but "good luck," eh?
The Seagull is on until Feb. 8, 2015, at Toronto's Berkeley Street Theatre. Click here for show times and ticket information.