How Canadian is it that the winner of the nation's biggest film prize – the $100,000 Rogers Best Canadian Film Award given by the Toronto Film Critics Association – would say, "I'm sorry" repeatedly, and then give the money away to the other nominees and to a charity?
That was the scene at the Four Seasons Hotel in Toronto Tuesday. Jennifer Baichwal and Nicholas de Pencier, who co-directed (with absent photo-artist Edward Burtynsky) Anthropocene: The Human Epoch, took to the stage for their prize. Baichwal talked about 2006's Manufactured Landscapes, their first film in the acclaimed eco-trilogy capped by Anthropocene, saying when they made it, "we were the emerging artists."
And then de Pencier dropped a bombshell, saying "we got lots of legs up early in our career," and announced the three had agreed to donate two-thirds of their prize to the young runners-up, Sadaf Foroughi, who'd been nominated for her set-in-Tehran teen drama Ava, and Sofia Bohdanowicz, who'd directed the documentary Maison du Bonheur, about an aged and charmingly eccentric French astrologer.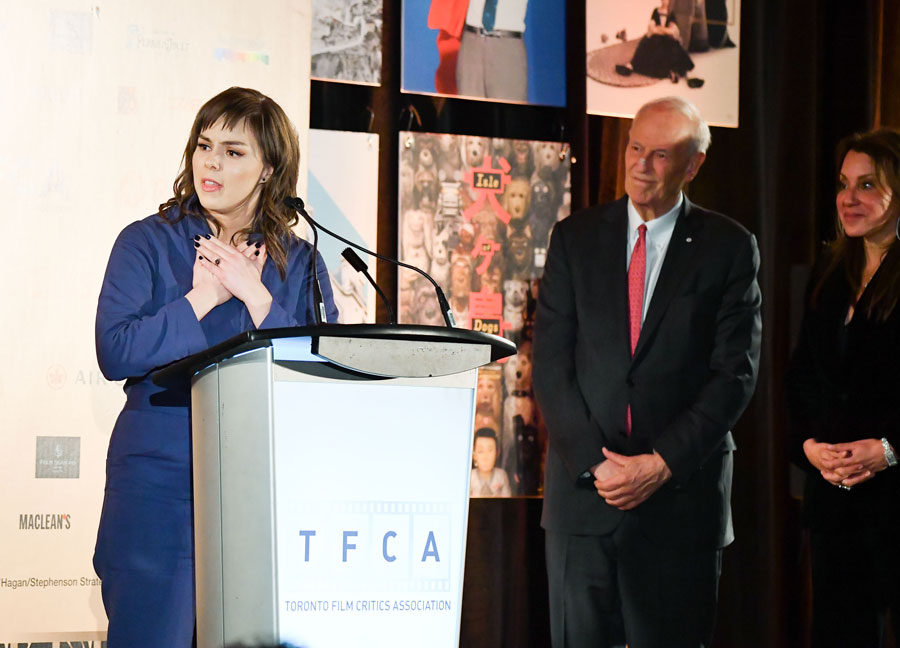 Left to right; Sofia Bohdanowicz thanks de Pencier and Baichnal for sharing their $100,000 Rogers Best Canadian Film Award, as Rogers Vice-Chair Philip Lind, who presented the cheque, and Kate Daniels, communications strategist and principle Daniels/O'Hagan/Stephenson, who produced the event, look on (photo: George Pimentel)
The other third of the prize, de Pencier said, would go to Share Her Journey – a Toronto International Film Festival initiative Baichwal is involved in to increase opportunities for women in entertainment.
Ironically, in a trenchant and funny award introduction, filmmaker Don McKellar lamented that Anthropocene would probably win, and that $100,000 "is what Ed Burtynsky makes for selling three photos."
The comment resonated with the 38 members of the TFCA (which includes me), reviewers who, in recent years, have struggled with what it means to hand out that much money to artists who sometimes barely make ends meet. A shocked Bohdanowicz said she, "had to make Maison du Bonheur on a line of credit. This gesture means the world to me. My heart is bursting right now."
So, hats off to Baichwal, de Pencier and Burtynsky, whose Anthropocene is a monumental work that has installations attached at the National Gallery in Ottawa and the Art Gallery of Ontario in Toronto, and will soon be featured at the Sundance Film Festival.
That heartwarming moment capped a full evening of awards, many of them for Oscar-films-in-waiting, whose big-name stars were understandably not in attendance given that they are almost all are in Los Angeles jockeying for awards attention. Gracious videos, though, were sent by many, including Roma's Alfonso Cuaron (who'd won Best Picture and Best Director), Stephen Yeun (Best Supporting Actor for the South Korean film Burning, whose director, Lee Chang-dong also sent a video for winning Best Foreign-Language film), Regina King (Best Actress for If Beale Street Could Talk) and Morgan Neville, the director of the RBC Allan King Documentary winner, the Mr. Rogers doc Won't You Be My Neighbor?
Rick Mercer with Jennifer Tory who presented the RBC Allan King Documentary Award for Won't You Be My Neighbor?
Best actor Ethan Hawke (First Reformed) sent a video in which he seemed to think he was addressing Vancouver critics. And Boots Riley, who directed the Best First Feature Sorry To Bother You, thanked the TFCA and exhorted its members to, "get drunk tonight and try not to make too many bad decisions."
There was a standing ovation for indigenous acting icon Tantoo Cardinal, who won the Technicolor Clyde Gilmour career achievement award, named for the late Toronto Star film critic. She recalled a career of nearly a half century, of coming "from two worlds" (her indigenous mother's and white, mostly-absent father's) and remarking that both worlds represent "an abyss, and we are all completely aware of that," adding that, "this recognition is hopeful and amazing, and I have great gratitude."
Actor Tanaya Beatty, Technicolor Clyde Gilmour career achievement award, actor Tantoo Cardinal, filmmaker Darlene Naponse and Grace Tarnelle-Davis, from Technicolor  (photo: George Pimentel)
That award came with a prize of $50,000 in production services from Technicolor, which Cardinal gave to young indigenous filmmaker Darlene Naponse (who wrote Tantoo's first lead role with Falls Around Her, which premiered at TIFF and will released in the spring).
Charlie Angelakos, from Stella Artois, filmmaker Molly McGlynn who won the prize and presenter Traci Melchor (photo, George Pimentel)
Also awarded at the TFCA gala: The $10,000 Stella Artois Jay Scott Prize for emerging talent. Named for the late Globe & Mail critic, it went to Montreal-born filmmaker Molly McGlynn, whose feature Mary Goes Round, is a sardonically comic tale of a substance abuser trying to reconstruct her life. It's currently playing on TMN and is worth watching. Trust me.