The Campiest Celebs Celebrate Camp-Style at the MET Gala
Photo: Karwai Tang / Contributor/Getty Images
If ever there was a fitting theme for the Met Gala, this was it. 
The annual fundraiser for the Costume Institute at the Metropolitan Museum of Art is known for some over-the-top fashion moments but with the unveiling of the new exhibition, Camp: Notes on Fashion, guests at Monday night's Met Gala went to ever more extravagant lengths for a red carpet photo op. 
One A-lister changed outfits four times for her red carpet saunter (we're looking at you Lady Gaga). Another had six muscle men hoist him above their heads as he reclined on a chaise. Another had a blood red duvet train on her gown. And yet another carried a severed head — one fashioned in his likeness, no less — as an accessory. It was perhaps the perfect image for this event which became a sartorial blood sport. As one guest on Twitter noted, it's the most stressful red carpet — but also the most fun.
This was the fashion spectacular of the year, with Vogue's Anna Wintour hosting alongside cohosts Lady Gaga, Serena Williams, Harry Styles and Gucci's creative director, Alessandro Michele.
The  "camp," theme apparently initially baffled Canada's own queen of camp, Celine Dion despite that for many she embodies the ethos — those weddings, those chest pounding ballads, that heart that will go on. The songstress joked with a red carpet correspondent that she initially envisioned the theme to literally mean camping — how Canadian — and was going to bring her pillow and pyjamas. But when she learned what camp meant in this context she said, "I don't want to wear pyjamas tonight, I want to wake up like this tomorrow." Her gown was designed by Oscar de la Renta and inspired by Ziegfield Girl, the movie that starred Judy Garland, Hedy Lamarr and Lana Turner.  The gold beaded dress also beautifully exemplified Dion's long running Vegas act.
The exhibition, Camp: Notes on Fashion is inspired by a 1964 Susan Sontag essay, "Notes on Camp."  So what is 'Camp'? According to the Sontang treatise, Camp is artifice, exaggeration and an unnaturalness. 
And while fashion is renowned for celebrating and intermingling and pushing those qualities to extremes, currently the world of fashion is having a very high "Camp" moment. On a basic level, it's jarring patterns and colours and a mixture of unlikely materials. It's exaggerated and amplified proportions which lean towards unpractical — yet somehow have become the hottest and most coveted items in fashion. Think of those chunky sole sneakers and practically anything from Gucci.
And the Met Gala was determined to follow through with the 'Campy' theme in every aspect as Cher provided the live musical entertainment and RuPaul was the DJ spinning the tunes for the dance party.
But while Instagram photos were banned from inside the party, the red carpet was an Insta zone. And what is Instagram if not the most 'Camp' of social media — all artifice and exaggerated reality. With that in mind, we bring you the Instagram pics which brought out the best 'Camp' in guests.
The Gala co-chairs, pop star Harry Styles and Gucci Creative Director, Alessandro Michele
No other luxury fashion label channels camp right now like Gucci. But this is high camp. As evidence by the Gucci outfits worn by these two co-chairs.
Lady Gaga  
How do you retain your crown as the queen of camp on a night where everyone is putting their camp gear into overdrive? Not to be outdone, Lady Gaga wore four different outfits — just to walk the red carpet. She enters wearing a voluminous pink gown, accompanied by an entourage of assistants holding umbrellas. She would shed the pink outfit to reveal a black gown underneath. And then, eventually removing the black gown to reveal yet another gown — a form-fitting pink dress. Finally she removes the pink gown to parade in her underwear. Surely, that has to be a red carpet record of some sort.
Cardi B. 
Gliding up the carpeted steps to the MET Ball begs for an outfit with a giant train. And every year the trains seems to get longer and more extravagant.
Joan Collins
As the queen of the campiest primetime soap opera there ever was, she spent most of the 1980s on Dynasty living it up in decadent and bitchy camp. So what does a Dame wear to an event such as this? With tongue planted firmly in cheek, you go for mutton-dressed-as-lamb and arrive looking like a demure fairy tale princess.
Gala co-chair and Vogue Editor-in-chief, Anna Wintour
The high priestess of fashion doesn't do camp — she is camp. Why else would  anyone find it fun to dress up like her on Halloween?
Katy Perry
The pop star wore two outfits which showed the two faces of camp — high and low. She arrived on the red carpet dressed as a glittering glamorous — and lit — chandelier. But later in the evening ….
….she changed into a human hamburger.
Diane von Furstenburg
Camp can have a message. The 72 year old designer went as the Statue of Liberty. It was a tribute to her late mother on the 75th anniversary of the day she was sent to Auschwitz. She was one of the survivors. The designer wrote on her Instagram, "75 years later, I'm going to the Met Ball as her torch of Freedom."
Jennifer Lopez 
J.Lo took a moment to remind us that campy fashion requires a campy pose.
Jared Leto
The actor's Gucci outfit was not only gender-bending, a tenet of camp, but also rather regal — in a Game of Thrones sort of way. Cersei wore a similarly scarlet gown in the episode the previous night. But the actor wins best accessory of the night — a customized severed head in his likeness.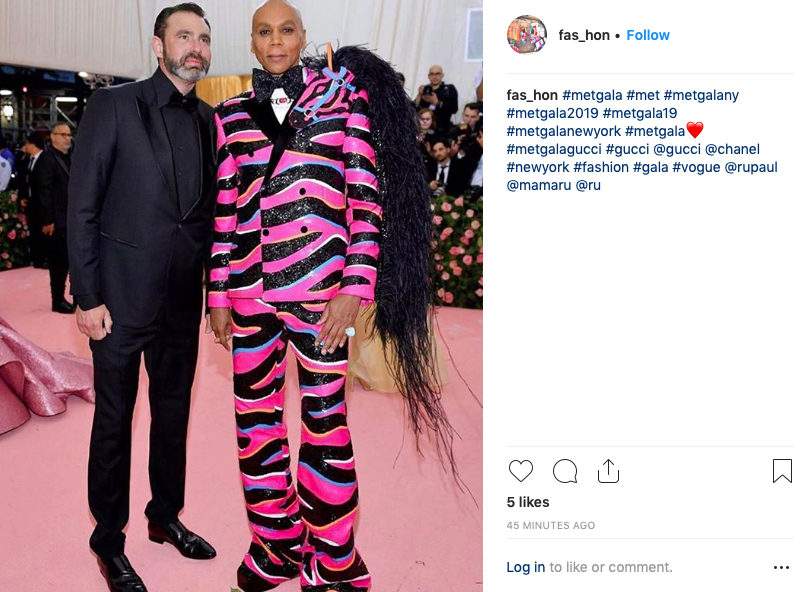 RuPaul and his husband, Georges LeBar
Camp and drag queens go hand-in-hand. But props goes to drag performer, RuPaul, for bringing drag into the mainstream with his hit television show, RuPaul's Drag Race. 
Naomi Campbell
Was there ever another model who lived such an outlandishly campy life as this supermodel? Still looking fabulous, she is proof you can be glamorously campy forever.
The Kardashian sisters, Kylie, Kim and Kendal
They took camp and parlayed it into millions of dollars. Who knew you could have marketed and made money off of being campy?
Actor Billy Porter
Chalk it up to his Broadway background, but this performer knows how to make a red carpet entrance. Striking a pose worthy of Cleopatra herself, he reclined on a platform which was hoisted by six muscular gold clad men. But while it's a luxury to be carried down a red carpet, the down side is no one sees your outfit properly….
…hence, one must stop, get off your platform and strike a pose. Even better if you have gold wings to spread.