Twain to Tie the Knot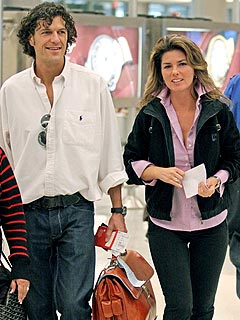 45-year-old Shania Twain's life seems to be playing out like a scene in a soap opera, with a happy ending, of course.
After mending a broken heart caused by her husband of 14 years alleged infidelity, Twain is moving on. Here's the twist- she is moving on with the man whose wife stole her husband.
Frederic Thiebaud, 40, was married to Shania's best friend and house manager Marie-Anne Thiebaud who is now living with Twain's ex-husband Mutt Lange.
Twain and Marie-Anne were very close up until her marriage began a downward spiral two years ago with rumours of Lange and Thiebaud having an affair.
To deal with her heartache, Twain turned to Frederic who was also dealing with a split from his wife, Marie-Anne.
By 2009, their friendship blossomed into love and a year later, they are engaged.
According to Us Weekly, the two became engaged secretly, two years ago.
Thiebaud had apparently been planning the proposal for months and helped design the three-carat emerald-cut diamond ring worth $100, 000.
According to a source close to the couple, "Shania is cordial with Mutt for the sake of Eja. Everyone gets along now because it all worked out for the best."
Congratulations to the happy couple!