A Life in Coffee Spoons: Remembering T.S. Eliot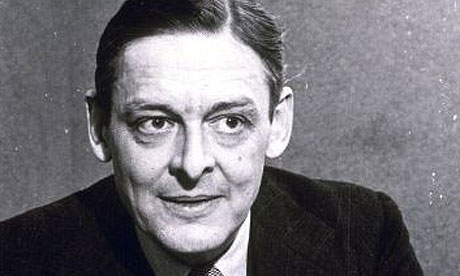 "Success is relative. It is what we can make of the mess we have made of things."   —T.S. Eliot
For the man who measured his life with coffee spoons, 47 years ago today marked the final stir and last tap on the side of the cup. Thomas Stearns (T.S.) Eliot, who many regard as the greatest poet of the 20th century, died of emphysema on this day in 1965.
Today, Eliot's reputation is primarily shaped by his poetry, including his seminal works "The Love Song of J. Alfred Prufrock," "The Waste Land" (born, according to Eliot, out of the "state of mind" he endured throughout his marriage to first wife Vivienne Haigh-Wood) and "Ash Wednesday."  
Of course, later in life Eliot gained notoriety for his theatrical works as well, among them "Murder in the Cathedral" and "The Cocktail Party.
The many awards, orders and honours bestowed upon Eliot range from the 1948 Nobel Prize for Literature to honorary doctorates from 13 universities (including Harvard, Oxford and Cambridge) to the title of Officier de la Legion d'Honneur in France to his induction into the St. Louis Walk of Fame in his birthplace of Missouri. While the latter may not seem to fit with the others (and really, who knew St. Louis had its own walk of fame?), consider that Eliot was among the inaugural inductees in 1989 alongside another literary titan in Tennessee Williams, as well as Charles Lindbergh, Chuck Berry, Joseph Pulitzer and Vincent Price.
-Mike Crisolago