Harry and Meghan on Their 5th Anniversary: At a Crossroads After Car Chase Controversy?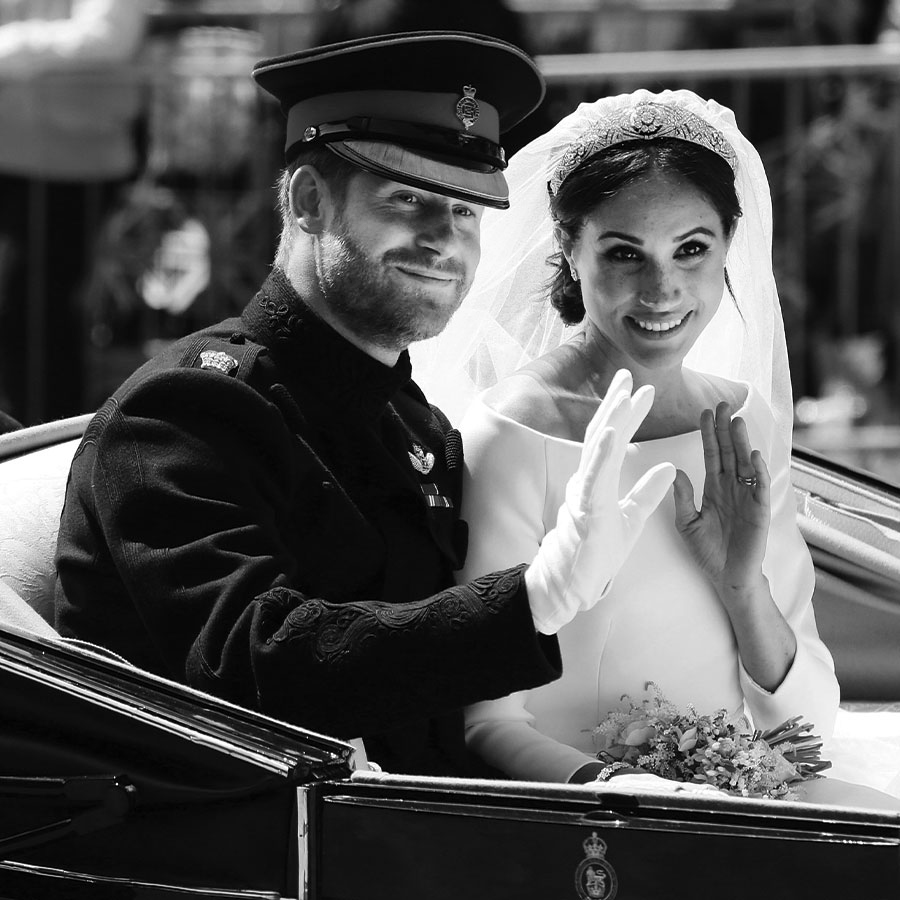 Prince Harry, Duke of Sussex and Meghan, Duchess of Sussex during their carriage procession on Castle Hill after their wedding ceremony, May 19, 2018. Photo: Aaron Chown/WPA Pool/Getty Images
When I first started writing this piece looking back at the last five years of the marriage of the Duke and Duchess of Sussex ahead of their anniversary on Friday, May 19, I was feeling hopeful and intended to go on about how after the breakneck whirlwind of marriage, parenthood (twice), the big and messy break up with the British Royal Family culminating this past winter with a slurry of big-budget content creation looking back on their pasts, that now would be the time for them to start fresh with a clean slate.
Then my phone exploded yesterday with a steady array of news alerts about the "near catastrophic" car chase the couple and Markle's mother, Doria Ragland, were involved in Tuesday evening as they left a ceremony in New York where Markle received a World Vision Award from Gloria Steinem, honouring her global advocacy to empower women and girls.
Now, I'm not going to get down into the dirt of the many versions and perspectives of that car chase that have since been offered up in more news flash alerts. The only real truth that matters is that the polarizing nature of Harry and Meghan continues to be just that, polarizing. 
But in that incident, there are many revelations about the larger picture involving the Sussexes, modern media and the nature of fame which will all affect them — and us, the people who receive news flashes of seemingly their every move — going forward. First of all, as New York mayor Eric Adams said, there is not one of us who did not immediately think about Harry's mother, Diana, and her death in a Paris tunnel after a car chase. Harry is clearly traumatized for life by that tragedy, and has made it his life's mission to make changes to the way the media works. The couple has individually filed over time seven separate lawsuits against both British and U.S. media organizations for breaches of privacy, dating back to phone-hacking scandals by Rupert Murdoch-owned News Corp. on through more recent intrusions, including the publication of Meghan's letters to her father as well as drone photos taken over their private residence in California.
Just this past Tuesday, Harry's lawyers were back in court in London appealing a ruling thwarting him from bringing a further suit against the Home Office and Executive Committee for Protection of Royalty and Public Figures so he could purchase police protection when his family was in England (his U.S. protection does not have jurisdiction or access to intel on the ground there). Simultaneously, another High Court is hearing his phone hacking case against the Daily Mirror.
So, we can conclude that the incident in New York was inflamed by Harry's intense feelings of violation. Whatever happened, how long it lasted and who was involved, the fact is he was scared for his family. Releasing a statement was part of his mission; the strong wording, open to the poking of holes, was what made the whole thing blow up.
New York is the centre of the celebrity universe. Security for heads of state is accomplished all the time. There are well-planned strategies that can achieve almost any maneuver. This was not one of them.
With the astronomical level of their fame — yes, some of it enhanced even further recently with Harry's bombshell book and their Netflix documentary — if they want the peace and security they attest to, then their movements are going to have to be plotted out, well, as if they were royalty. The British papers had, by this morning, found royal protection officers to discuss how that could have been planned better, avoiding both the scare and the backlash.
But, let's get back to the anniversary. The traditional fifth anniversary present is wood (and we know the couple follows these protocols, as Meghan revealed she had written out the couple's wedding vows on paper, the traditional first anniversary gift, and framed them for Harry in 2019). Wood symbolized strong roots and solidity for a long-term union. 
After so much drama, pain and chaos for the couple, from the outside it would appear they have everything they want, in the main (save an apology from the Royal Family, and the resolution of lawsuits and a permanent solution for press intrusion). The coronation is over, and Harry's presence was brief and blissfully uneventful; Archie got both parents home for his fourth birthday cake.
Just last week, Meghan and Harry were photographed with a crew of power couples grabbing a sushi dinner in their home base of Montecito: Gwyneth Paltrow and Brad Falchuk, Cameron Diaz and Benjamin Madden and billionaire Bumble CEO Whitney Wolfe Herd and her husband, Michael Herd. That is Hollywood's A list. Meghan also has shiny new management, with both her and Archewell now repped by WME, including super power agent Ari Emanuel among other heavy hitters. The company and the management all speak to the couple's intention to go big on new projects.
All their ducks appear to be in a row. The reflections on the past are done with, and they should be in a great position to move forward with that clean slate I held up, hopefully, earlier. They have needed — and felt strongly about — speaking up about injustice in the past. 
They have had a lot of change in their young marriage. But, they are in the drivers' seat together now. Building a security team to match their talent management team seems like a good investment. Tuesday night was a beautiful night for Markle, and the security plan made that a bad memory for them. For better or for worse, this is the state of celebrity in America today. Harry and Meghan are living the American Dream. Most celebrities choose to live with the paparazzi and attention, and by granting a few photos most celebrities are afforded a safe private home in New York and beyond. I'm sure all celebrities hate having to make any deals with the people who pursue them.
The ironclad line held during the reign of Elizabeth II cordoned off the concept of royalty and service against the idea of celebrity and the type of fame that comes with it. For all the reasons he laid out in his memoir Spare, Harry has crossed the rubicon and is now living in the celebrity world. Ironically, Harry would have had stricter protection in England, especially after Diana's death, the Press Complaints Commission (PCC) strengthened its Editor's Code of Practice to create what it called the "toughest set of press regulations anywhere in Europe" as to how the press can act around royals.