Fairmont Orchid, Hawaii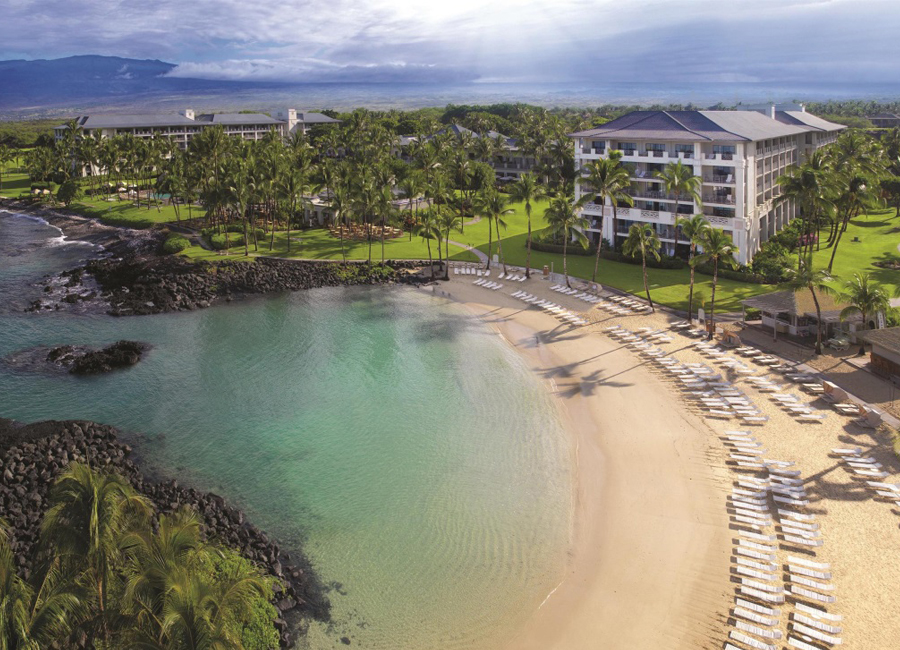 From sunrise canoe voyages to sunset torch lighting ceremonies, Fairmont Orchid offers an oasis of Hawaiian style luxury and an incredible array of outdoor adventures for you to explore. This AAA Four Diamond Resort nestled within the Mauna Lani Development's 3,200 acres showcases magnificent views of the Pacific Ocean and five mountains including Maunakea, the world's tallest mountain when measured from its base on the sea floor.
The central lobby view features swaying palm trees, white capped waves and a panoramic view of our 10,000 square foot swimming pool. All 540 guest rooms offer island-inspired furnishings and a spacious, private lanai to allow you to recalibrate during your stay.
Hawaiian Cultural Immersion
Ocean-wise locals have gathered on Hawaiian beaches to share their knowledge of marine life and Hawaiian culture with visitors from the turn of the century. This tradition lives on at Fairmont Orchid through our Hui Holokai Beach Ambassador Program. Our beach ambassadors lead our guests on a number of experiences to introduce them to the culture of Hawaii, such as lei making, ukulele lessons, weaving hala (pandanus) fronds, canoe paddling in the open ocean and archeological hikes on the nearby petroglyph fields, the largest in the Hawaiian islands. The resort's rich history reveals itself through their eyes as they guide visitors to ancient lava shelter caves and man-made fishponds stocked with seafood once restricted only to the ali'i (Hawaiian royalty) of old.
Locally Sourced Dining
Feast on scrumptious, hyper-local cuisine sourced from Hawaii Island at Fairmont Orchid's signature restaurant, Brown's Beach House. The outdoor dining terrace overlooking Pauoa Bay provides one of best places on the island to enjoy the most stunning sunsets along the Kohala Coast. Live music nightly, tiki torches, and impeccable service set the scene. This AAA Four Diamond award-winning restaurant was named for Francis Hyde Ii Brown, the first to develop the area on which the resort resides.
Gold Treatment
Take luxury to a whole new level when you upgrade to Fairmont Gold. We like to call this exclusive lifestyle hotel experience  a 'hotel within the hotel' which allows you a private concierge (you'll skip the lobby reservation desk and head straight to the exclusive 6th floor), a bountiful breakfast buffet, afternoon tea, evening canapes, an honor bar, and 24-hour snacks and non-alcoholic beverages. Guests also enjoy complimentary newspapers, DVDs, CDs, games and books. The Fairmont Gold Lounge offers a lovely gathering spot for friends and family and the sixth floor terrace allows for commanding views of golden sunsets.
Wellness Retreat
Indulge in a spa treatment in a private waterfall or oceanfront hale (hut) at our award-winning Spa Without Walls. The nourishing properties of coconut oil have long been used by Polynesians and we incorporate it in a decadent treatment called the Kahinu Clear Mind to promote a restful night's sleep as you listen to ocean waves lapping against the shore. Warm coconut oil is gently streamed along the forehead and massaged into the scalp while a deeply soothing massage of the neck, shoulders, hands and feet completes this utterly relaxing and unique experience.
We look forward to welcoming you to Fairmont Orchid as you enjoy a vacation experience you'll never forget on the island of Hawaii.
For more information or to make a reservation, please visit www.fairmont.com/orchid-hawaii/.
OR take advantage of the Fairmont Zoomer Offer
Visit www.fairmont.com/americas/zoomer and receive 10% off, a $50 Food & Beverage Credit per stay, on a 2 night minimum stay at any of the participating Fairmont properties.
OR to take advantage of the Fairmont CARP Offer
Visit www.fairmont.com/americas/carp and receive a complimentary night.