Health. Wellness. Rewards.™ All In One Program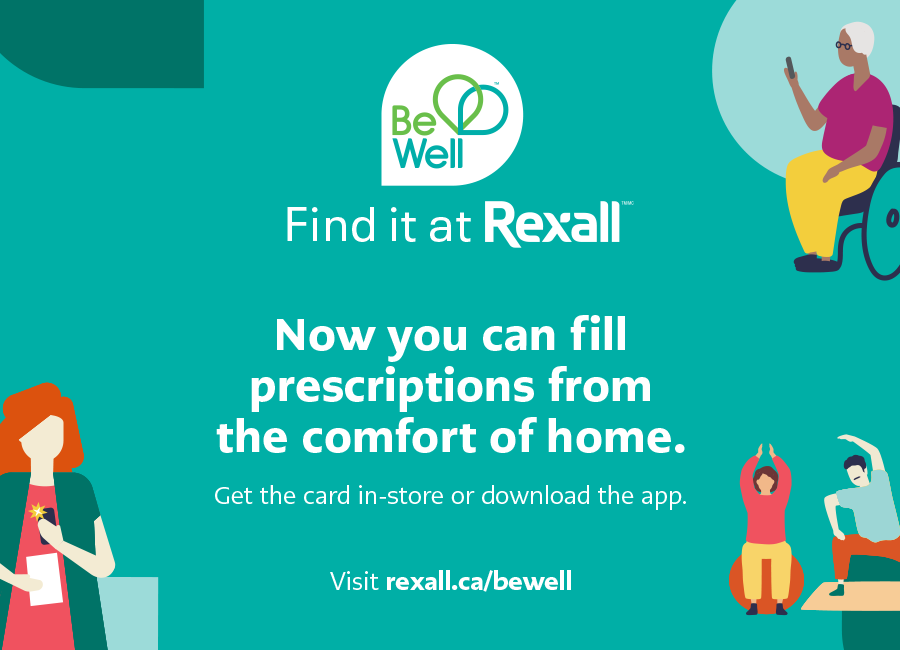 CARP RECOMMENDED PARTNER SPONSORED CONTENT
Introducing Be Well™, a new kind of rewards program with a focus on health and wellness services. Be Well™ makes managing your medication and health easier than ever with easy to use tools and advice. Be Well™ makes taking care of your well-being more rewarding with convenient access to your medication history and the ability to earn rewards points on purchases all on one app.
 Wellness. Simplified.™
The Be Well™ app conveniently allows you to take control of your health and well-being by simplifying the ways you manage your medications, connect with your pharmacy and seamlessly integrate your health devices for the ultimate health and wellness experience. Be Well™ allows you to:
• Connect with & access your personal medication history at every Rexall Pharmacy you use. You'll always have instantaneous access to your most recent medication history whenever you need it.
• Fill new prescriptions quickly by taking a photo of your prescription and send it directly to your Rexall Pharmacy through the app.*
• Complete health self-assessments to understand your personal health risks for conditions like Diabetes, Hypertension, Osteoporosis and more.
• Refill prescriptions with customized pick up times that fit best with your schedule.
• Track the status of your prescription each step of the way. With Be Well™, you can be instantly notified when your prescription(s) are ready for pick-up.
• Easily connect your health devices through the app, so you can view all the important information about your health in one convenient place.
• Make updates to your personal health records directly in the app including updates to your conditions & symptoms, procedures, allergies, medications (including any vitamins and supplements), vaccinations and uploading important documentation (diagnostic results, doctors notes etc.) for your reference so you can share with your health care provider when necessary.
Speak with your Rexall Pharmacist to learn more about how Be Well™ can simplify your health and wellness today.
Wellness. Rewarded.™
Be Well™ also makes it easy to get rewarded on your purchases at all Rexall locations. With the Be Well™ App you'll get access to great benefits like:
• Personalized offers on thousands of health, wellness and every day essential products available at Rexall.
• Earning rewards points on every dollar spent that can be redeemed for savings at cash. Earn 10pts for every dollar spent. 25,000pts = $10 redeemable value
• Exciting promotional offers in Rexall's Weekly Flyer.
Be Well™ makes taking care of your well-being simpler and more rewarding than ever. Say hello to a new kind of rewards program and download the Be Well™ app or visit letsbewell.ca to get started today.
---
CARP members save 20% on all regular priced Rexall private brands, every day, just by showing your card.
*Rexall pharmacies will start getting your prescription ready; however, we need the original prescription to finish filling it. In addition in Alberta, Rexall pharmacies are limited to data entry and stock verification to comply with local requirements.
© 2020 Rexall Pharmacy Group Ltd. All rights reserved.