Stanley Cup 2013: Blackhawks hang on for huge OT win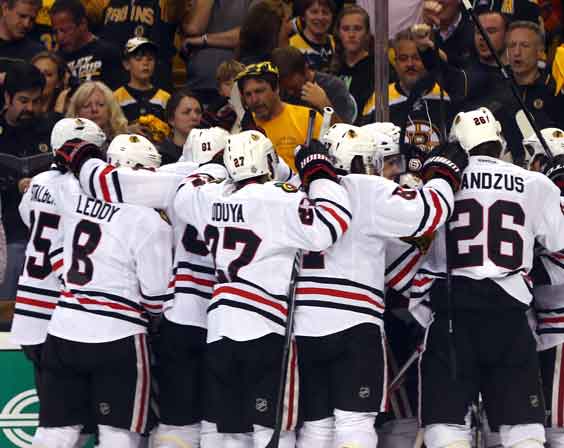 The tide of luck finally turned the Chicago Blackhawks' way as they defeated the Boston Bruins in a wild 6-5 overtime win last night.
In a frantic, back-and-forth game that more resembled pond hockey than the usual tight defensive brand that typifies play-off action, the Blackhawks' big guns finally dented the armor of Boston goalie Tuuka Rask. Hawks captain Jonathan Toews scored his first goal of the Finals, and Patrick Kane and Patrick Sharp both ended their slumps, setting the stage for defenceman's Brent Seabrook's OT winner, his second of the 2013 playoffs.
Besides the fact that Chicago managed to overcome shoddy refereeing and morale-killing goals to take this must-win game, the storylines that dominated the game were sub-par goaltending by Chicago's Cory Crawford and a breakdown in defensive play by both teams but especially the Bruins number one defensive pairing, Zdeno Chara and Dennis Seidenberg. Both normally rock-solid defenders were on the ice and out of position for most of the key goals, including Seabrook's winner.
The series now shifts back to Chicago for Game 5 on Saturday night. Crawford, who is showing a tendency to letting in soft goals on his glove side must start playing better if the Hawks have a hope of prevailing. And, since it's unlikely Boston will submit a terrible defensive effort like they did in Game 4, we can anticipate a return to low-scoring hockey.
So the table is set for a fantastic Game 5 in this thoroughly entertaining series. Let's hope it goes the full 7 games.