Blue Jays Hush the Skeptics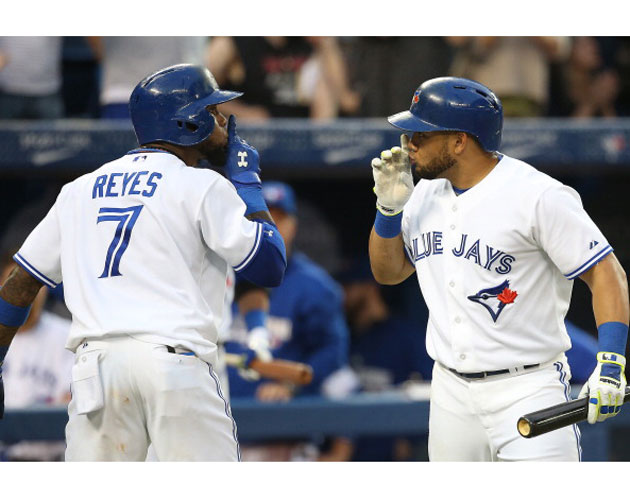 A bloop single in the bottom of the ninth scores the winning run and the Toronto Blue Jays' miraculous season continues.
Your browser does not support iframes.
Yes, sports fans, the Jays are in first place and, while it's still early, the team's sizzling hot streak is steadily winning over the skeptics. The offence, led by sluggers Jose Bautista and Edwin Encarnacion (20 homers!), appears unstoppable. The pitching, spearheaded by Mark Buehrle (10 wins!) has been far better than anyone suspected, the bullpen solid and they're getting key contributions from their role players.
That's a formula that should add up to meaningful baseball in September. After spending 20 years in baseball's hinterland, the Jays may finally qualify for baseball's post season – ESPN's computer puts their chances at 87.2%.
The skeptical fan will point out that it's only June – let's see if they're still in contention come August. While that wisdom generally holds true, it may not apply this year: with the New York Yankees and Boston Red Sox struggling, the Tampa Bay Rays completely eliminated, the only foe standing in their way is the highly flawed Baltimore Orioles.
So what's changed from last year's dismal team? In 2013, the Jays were done in by key injuries, bad luck and below average performances from many of their key players. This year, they can't do anything wrong and everyone is hot. Their current hot streak has been aided by exceptional power hitting and pitching numbers that can't possibly continue all year. If they keep up their current pace, Encarnacion is on track to hit 50 homers, Buehrle is projected to win 25 games? Neither is likely to happen.
So when those players do come back to earth, will the winning streak continue?
On second thought, maybe we should contain our excitement until August.