A Decade in Fashion: The Moments That Defined A 'Greynaissance' In The 2010s
Fashion is like the cool club where only a select few – mostly the youthful – gain entry. But as the 2010s came to an end, the velvet rope came down and the door was pushed wide open. Thanks to social media and a growing backlash against ageism, this rabidly snobbish clubhouse was forced to accept a more diverse group of guests, what we are dubbing a "greynaissance."
Those mature in age – one of the groups the fashion and beauty worlds  oft ignores – are now flexing, posing and taking centre stage. As we look back on the past decade, they had a lot to say and wear, and their contributions helped shaped the world of style.
Here we take a look at some of the older newsmakers, rule breakers and disrupters.
THE DEATH OF A FASHION GOD AND END OF AN ERA
The decade was bookended by the deaths of two major talents when Alexander McQueen, 40, was found dead in his London flat on Feb. 11, 2010, and Karl Lagerfeld died at age 85 in Paris on Feb. 19, 2019. The two designers wielded such massive influence that the news reverberated beyond the fashion world and into the pop-culture arena.
Said to have embroidered expletives into the lining of Prince Charles' suit when he toiled as a Savile Row intern, McQueen was a true fashion enfant terrible. His astounding technical skills, strict tailoring, obsession with ghoulish Victorian iconography and streak of naughtiness changed the way women dressed – the "bumster"  pants he sent down the runway at his first show led to a decade of low-slung jeans. It was a scandal when LVMH tapped McQueen, a young British designer more at home in nightclubs then salons, to take over the storied house of Givenchy, but his provocative approach launched the modernization of the  fusty French fashion houses, setting them up to be the mega-brands they are today.
Given his anarchic bent, it is an open question whether McQueen would have accepted the commission to design Kate Middleton's wedding dress. But his long-time assistant and successor, Alexander McQueen creative director Sarah Burton, did, giving a house known for legendary runway shows a massive global audience and a place in the history books. All the McQueen codes were present and accounted for when the future Duchess of Cambridge walked down the aisle on April 29, 2011, just a year after his death, with the famously acerbic Karl Lagerfeld commenting that it was a beautiful wedding dress.
Lagerfeld was the last of the great couture masters, with a career that spanned almost seven decades. One of the industry's most prolific designers, he simultaneously juggled jobs at Chanel, Fendi and his eponymous label. As creative director of Chanel beginning in 1983, he is credited for reviving the sleepy French label into a profitable global powerhouse. His turnaround of that company became the blueprint for the revival of other historic French labels. His fashion shows for Chanel in the Grand Palais were multi-million-dollar extravaganzas with colossal sets and were highlights of Paris Fashion Week.
A renowned multitasker, Lagerfeld also worked as a photographer and designed video games, hotel rooms and condos, including lobby areas in a luxury Toronto condo in 1995, marking his first visit to Canada.
Despite working in the upper echelons of luxury, he also had a sharp sense of the mood on the streets. One of his many rule-breaking decisions was to design a collection for the fast-fashion chain H&M back in 2004. Such a  risky collaboration – a luxury designer dabbling in cheap clothing for the masses – was unheard of at the time, but it sold out in minutes and ignited a frenzy of designer collaborations, an ongoing retail trend to this day.
Lagerfeld was fashion royalty and, in his later years in the 1990s, he cleverly styled himself into an iconic image with Napoleonic overtures.  With his silver ponytail, black-frame sunglasses, austere high-collared white shirts, black suits and fingerless gloves, he was the most recognizable and famous fashion persona.
A DRESS MAKES HISTORY – TWICE 
There were many memorable dress moments of the 2010s: the two royal wedding dresses worn by Kate Middleton and Meghan Markle, Lady Gaga's meat dress and Rihanna's egg-yolk yellow Met Ball gown, all of which will go down in fashion history.
But it was two versions of Versace's body-baring, green chiffon, jungle-print dress worn by Jennifer Lopez that made headlines at the beginning and end of the decade.
The original dress made an unremarkable appearance on the Versace runway, and only caught fire after the actress wore it to the 2000 Grammy awards as the plus-one of then boyfriend and bad boy rapper Puff Daddy. The convergence of their celebrity, plus her un-modelesque curves on display in the diaphanous, slit-down-to-there dress, went viral before viral was a thing. And if the actress and the fashion house was hoping for a Liz Hurley, safety-pin dress moment circa 1994, they succeeded beyond their wildest dreams: There were so many searches for Lopez in the dress, Google developed its image search engine in response.
That search engine was fired up all over again when,  for the 20-year anniversary tribute to the original dress, designer Donatella Versace upped the ante by sending J.Lo herself down the Milan runway for the Spring/Summer 2020 show.  The 50-year-old mother of two led the show finale in a version even more revealing than the first.  Just as they did when she walked out on the Grammy stage 20 years ago, the audience gasped when the timeless star strutted down the catwalk with the train of the jungle-print dress 2.0  – sans sleeves plus two slits – floating behind her tight, toned body. Once again, the audience rose to its feet and applauded, this time because Jenny from the Block was still on the fashion map. And because such sartorial magic almost never repeats itself.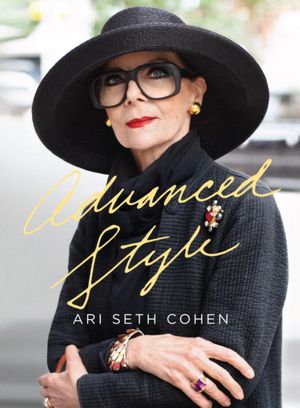 THE RISE OF THE STREET-STYLE SENIORS
In 2012, a young, street-style blogger named Ari Seth Cohen published his first book, Advanced Style, featuring photos he took of cool, fashionable, older folk he encountered on the streets of New York. Cohen said his obsession with "capturing the sartorial savvy of the senior set" was inspired by his love for fashion and his grandmother.  After his blog lead to several books and a documentary, the New York Times heralded him for helping to ignite the movement to feature older models in fashion. Suddenly, 80-year-old author Joan Didion became the face of Celine while Yves Saint Laurent recruited the 71-year-old Canadian singer Joni Mitchell.
Cohen showed the world that street style was not just for preening young fashionistas. Thanks to the blogger, Instagram accounts have sprung up around the world – such as Sciuraglam of Italy – dedicated to mature fashionistas.
A SEPTUAGENARIAN GRACES THE COVER OF VOGUE
After appearing on 40 Vogue covers dating back to the 1960s, actress and model Lauren Hutton earned the distinction of being the oldest woman to grace the cover of the fashion magazine in 2017.  At 73, Hutton appeared on three different cover versions of the October's Vogue Italia called the Timeless Issue, which celebrated women over 60. The cover photographer, Steven Klein, said in an interview he wanted to show how older can be sexy. "A cover (needs to) be more than just a photograph. It needs to be reflective of our times and challenge and inspire."
It was also the decade where the fashion world embraced Hutton again. She appeared in various ad campaigns such as Bottega Veneta and Calvin Klein underwear. As the decade ended, she was still going strong at 76, walking the Valentino couture show in Paris and becoming the first celebrity spokesperson for beauty brand StriVectin.
BEAUTY AND THE BOOMER
The beauty industry notoriously worships at the altar of youth. Despite spending millions on developing products to combat aging, they often promote wrinkle creams using teenaged models. But throughout the 2010s, several beauty companies had major campaigns that featured older women such as Helen Mirren and Halle Berry (L'Oreal Paris), Lauren Hutton (StriVectin), Joan Collins (Charlotte Tilbury) and Celine Dion (L'Oreal Paris hair colour).
The age issue had a pivotal moment in 2017 when, at 69, Maye Musk, a model, nutritionist, author and mother of Tesla billionaire owner Elon Musk, became the oldest CoverGirl ambassador for the global beauty brand.
The dialogue began to change the same year after the beauty magazine Allure announced they would no longer use the term "anti-aging," because, if you're going to fight ageism, you can't make it sound like a bad thing.
BRACE YOURSELF FOR THE RYTHM THAT IS GRACE
The Queen's Diamond Jubilee celebrations in 2012 included a concert at Buckingham Palace where a lineup of veritable musical legends performed, from pop knights Sir Elton John and Sir Paul McCartney to Shirley Bassey, Tom Jones, Annie Lennox and Stevie Wonder. But one performance left the audience gobsmacked and, to this day, it remains the most memorable four minutes of the entire show.
Grace Jones, who turned 64 the month before, came out on stage to perform her 1985 hit, Slave to the Rhythm, and in the process defied all sorts of laws of nature.
First, there was the outfit: a red-and-black, slick-looking bodysuit, showing off impressively toned bare legs, and the black stilettos.  A giant red headpiece that looked like an open clam shell or a really big futuristic helmet was the crowning glory. Then there was the performance. She launched into the song holding a microphone and hula-hooping for the entire performance. Not once did the hoop spinning around her gyrating waist fall to the ground.
Naturally, there was a standing ovation, including from the members of the Royal Family, and she trended on Twitter, as many called it out for what it was: the best part of the evening's gig.
WOMEN AND THE POLITICS OF FASHION
It's a given: the wardrobe choices of female politicians will always be scrutinized, debated and criticized. Part of the fascination lies in the belief that their clothing belies a hidden agenda. As Moonlight director Barry Jenkins, follower of politics and White House drama, noted online, "They've never been just clothes."
For two female politicians, the colour of their outfits on a particular day spoke volumes.
In late 2018, Democrat and Speaker of the House of Representatives Nancy Pelosi emerged from a heated Oval Office meeting with U.S. President Donald Trump, Vice President Mike Pence and Senator Chuck Schumer wearing a red structured Max Mara coat with a high funnel neck. Jenkins described it on his Twitter account as serene yet ravishing, adding, "This look kicks sooo much ass."
Most people might not remember that Pelosi's meeting was about border security and funding for Trump's border wall, but they will not forget the red power coat or how she calmly put on her sunglasses as she strode down the White House driveway. Never has a 78-year-old woman oozed such confidence, power and steely reserve.
As Jenkins also noted, "This is diplomacy in motion, soft power wielded like a machete through the diligent, decisive act of dressing." And a year later, she is spearheading the impeachment proceedings against President Trump.
If Nancy Pelosi's singular outfit created a spark, then Hillary Clinton's entire wardrobe was more akin to an ongoing forest fire. Over her decades in the public's eye, much has been written about her beloved pant suits. But, as she acknowledged, those often-ridiculed suits led her all the way to the 2016 presidential race.  And after a contentious election, she showed up at her former opponent Donald Trump's presidential inauguration in a white Ralph Lauren pantsuit and coat.
Her choice of colour did not go unnoticed. Pundits were quick to make the connection to the suffragette movement. Was Clinton paying homage to the women who paved the way before her? This much was certain: while she might not have won this battle, she was exiting on a high note, looking poised, cool and gracious.