Tuscan Quiche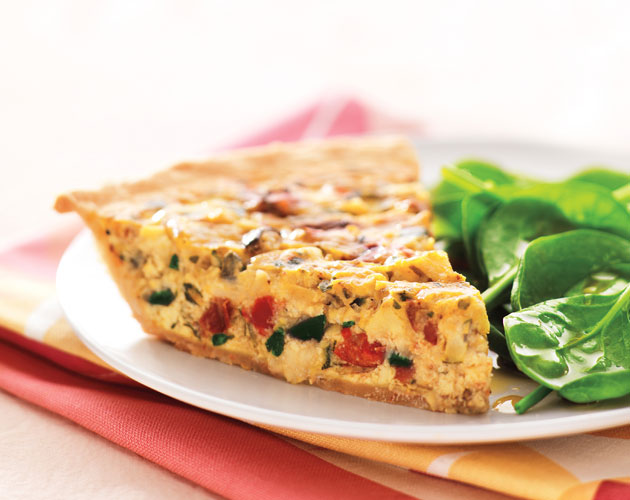 Quiche is one of those meals that sounds much fancier than it is. It takes next to no effort to pull off a great quiche, especially with great ingredients like the ones in this Tuscan Quiche from Bake Fest.
Serves 12 (2 quiches)
Ingredients:
2 Tenderflake® Deep Dish Pie Shells
1 bag (400 g) frozen mixed vegetables
1/2 cup (125 ml) shredded Asiago cheese
1/2 cup (125 ml) finely grated Parmesan cheese
1/2 cup (125 ml) finely chopped fresh parsley leaves
1/4 cup (60 ml) sun-dried tomatoes
8 eggs
2 cups (500 ml) 10% cream (half and half)
4 cloves garlic, minced
1/2 tsp (2 ml) salt
1/4 tsp (1 ml) pepper
Directions:
1. Preheat oven to 325 F (160 C). Place pie shells on a foil-lined rimmed baking sheet. Remove vegetables from freezer and let sit for about 10 minutes at room temperature. Put vegetables, Asiago, Parmesan, parsley and sun-dried tomatoes in a food processor fitted with a metal blade. Pulse until vegetables are finely chopped.
2. Whisk eggs with remaining ingredients. Stir in vegetable mixture. Divide mixture evenly between pie shells.
3. Bake, on bottom rack, for 55 to 60 minutes or until edges are golden and centres are very set. Let cool for at least 10 minutes before serving.
Tip:
Quiches can be prepared in advance and kept refrigerated; warm gently in a 350 F (180 C) oven for about 15 minutes.
Recipe courtesy of Bake Fest.