8 Books for a Sizzling Summer Party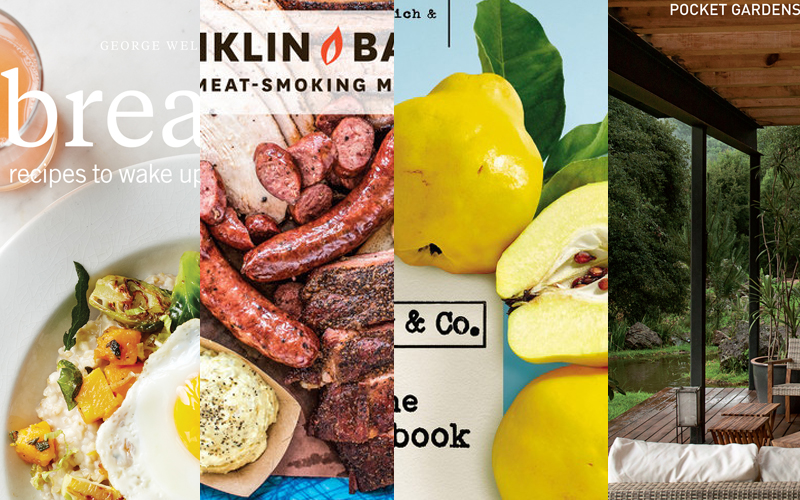 Sure, reading on the beach is an integral part of any proper summer, but so are get-togethers with family and friends. Look to these party-enhancing books when you want to elevate your picnic, casual back-yard hang-outs or wine-tasting or even turn your barbecue into the ultimate celebration of the grill.
The Craft Cocktail Party
Considered the top female mixologist in the US, Julie Reiner has written a book that provides inspiration and pointers for the rest of us, with lots classic cocktails, new drinks, tricks, tips, and techniques, such as batching and infusions, tools of the trade, notes on spirit types, and easy substitutions to utilize what you already have on hand. There's even a special summer section to help you plan your occasion.
If you truly want to up the stakes in your annual barbecue and impress the hell out of your buddies, study Franklin Barbecue by Aaron Franklin and Jordan Mackay, which is billed as a complete meat- and brisket-cooking education. Franklin is one of the US's most celebrated "pitmasters" and is owner of the wildly popular Austin restaurant Franklin Barbecue.
Who says dinner gets to have all the fun? Whether you're having the extended family over for brunch or trying to impress last night's date, look no further than Breakfast: Recipes to Wake Up For By George Weld & Evan Hanczor. A compilation of signature dishes from Brooklyn's Egg restaurant, you'll find recipes for fare such as Eggs Rothko, French Toast, Duck Hash, Country Ham Biscuits, Candied Bacon and Spoonbread.
Bring the flavours of the Middle East to your backyard with Honey and Co.: The Cookbook by Itamar Srulovich and Sarit Packer, the husband-and-wife duo behind one of London's hottest new restaurants. Recipes include spreads and dips and exquisitely balanced salads — perfect for outdoor dining — along with a wide assort of guest-worthy dishes including rich Persian entrees, the tagines of North Africa, the Sofritos of Jerusalem and the herb-infused stews of Iran.
If you're tempted to host a wine tasting but find the concept intimidating, pick up Wine in Words: Some Notes For Better Drinking by Lettie Teague. This book covers the important stuff you'll need to know: key wines, grapes and regions; tips about wine buying, aging, and storage; and useful explanations about tasting notes and food pairings.
Explore the simple pleasures of summer living with The Beetlebung Farm Cookbook: A Year of Cooking on Martha's Vineyard by Chris Fisher. After working at top restaurants in New York and London, Chef Fischer returned to his family farm on Martha's Vineyard to grow the freshest produce, raise organic livestock, fish the surrounding waters, and cook and gather friends for unforgettable meals, often served in the farm's greenhouse under the stars. His book includes more than 100 recipes, organized seasonally, which makes planning your summer fete all the easier.
Shivi Ramoutar's Carribbean Modern: Recipes from the Rum Islands exemplifies the hospitable Caribbean spirit and its recipes showcase the vibrant flavours and ingredients of this part of the world.  Try serving dishes like the traditional Coconut Chicken Rundown and the Red Bean and Spinach Mac 'n' Cheese for something with a bit of zing.
A major part of hosting an unforgettable party is creating the ultimate setting, no matter how much space you have. Get inspired by the stunning projects in Outside Living: Terraces, Balconies, Roof Decks, Courtyards, Pocket Gardens, and other Small Spaces, by Frances Zamora Mola, which features 600 full-color photographs of unique projects from around the world from the very best contemporary garden designers and landscape architects.