With these simple, delicious dishes you can go back for second helpings without the guilt.
1. Yam & Cauliflower Mash
Ingredients
3 large yams
1 head of cauliflower
Garlic
Fresh rosemary
Sea salt
Pepper
Vegetable broth (optional)
Butter
Directions
Start by cubing your yams. I prefer the skin on but remove for personal preference.
Add the cubed yams and boil for 25-35 minutes, or until yams become tender.
While yams are cooking, chop cauliflower into small florets and prepare to steam.
I like to add some vegetable broth into my pot while steaming – it gives the cauliflower a nice and natural salt flavour.
Take a head of garlic, cut the top off and expose the tip of all the cloves. Place this in foil, cover in olive oil, add a few spring of rosemary and pop in a 350 degree oven for 15-20 minutes.
Once all of your vegetables and garlic are done cooking, drain all the excess water and add together. I suggest using half the head of garlic, or less deepening on your pallet.
Using a hand mixer, mash all the ingredients until they become a nice mash. Add in a few table spoons of butter and salt + pepper to taste.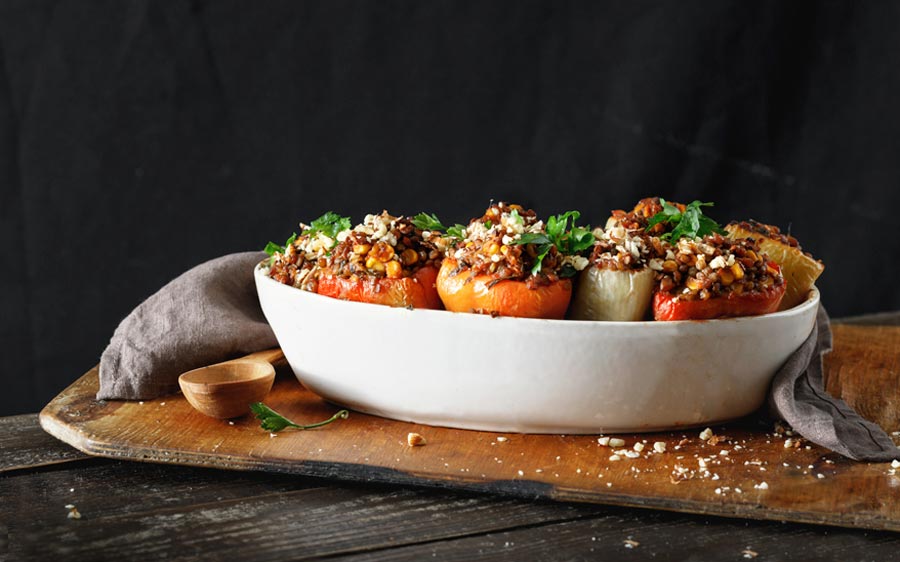 2. Quinoa Stuffed Peppers
Ingredients
1 cup quinoa
1 cup vegetable broth
1 cup water
Mixed frozen veggies
Garlic
Shredded Cheese *optional
3 Peppers
Olive Oil
Salt
Pepper
*Tip to speed this up; Buy a pre-made quinoa salad from the grocery store
Directions
Cook quinoa with equal parts water and broth, add in half a cup of mixed frozen vegetables.
Once cooked, add in garlic (this is a good chance to use the pre-roasted garlic from the earlier recipe) and let the quinoa rest.
Heat the oven to 350 degrees and chop peppers in half, lengthwise, coat them lightly in olive oil.
Once the oven is heated, add empty peppers to middle rack and roast for 10 minutes, 5 on each side.
Remove from the oven and fill with quinoa, place back in the oven for 15 minutes.
Once done, coat the peppers with your favourite blend of shredded cheese and broil for 5-10 minutes, until the cheese melts and gets gooey.
3. Jalapeno Cornbread Stuffing
Ingredients
1 loaf Jalapeno cornbread (you can make your own with this recipe)
Dried cranberries
3 eggs, beaten
Sage
Thyme
Celery
Onion
Vegetable broth
Directions
Cube the cornbread, toss lightly in olive oil, dried sage and thyme.
Place on a baking sheet and cook in the oven for 10 minutes until lightly golden.
In a skillet pan fry the chopped onion and celery until both become translucent, add a cup of broth, sage, thyme and let simmer for 5 minutes, then remove from heat.
In a baking dish, add cornbread, skillet mixture, and beaten eggs. Mix around, and toss in dried cranberries and extra seasoning, as well as salt and pepper.
Cook for about 20 minutes, till corners get lightly toasted and eggs are fully cooked. Broil for an additional 5 mins to make the top extra crunchy, if so desired.
4. Mushroom Gravy
Ingredients
Olive oil
1 chopped onion
9-10 chopped Portabello mushrooms
3 cups vegetable broth
Flour
Fresh thyme
Salt
Peppercorns
Directions
In a sauce pan saute an onion in olive oil, salt, and peppercorns until nicely caramelized.
Add mushrooms, fresh thyme, and continue to cook for 5-10 minutes, or until mushrooms are nice and tender and brown.
Add 3 cups of broth and bring to a light boil for 15 minutes.
While this boils, add a few table spoons of flour to water and whisk out all the clumps, add this to the boiled down broth.
Stir constantly and let boil for a few minutes and put it down to a low heat.
Taste and add any additional seasoning you prefer.
5. Lentil Loaf
Ingredients
1 cup dry green lentils
2 cups water
1/2 cup finely chopped white onion
3-5 mushrooms, chopped
4 cloves garlic, minced
1/2 cup corn, peas, and carrot frozen mix
1/2 cup coarse cornmeal
Ketchup
Sriracha sauce
Directions
Rinse lentils and add them with 2 cups water with a dash of salt and bring to a boil.
Once these are boiling, lower the heat and continue to cook for 30-35 minutes, or until the water is all gone.
In a frying fan, cook the onions and mushrooms with some garlic until they are well caramelized.
Take the cooked lentils and add 3/4 of it to a mixing bowl, start mashing these by hand or with a hand immersion blender.
To the lentil mixture, add onion and mushroom mixture, mixed veggies, garlic, ketchup, Sriracha, and cornmeal, and combine until you are left with a thick mixture.
Preheat the oven to 350 degrees and line a 9×5 metal loaf pan with parchment paper hanging slightly over the sides for easy removal later. Make sure to spray the sides that the paper doesn't touch, so it doesn't stick. (At this point you can taste the mixture and see if you want to add any additional spices)
Using a spring loaded loaf pan coated with cooking spray, pour the mixture into the pan. Once it's settled in the pan, I like to put a little extra ketchup and Sriracha sauce on top and bake for 45-50 minutes, or until the loaf is firmed up.
Let the loaf sit before removing it from the pan for at least 15 minutes, to let it firm up and stop any unwanted breaks.
*These recipes can be adapted to accommodate food allergies or sensitivities simply by omitting certain ingredients.
RELATED:
Thanksgiving Four Ways: Recipes from Celebrity Chefs
Keep It Fresh and Fire Up the Harvest Barbecue